Round 4, Results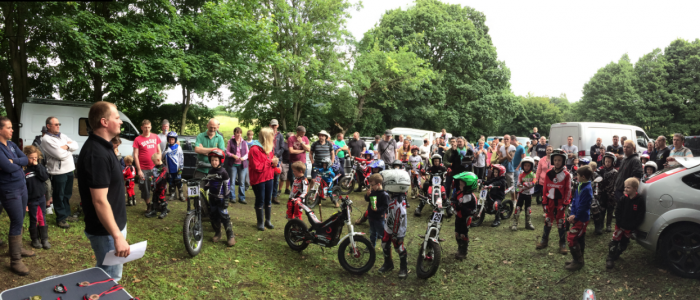 Round four of the 2015, 2 Machs Motorcycles, Cheshire OSET Cup got underway beneath clear skies at the Alvanley trials ground on July 12th. This superb venue didn't get to show its full potential at the first round mudbath earlier in the season. This weekend was a huge improvement with great grip levels, logs, rocks and roots to challenge 53 riders in classes from Novice through to Expert.
Kieran Skehan took the overall round win with a great ride in the Expert class dropping 21 marks. Second place was a newcomer to the series, and indeed trials, on 34 marks was Motocrosser Dan Leadbetter. Clearly a name to watch for the future Dan showed a real aptitude for the finesse of trials. Dylan Hayes adapting well to his big-wheel machine finished in third place on 40 marks. Followed by another impressive ride, 8 marks further adrift, by the upcoming Steffan Jones.
Jack Long maintained his perfect win record in the C class inter championship dropping just 18 marks, mostly on the rocks of section 5. Gethin Beech-Jones followed on 30 marks, with three costly "fives" on the banked turn of section 3. Dan Douglas had an impressive ride, another big improver in the series, to finish third just 3 marks back on 33.
Harvey Davis took the honours in the D class inters on 21 marks, just 3 marks ahead of Daniel Warburton. Joe Chard followed on 33 marks. Another newcomer to the series, Alex Leadbetter started his trials career well with a fourth place.
Molly Barber and Ellis Barton shared the honours with a clean sheet in the D class Novices. Ellis, only picked up his new 20 lite the day before the trial and has obviously taken to the larger machine well. Molly's smooth style helped her guide her Beta to the championship lead. Dylan Ratcliffe competed on his new 20 Racing for the first time to finish in 3rd place only dropping 1 mark. The whole class was very closely contested with Ewan White, Kobe Perry, Zane Stout, Milly Powell and Sam Long all finishing on less than 10 marks.
Tyler Atkinson was the only E class rider to take on the intermediate route, it was good to see that steely determination carrying him through to finish a tough route for one of the youngest riders.
Toby Tyson and Kennie Brierley tied on 11 marks in the E class Novice route. Toby took the win having the least dropped marks for the furthest as the boys couldn't be separated on number of cleans. Jobe Griffiths followed on 48 marks in third place.
Thanks to all those who took their time to observe, every section was marshalled, which made for a smooth running trial.
The next round of the series looks set to take place, back at Alvanley, on August 16th. Please keep an eye on www.2machsmotorcycles.com for confirmation shortly.