2 Machs Motorcycles,Cheshire Oset Cup, Round 5, Results, Video & Report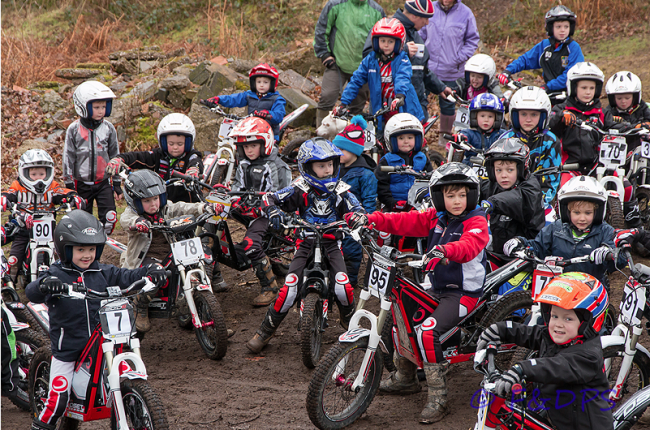 Round five of the 2 Machs Motorcycles, Cheshire OSET Cup ran under clear skies on September 13th. A new venue for the series, Woodside Farm, near Chester, greeted 51 riders. All abilities were catered for in five sections for each of the three routes.
Steffan Jones rode superbly to win the expert class dropping most of his marks on the tricky log and slippy bank of section one. Beta mounted Dylan Hayes followed just two marks further back. Dan Leadbetter, surely a name to watch for the future, followed in third place with just two trials under his belt so far.
Jack Long maintained his perfect score in the C Class Intermediate series, losing just 17 marks, most of which on the cambers of section 4. The rest of this class was a tight fought battle. Second place was split by most number of cleans going the way of Elliot Cooper over Archie Hollingsworth who was returning to the series from a mid-summer break watching the BSB!! Douglas Christopher, after honing his talents on petrol machines, took a sabbatical and guided his Oset to fourth place, just ahead of the ever improving Dan Douglas.
Harvey Davis had another great ride in the D class inters, taking the win on just 15 marks, stamping his mark in his first season of trials. Alfie Hoyles continues to impress on his way to second place, 9 marks further back. Alex Leadbetter followed his big brother's example, finishing on the podium for the first time in his trials career. With Oliver Cooper having a great day to finish just five marks off in fourth spot. Will Hughes adapted well to his Oset 20 Racing finishing in sixth place. Those Cambers on section 4 were particularly tough and really challenged some of the newcomers to the Inters class but it was great to see them digging deep and trying. Noteably Jess Widdowson, Liam Campbell, Joe Drysdale and Callum Heath.
21 riders took part in the enormous D class Novice route. Ellis Barton, a newcomer and huge improver this year, took the victory on 6 marks, only one of these marks dropped on the toughest section of the event too. In fact the win had to be decided by furthest clean from second placed Dylan Ratcliffe also finishing on 6 marks. The roots of section 4 were the decider for most of this class. Kobe Perry impressed here, finishing in third place just two marks from the win, with his small wheel 16 being a disadvantage over the roots he coped great. Ewan White had a great ride to finish in fourth place, just some costly marks dropped on the banked turn of section five blotted an otherwise excellent score. Championship front runner Zane Stout followed in fifth, another victim of the roots of section four! Ted Mackman and Sam Long both on 33 marks lost were split by most cleans with Ted taking sixth place.
Oli Arkwright was another big improver of the season finishing on 35 marks in 8th place. Harry Founds had an impressive ride and took another step forward in his first season to finish in 9th. Leo Clough has taken to trials like a duck to water, only starting in late July, he finished on 42 marks in 1oth place. Sammy Ashton dropped a five on one section, for going the wrong way, Dad laughed it off, but Sammy thought it was funniest thing ever and carried out going the wrong way for the rest of his laps!! Fun is the ethos of the series and it's great to see the riders improving and keeping it light hearted at the same time.
Corey Shepherd had a really impressive ride, dropping just 21 marks to win the E class novice route. A great effort for one of the younger riders in a tricky trial. Second and third were series regulars Toby Tyson and Jobe Griffiths separated by just two marks on 34 and 36 respectively. Bailey Holmes adapted well to his new Oset 16R finishing in fourth place on 44 marks. Logan Price and Harry Roberts battled on with their small wheel 12.5 machines over the very bumpy terrain which was great to see.
All in all another successful trial with a very talented entry list. Please click the links below to see results, video and updated championship table. The next round of the series is scheduled for October 18th the venue for which will be advised shortly. To get involved please contact ian@2machsmotorcycles.com.