2015 campaign set to close in Oviedo The 2015 FIM X-Trial World Championship will come to a close in Oviedo, Spain this coming Friday with this being the final stop on a six round tour, which started in Sheffield, Great Britain back on the first weekend in January. Since then the seven fixed riders and various wild card entrants have contested events in Marseille, France; Pau, France; Barcelona, Spain; and Weiner Neustadt, Austria over the preceding months. Just last Saturday at the penultimate round Toni Bou – Repsol Honda wrapped up the title, but this will not mean that he will arrive back in his homeland any less determined to grab the final victory of the 2015 campaign. The compact sports arena on the outskirts of the town will once again have the honour of bringing the championship to a close as it did last year. After his unexpected defeat in Pau to break his twenty-eight event unbeaten run, Bou has renewed hunger to re-establish another extended unbeaten run, although knows that will again be a difficult task with Adam Raga – Gas Gas having produced some of his best form ever during the five rounds to date. Apart from a poor opening showing in Sheffield, Raga has been a man on a mission and was rightly rewarded with his first win since 2008 in Pau. The chance to inflict another defeat over Bou is something Adam will relish in front of his home fans on Friday night especially as he can go on an all out attack with his second place in the series being all but assured.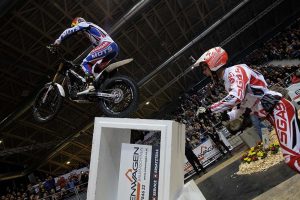 Last time out in Austria, second place for Jeroni Fajardo – Beta means that he will travel to Oviedo just three points behind Albert Cabestany – Sherco in the fight to claim the final place on the podium in the overall rankings. Cabestany, who sustained a nasty ankle injury just before the event in Barcelona has not been able to train as normal as a result of this mishap, but will hope that after a couple weeks of recovery he can put the hours in on the bike to keep his compatriot Fajardo at bay. The duel between these two Spanish riders promises to be both intriguing and fierce and may just prove to be the main story line as the series reaches its conclusion.
The gap between Alex Ferrer – Sherco and James Dabill – Vertigo currently stands at six points heading into the closing round and may be a step too far for the British rider as he looks to hunt down a top five place in the general standings for the new Spanish manufacturer. That said Dabill produced his best ride to date just last Saturday as he cruelly missed out on a place in the final, as he crashed out of the re-run tie-decider against Fajardo. A top four or even podium finish based on his showing in Wiener Neustadt is a real possibility for Dabill if he can repeat his performance of last weekend, and could just be enough for him to snatch fifth spot away from the consistent French rider.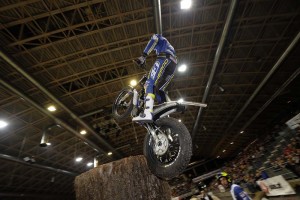 The high-flying antics of Swedish rookie Eddie Karlsson – Montesa continues to add an extra level of entertainment to the series, with his full blooded approach early in each event being much appreciated by the thousands of fans that have packed the various arenas over the last three months. Karlsson will again open the action in Oviedo alongside wild card entrant Jaime Busto – Repsol Honda. This will be Busto's second appearance in the 2015 FIM X- Trial World Championship, with the young Spaniard sure to be looking to improve on his showing in Barcelona.
The next round of the 2015 FIM X-Trial World Championship will take place in Oviedo, Spain this coming Friday. You can follow the results live on the new FIM app – available for download (Apple store & Android market) don't miss any of the action by selecting the Sport button.
photo credit – fIm/goodshoot