With the 2015 Factory Special Edition Trials Model, Sherco offers a motorcycle that is more accomplished than ever. It is the fruit of continued development at all levels; the chassis, the engine and the appearance.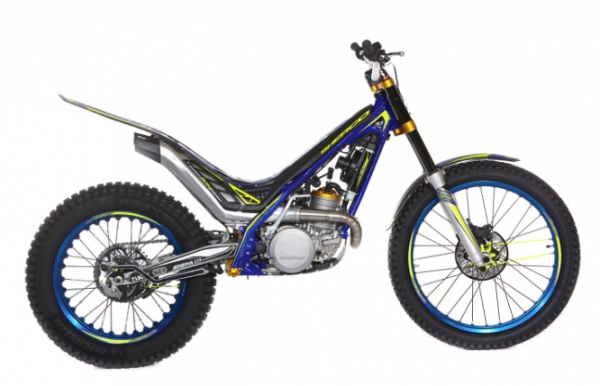 CHASSIS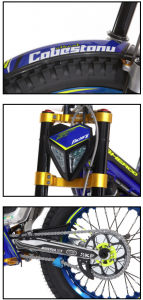 New framework: The frame is made entirely out of Chrome Molybdenum. It has been enhanced to optimize its resistance at the steering column, at the mounting lugs for the silencer, the fuel tank, and in the area of the footrest mounting.
Aluminum fork: The fork is produced by the TECH brand. It is 100% aluminum and is one of the lightest on the market.
Ohlins shock: A collaboration between Sherco and Ohlins, the shock absorber provides optimal performance of the motorcycle.
Skidplate: Extremely light and durable, made from 7075, T6, the profile enables an optimal grip in the most difficult conditions.
Rear wheel: Made by MORAD, anodized Blue, it has been machined for weight reduction.
Crown: Produced by TALON with an FIM protector.
Fuel tank, and Silencer: Outer surface made of high impact resistant aluminum.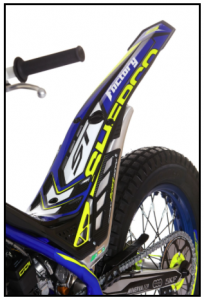 Footrest: Made by GECO, Matt gold anodized aluminum, fully machined; very high quality with an excellent finish.
Rear wheel adjusting snails: Also manufactured by GECO, Matte Black anodized aluminum, featuring a convenient and compact design.
Tires: Michelin X-LITE, extremely light.
Brakes: Brake system BRAKTEC, fitted with high performance GALFER discs.
Front wheel axle: Lightened
Steering pivot nut: Lightened
Circuit breaker: Installed as original equipment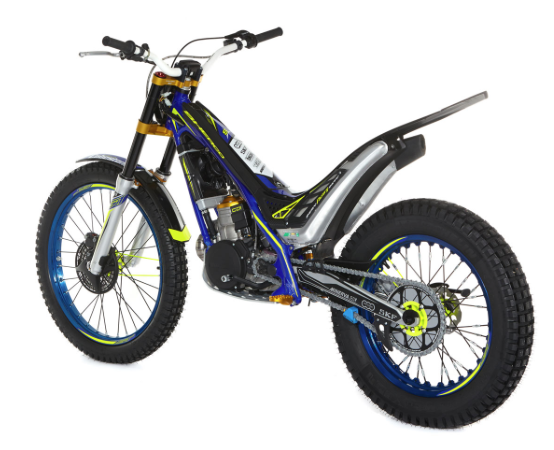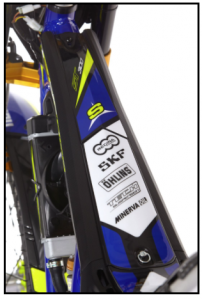 ENGINE
Like last year, the bike has a long stroke engine that has been highly optimized.
Crankshaft: Featuring a brand new balancer in order to limit vibration.
Cylinder: The cylinder transfer ports have been modified to optimize gas flow.
Piston: Forged and manufactured by Vertex.
Cylinder head: 100% Designed by Sherco and produced by GECO, the weight has been reduced and it is finished in Matt gold.
Gearbox: Weight reduction, the result of a study by the Sherco engineers.
Clutch: Clutch Surflex R.
Intake manifold: The entire intake manifold and seals have been redesigned.
Housings: Special treatment (impregnated with Alodine to seal, and resist leaking over time)
Exhaust pipe: Handmade of Titanium by M2 LINX.
Gear lever: Strengthened.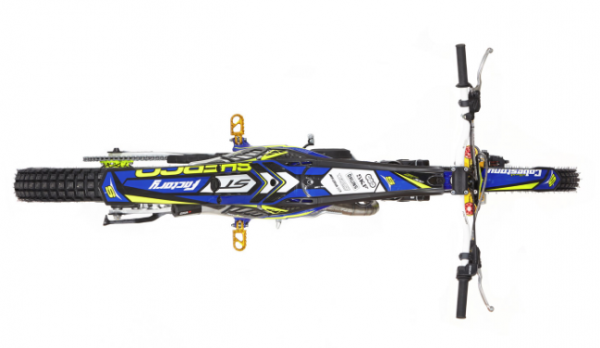 APPEARANCE
Rims: The rims are anodized blue, the hubs and two spokes are bright yellow (for easier valve location).
Plastics: Black, giving an elegant look to the bike.
Matt gold finishes: The fork triple trees and fork bracket, the cylinder head, and the footrests.
Graphics kit: Brand new and exclusive for the new 2015 Factory Special Edition Trials Model. The neon yellow is sublime and energizes the lines of the bike.
White handlebar: OXIA Handlebar has a satin white finish.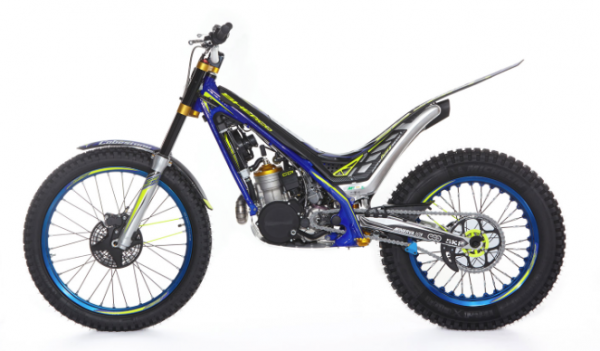 The 2015 Factory Special Edition Trials Model is the best model to date, and is the fruit of over 15 years of experience and knowledge in the production of Trials motorcycles. The model will be available in this configuration for a limited time.

Photos –  M. Rovira