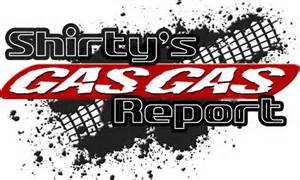 TEAM JST GGUK riders Michael Brown and Dan Thorpe finished second and third respectively in close fight to win the popular Northern Experts Trial on Saturday successfully organized by the Manchester 17 MCC. Unfortunately they were both pipped for the win by Acklams Beta rider Richard Sadler.
Respect to Dan Thorpe who was suffering with 'man-flu' and the very wet conditions on Saturday did not help.
Cloburn/JSTGASGAS rider Chris Alford had an excellent result in 4th with ex Trials rider and local MX rider Craig Robinson having a day of fun back on a trials bike(GG)finishing 5th.
Shame we didn't have a GG winner but four in the top five is pretty good.
Well done lads!
Pictured is Michael Brown with Team boss John Shirt agreeing terms for 2017. Michael has just re-signed for his 7th year with Team JST GASGAS UK. Michael will ride the BTC, SSDT and SCOTT Trials.
More Team news coming soon!
Regards
Shirty