Raga third in the penultimate round of the X-Trial World Championship, held in the Austrian town of Wr. Neustadt
The Gas Gas rider finished in the third position in Wiener Neustadt, Austria. This was the first hosting of a round of the World X-Trial in the Arena Nova, and it was a trial marked by difficulties inthe sections and high scores in the final round of this, the penultimate event on the 2015 championship calendar.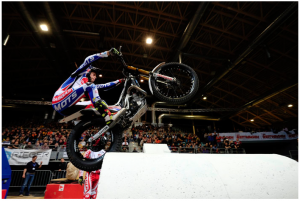 Adam Raga closed the fifth and penultimate round of the championship with a third place in Austria. The Gas Gas rider, second in the season classifications, got his passport on the fast track to the final round of six verycomplicated sections, whose difficulty is reflected in the high scores marked by the riders.
With more mistakes than usual by the participants in the final round, a failure in the section made-up of largestones marked the end of the test for Raga. In support to the sump guard, the Gas Gas rider lost his grip andfell to the ground, while two of his rivals made it through the same section. A difference of five points that the Ulldecona rider carried on the scoreboard until the end and could not regain.
After the competition, Adam Raga, finally third, expressed his dissatisfaction with the arbitrary criterion of the new standard since the beginning of this season, considering a foot touch while supported by the sump guard while stationary on an obstacle. An interpretation that is too open for judges and has not been welcomed bythe riders.
Adam Raga looks to Oviedo, the sixth and final round of the calendar, and closing the X-Trial World Championship with a victory that secures the runner-up position.

Adam Raga: "The truth is that today we have not done too well in Austria. We made too many mistakes andwe have not had the day, but we must be positive and be aware that this result leaves us well ahead in the runner-up position. The key today has been in the section of stones, where I slipped the wheel and have gone down. The judges have not been too good tonight and several of their decisions have harmed us. Although this is not an excuse because afterward we had opportunities to regain second place and we have not taken advantage of these. Clearly, this third place, has not allowed us to speed up our title chances, but we must keep fighting and think about the runner-up position. Next weekend, I will close the X-Trial World Championship with a victory in Oviedo."
 X-Trial Austria
1. Toni Bou
10
2. Jeroni Fajardo
23
3. Adam Raga (Gas Gas)
25
4. Albert Cabestany
30
General classification
1. Toni Bou
95
2. Adam Raga (Gas Gas)
74
3. Albert Cabestany
57