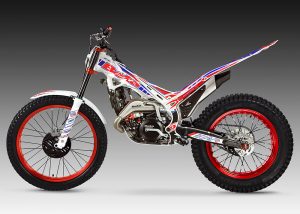 Following the excellent results obtained in the 2014 Trial World Championship, with fourth place in the World Pro category and the first three positions in the World Cup category, Beta presents the new 2015 Evo Factory in the 2 Stroke 125, 250 and 300 versions. The Florence, Italy based R&D department has carefully studied the experience of the Factory Beta Trial team and introduced many technical changes, accessories, and top-notch components on the new Evo Factory.
The inside of the new silencer has been redesigned to provide higher torque at low and medium engine speeds, improved "linear" power, and a quieter sound.
The new exhaust manifold in titanium reduces the weight considerably and increases engine performance over the whole range of use.
The cylinder ports have also been revised in order to improve the throttle response and increase torque over the whole range of use of the engine. This change also improves the combustion process while making carburation more constant.
The profile of the combustion chamber has been modified in the squish area and in combination with the new cylinder porting, this improves the acceleration of the engine throughout the power- band. The engine has become more responsive with better acceleration and the carburation has been improved while the engine is under a heavy load.
For the 300 version, the mapping of the control unit has been revised; it offers more linear output and matches the new engine layout in harmony.
The engine ignition and clutch covers are made of magnesium for better protection and lighter weight. The new ignition cover has been improved to keep water and mud away from the stator.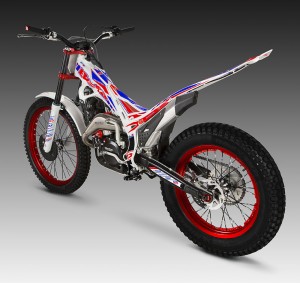 The silicon tubes of the cooling system have a new compound that improves coolant flow and reduces heat.
The single shock absorber, with a white spring, has the same benefits as that introduced on the standard 2015 Evo with internal gas tank, and provides excellent feel to the rider as well as improving rear wheel traction.
The stunning new white forks are fitted with Factory caps with an external knob that requires no tools to adjust the damping, ensuring very easy action to keep fork response constantly under control. The Evo front fork has been refined every year since 2009 and has become a benchmark in front suspension. The Evo Factory model continues this performance with valving designed to provide riders with unmatched performance. The fork is matched with an all-new aluminium billet machined triple clamp in stunning red. These lighter triple clamps provide less flex which translates to improved stability.
The whole Evo Factory 2015 range is fitted with many top-notch accessories and special components including:
–  Lanyard-Style kill switch, which enables everyone to use the bike safely
–  Anodized handlebar end caps, which protect the handlebars and reduces the event of a damaged throttle.
–  Footrests machined from a solid billet with non-slip steel teeth; these ensure maximum grip of the boot even in extreme conditions, and offer significant weight reduction.
–  Racing brake discs ensure stronger braking, a reduction in weight and give a more aggressive look and feel.
–  BrakeTech brake and clutch pumps, for a better feel, also in white to compliment the rest of the bike.
–  Michelin X-Light tyres, lighter and with more grip.
–  Red rims to compliment the white frame for that Factory look.
–  Black engine covers
–  Special Factory Team graphics to complete the package.
–  Red cylinder head cover
–  Billet aluminium chain adjusters and transmission oil filler cap