Over three years ago I acquired a bit of a mix and match Beta TR34 with the intention of quickly putting it together and moving it on … as you can tell that didn't happen!
I took it apart to see what was needed and then put it in several boxes and hide them away, with only the frame and seat/tank unit as constant visual reminders that it had ever existed.
But several months ago the engine was uncovered whilst looking for something else and it seemed like a good time to look at the whole project again.
The final outcome has now changed, I have decided I'd like an older bike to go play on occasionally. It will probably make me ride a few comps again as I just prefer going out to play on my TRS, but most of my riding mates have twinshock and pre65 machines so my thinking is I can join them and ride the air cooled mono class  and just have a laugh again.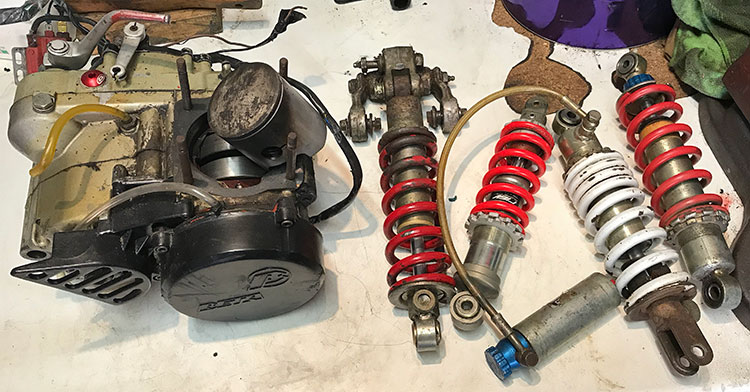 The air cooled mono bikes are a nice middle ground between modern bikes and the old twinshocks … suspension is a bit better and the brakes usually work, the bikes are a bit lighter weight and slightly more "modern" in feel and operation.  And it's taken a little less seriously in the rules department in general as the main focus of awards and championships is still with the older machines.
With that in mind I have decided to modernise this one during the build, I'm not going to be entering major championships and will more than likely ride it against modern bikes at club trials. The bike arrived as a bit of a strange one .. it certainly had the 1989 260 engine, frame, tank unit and forks but the subframe was steel, rear wheel was a  non-flanged tube type and the rear brake an older style. Also it was discovered that the standard steel swing arm was twisted, a common problem even in the day!
This TR34 will now slowly become even more mix and max, I have found a nice set of late Rev3/early Evo 200 forks and yokes. This means they are chrome finish and not that black coating that looks great when new but after a while starts to wear and look a bit naff. Also Steve Goode came up with a good priced Beta Techno alloy swing arm, and Richard Allen an assortment of other useful used items including all that was needed to convert the kickstart to the much nicer rev3 version.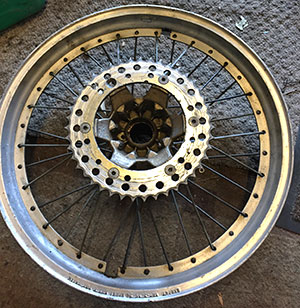 Thanks to some online friends I also managed to find a Techno rear wheel and a much better condition silencer, and the front pipe was a bit dented but that is in Spain with a man that can!  A new, rare as rocking horse manure, 260 piston ring was also found. So along with new seals and gaskets it's now time to rebuild the engine with new main bearings etc.
I've also decided, for costs, not to have the bike fully sprayed or powder coated etc etc … my aim at first is to make the bike mechanically sound and ride it for a bit before deciding if I want to tart it up. As I will be riding in some Welsh rockery it may just as well be a good ides to leave the paint as it is 😉
Keep an eye on future editions of the magazine as I will be producing an article or two on the developments and any problems as I go.