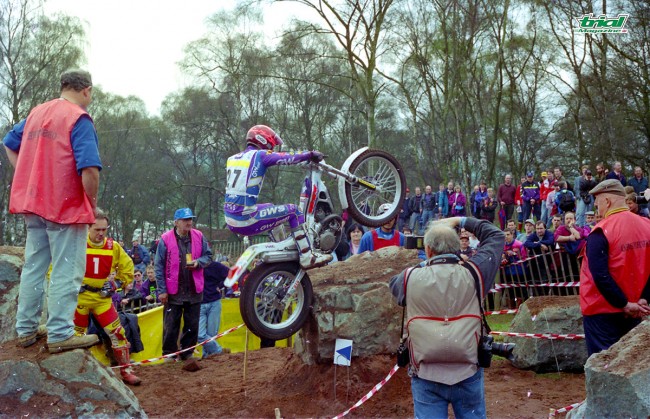 For many of us trial mad folk here in the UK 1996 will seem like it was just a few years ago, but almost 20 years later it has to be remembered that not only did we have no digital cameras but that the internet was still largely unheard of !!
Those were the last days of taking your camera to an event and waiting perhaps 2 weeks to be able to see the images that you had taken. More often than not the photos would arrive back in the envelope with white stickers on pointing out how badly you had done in trying to capture your heroes.
A recent visit into the loft to look for something completely different disturbed an old photo package that included some negatives, holding them up to the light brought back some great memories so we thought it was best we shared them … no matter the quality of the final images.
1995 had ended with Jordi Tarres once again as World Champion aboard the GasGas, but 1996 was the year of change. Marc Colomer would eventually take the crown aboard the prototype Montesa with a young Dougie Lampkin in the runner-up spot on the Beta. Jordi Tarres dropped down to third. And look at all those names that make us go all misty eyed in the remaining places!
The Hawkstone World round of 1996 was held on the 21st April, whilst not raining the sandstone rocks and roots remained damp and as can be seen from the photos the sky remained overcast and grey.
Enjoy a little nostalgia …
Photos – Heath
Many thanks to John Aylott for scanning the negatives.
Thanks to the superb Trialsonline site for the results.