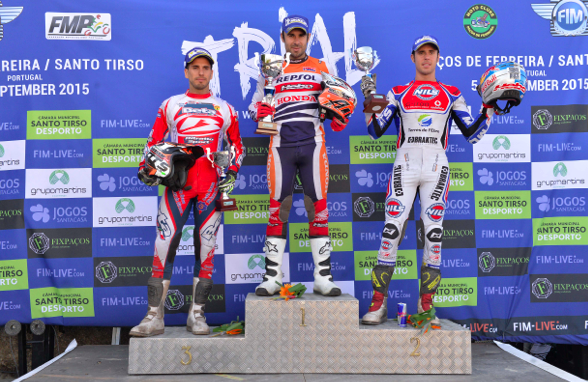 Toni Bou – Repsol Honda moved within touching distance of securing a ninth straight outdoor title as he won the latest round of the 2015 FIM Trial World Championship held at Paços de Ferreira / Santo Tirso, Portugal. Bou's most recent victory was anything but easy with today's competition being a very low scoring affair where any unforced error could have cost him dearly. However Toni held his nerve like the true champion he is to record his twelfth win of the season to date. Another win tomorrow will be enough for Bou to win the championship with one round still remaining.
Again, as so often has been the case this year and in previous campaigns, it was Adam Raga – Gas Gas who occupied the runners up berth only four marks back from Bou's winning total of three. Jeroni Fajardo – Beta produced an outstanding last lap performance to hoist himself onto the lower step of the rostrum and in doing so prevent rookie Jaime Busto – Repsol Honda from claiming his maiden top three finish.
Despite the relatively easy nature of today's Trial, almost all of the top ten finishers incurred time penalties, including the three podium riders Bou, Raga and Fajardo as they struggled to keep on schedule due to the length of the sections and the overall course. With Bou and Raga out in front under clear and warm skies, it was the battles behind the leading duo where there was more intrigue. Busto looked odds on favourite to take his first ever podium spot after two laps, but a disaster through the closing twelve sections eventually left him ten marks worse off than Fajardo.
In the end Jaime was fortunate to finish in fourth spot, equalling his best ever placing, as he won a tie break with Albert Cabestany – Sherco. Cabestany was demoted to fifth by virtue of having had one less score of two in a single section than Busto as they both ended the day with a tally of thirty-six marks apiece. Jorge Casales – Beta made it six Spanish riders in the top six as he continues to make a solid return from the early season injury that kept him side-lined for most of the 2015 campaign. France's Alexandre Ferrer – Sherco was the best of the non-Spanish riders as he rode himself into seventh position with three consistent lap scores. Meanwhile, it was a day to forget for Takahisa Fujinami – Repsol Honda who struggled throughout after having injured his back in a training accident. With Fujinami in eighth, it was down to the Vertigo pairing of Francesc Moret and James Dabill to close out the top ten on day one.
Arnau Farre – Gas Gas became the sixth different winner in the unpredictable and fiercely fought FIM Trial World Cup class. Farre parted with just one mark on his opening lap and then remained feet up through the closing twenty four hazards to run out the narrow victor. Behind Farre, the next three riders all tied on two marks with former round winner Iwan Roberts – Beta being cruelly knocked off the last podium place due to having the slowest overall time of the trio. Oriol Noguera – Honda very much kept his title hopes alive as he finished second on the day whilst championship leader Miquel Gelabert – Sherco could almost be relieved to take third position in a Trial where one mistake could have put him outside of the tip five. Quentin Carles de Caudemberg – Beta continues to hang on to second place in the title race, but only just after his recent poor run of form saw him end day one in seventh spot.
Having recently become the winner of the FIM 125 Trial Cup overall Marco Fioletti – Beta continued his incredible and dominant winning form as he took victory today by a massive forty-two marks. With only a single mark dropped over all three laps, the young Italian rider recorded a not so unlucky thirteenth triumph of the year to further increase and cement his position at the top of the general standings. Although a distant runner up Gabriel Giro – Beta managed to achieve his best result of the season to date as he relegated the more fancied Maxime Varin – Scorpa into third spot of this occasion.
After today's low scoring event across the board, changes will be made for tomorrow second day of competition to increase the severity as the riders tackle the closing day of the Portuguese Trial GP.
Remember to follow the 2015 FIM Trial World Championship by using the updated FIM app, which is available for FREE download (Apple store & Android market). Simply download the app and select the sport button from the front page. Inside the Trial section you will find information about the full series. Contained within each round you can access venue and event details, the event timetable, rider profiles, up to date championship standings, previous champions and standings, images and videos, news and most importantly lap by lap results as the action is actually unfolding. To view the same content online click here http://app.iqr.ch/fimapptrial
Photo – FIM/G2F Media