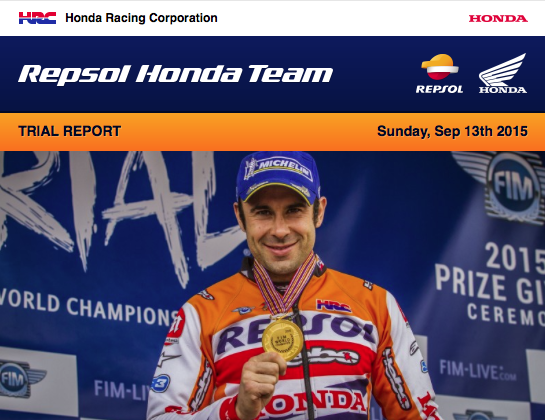 Toni Bou receives ninth world championship title in the Spanish GP

The curtain has closed on the 2015 FIM Trial World Championship in Teo, Galicia today with the eighteenth and final trial of the season. Toni Bou's world title will guarantee that the Repsol Honda Team go home satisfied with the season's performance.

It was a day of showers, umbrellas and wellington boots in Teo. The final day of the FIM Trial World Championship played out in the rain, the cold and a dense fog. Race organizers responded by modifying virtually all the sections, which made the route of the trial far easier that that of yesterday.

Toni Bou and his closest rival – championship runner-up Adam Raga – were once again neck and neck throughout the season's final date. A foot-fault by the Montesa Cota 4RT proved to be the difference in Raga's favour on the first lap. The second lap, in torrential rain, saw Bou score the same marks and Raga picking up just two. On the final round, the Repsol Honda Team legend managed to score two five-point faults to bring his scorecard to a total of fourteen, while the main adversary Raga kept his tally down to nine, gifting him with a win ahead of Bou, who had dominated the event in recent years.

Toni Bou, who was proclaimed champion last week at the Portuguese GP, was victorious in thirteen of the trials held in 2015.

Takahisa Fujinami rounded off his twentieth season among trial's top five finishers. On the second day of the Spanish GP, the Japanese rider had recovered slightly from the back pain that had plagued him throughout yesterday's event, riding a very steady three laps of the Teo circuit.

Jaime Busto claimed the title of 'Rookie of the Year'. The top debutante in the 2015 season marked a historic, best ever first season in World Pro with an impressive sixth overall place. Today he showed remarkable resolve, overcoming fever brought on by a bout of flu to finish the day in sixth.

The next outing for Repsol Honda Team will be the fifth event in which points count towards the Spanish Trial Championship, set to take place in Candeleda (Ávila) on Sunday 27th September. Prior to this, Toni Bou will compete for Spain and Takahisa Fujinami for Japan in the Trial des Naciones in Tarragona (Spain) next weekend.
Toni Bou   1

RACE: 2ND 

 

CHAMPIONSHIP: 1ST (CHAMPION)

It has been a fantastic year with nine consecutive wins and more wins than ever in a single season with thirteen. Whenever I didn't win, I finished in second place which is very important and that is why I'm so satisfied. I wasn't able to finish with a victory which I would have liked but even so I'm really pleased with the success. Also, I have to congratulate Adam for the great championship that he has had, but most of all the team who have worked incredibly well together. They made a huge effort and I'm really happy to be able to work with them.
Takahisa Fujinami   5

RACE: 7TH 

 

CHAMPIONSHIP: 5TH

It didn't go as badly today as yesterday. I felt a lot better today although I continued picking up faults. I'm really pleased to have finished the championship and I have to thank, most of all, the doctors and assistants who have helped to make it possible. Now, I will start to work with them to prepare for the future. I'm very happy to finish my twentieth season in the top five, even if I did want to finish in the top three!
Jaime Busto   15

RACE: 6TH 

 

CHAMPIONSHIP: 6TH

Today wasn't easy because I had to ride with a fever and my head really ached in some of the sections. But I had felt pretty good this morning and I was able to do some laps quite well to finish in sixth. I also finished sixth in the championship which at the start of the season was practically unthinkable. I would like to thank the whole team for the faith that they have had in me and also thank them for how much they have worked for me. I have tried to pay them back with the results.
Miquel Cirera

Team Manager

This Spanish GP wasn't a great one for the team. It was very close with Adam Raga who won it in the end. We can say no more. Toni fought hard on every lap, but it wasn't to be. Fujinami continued to have problems which we will have to start to look at. Jaime, in spite of competing with a high temperature, finished in sixth, which isn't a bad result considering the conditions that he found himself in.
The overall balance of the season is a very positive one: we have won another world title. Fujinami was fifth and Jaime sixth in his first year. I would like to thank all the team, the mechanics, the people from Japan, the sponsors and all those who have helped us, because they are the team and without them we would never have won. Thanks and see you again next season!
Results GP Spain day 2

Pos.
Rider
Num
Nation
L1
L2
L3
T3
Points
Team
Time/Gap
1

RAGA 

Adam

2
SPA
0
2
7
20
Gas Gas
9
2

BOU 

Toni

1
SPA
1
1
12
17
Repsol Honda Team
14
3

FAJARDO 

Jeroni

4
SPA
11
3
8
15
Beta Factory Racing
22
4

CABESTANY 

Albert

3
SPA
8
12
12
13
Sherco Factory Team
32
5

CASALES 

Jorge

7
SPA
14
7
11
11
Beta Factory Racing
32
6

BUSTO 

Jaime

15
SPA
16
15
112
10
Repsol Honda Team
43
7

FUJINAMI 

Takahisa

5
JPN
18
16
16
9
Repsol Honda Team
50
8

FERRER 

Alexandre

8
FRA
28
13
30
8
Sherco Factory Team
71
9

TARRES 

Pol

9
SPA
15
26
40
7
Sherco Factory Team
81
10

KADLEC 

Franz

16
GER
25
23
38
6
Beta Factory Racing
86
11

DABILL 

James

6
GBR
27
21
39
5
Vertigo
87
12

KARLSSON 

Eddie

14
SWE
30
25
33
4
Montesa Team Karlsson
88
13

MORET 

Francesc

18
SPA
28
34
36
3
Vertigo
87
14

PEDERSEN 

Hakon

12
NOR
46
27
29
2
Ossa Pedersen
102
15

SHEPPARD 

Jack

13
GBR
41
28
43
1
Jgas
112
16

SORENSEN 

Ole Kristian

19
NOR
51
51
45
0
Sherco
147
Rider Standings

Pos.
Rider
Num
Nation
Points
Team
1

BOU 

Toni

1
SPA
345
Repsol Honda Team
2

RAGA 

Adam

2
SPA
311
Gas Gas
3

FAJARDO 

Jeroni

4
SPA
246
Beta Factory Racing
4

CABESTANY 

Albert

3
SPA
233
Sherco Factory Team
5

FUJINAMI 

Takahisa

5
JPN
196
Repsol Honda Team
6

BUSTO 

Jaime

15
SPA
182
Repsol Honda Team
7

FERRER 

Alexandre

8
FRA
142
Sherco Factory Team
8

DABILL 

James

6
GBR
134
Vertigo
9

CASALES 

Jorge

7
SPA
112
Beta Factory Racing
10

KARLSSON 

Eddie

14
SWE
91
Montesa Team Karlsson
11

KADLEC 

Franz

16
GER
90
Beta Factory Racing
12

TARRES 

Pol

9
SPA
54
Sherco Factory Team
13

SHEPPARD 

Jack

13
GBR
54
Jgas
14

MORET 

Francesc

18
SPA
33
Vertigo
15

PEDERSEN 

Hakon

12
NOR
27
Ossa Pedersen
16

OGAWA 

Tomoyuki

18
JPN
16
Honda Team Mitani
17

KUROYAMA 

Kenichi

20
JPN
14
Yamaha
18

SORENSEN 

Ole Kristian

19
NOR
14
Sherco
19

NOZAKI 

Fumitaka

19
JPN
8
Yamaha
20

OGAWA 

Tsuyoshi

21
JPN
7
Beta
21

BROWN 

Michael

11
GBR
5
Gas Gas
22

NOMOTO 

Yoshiaki

22
JPN
2
Beta
23

SATO 

Yuki

25
JPN
1
Honda