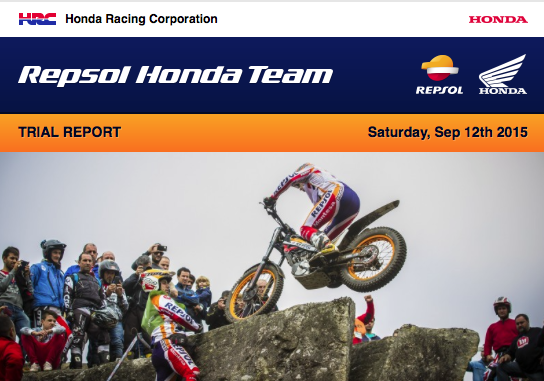 Toni Bou second on the opening day of the Spanish Trial GP

A rough day for Repsol Honda Team in the trial back on home soil. The Spanish GP first day finishes in Teo, with recently-crowned world champion Toni Bou in second place. Busto and Fujinami see their efforts compromised by physical issues. 

Toni Bou went into the season's final trial with a more laid-back approach after having sealed his ninth consecutive world championship title last weekend. In spite of the title, the Repsol Honda Team ace was as hungry for victory as ever, but saw hopes of a win on the first day fade after completing the twelve sections with an excess of penalty marks. The trial turned out to be a relatively simple affair, although some overnight and early morning rain had left the terrain in a delicate state. Even so, Bou and Raga – today's winner – were able to complete the second lap collecting just one mark each on the scorecard. A five-point fault on the first lap and some last lap slip-ups meant the Montesa Cota 4RT rider had to settle for second place.

Jaime Busto was unable to overcome some physical issues and posted a final eighth place. The Basque novice suffered a bout of intestinal troubles and had difficulty finding the verve necessary to tackle the more troublesome sections in the trial in Teo. Nevertheless, Busto has his sixth overall position assured in the championship.

Takahisa Fujinami also had a bad day in the office in Galicia. The Japanese was unable to shake off the back problems that hampered progress in last week's trial. A sharp movement in section one was enough to cause a recurrence of the pain that lasted throughout today's entire event.

Tomorrow, Sunday, sees the second day of the Spanish GP and the final day of the FIM Trial World Championship.
Toni Bou   1

RACE: 

 

CHAMPIONSHIP: 1ST (CHAMPION)

It was a difficult day. Once again, we had a trial where there was no chance of making a mistake, but I committed a fault on the first lap, maybe because I was not as focused as I should have been. The second lap went well, but I made some unnecessary errors on the final one. But anyway, I have to hand it to Adam, who made things harder today. When you don't win, a runner-up spot is a positive result. It's important to enjoy the weekend of the last round of the world championship which has been so good and go all out for the win tomorrow.
Jaime Busto   15

RACE: 8TH 

 

CHAMPIONSHIP: 6TH

I wanted to give it everything here, but I think that I must have eaten something bad yesterday that made me feel ill. This morning I woke up with problems and I didn't manage to improve until the final lap, where I finished with a more decent result. It's a pity but I continue to believe that I can finish the season with a great result.
Takahisa Fujinami   5

RACE: 10TH 

 

CHAMPIONSHIP: 5TH

I wasn't able to train during the week as the physiotherapist has been treating me for the back pain that arose in Portugal. But I did train yesterday and this morning and everything felt good, but a double-step in the first section caused a pain that left me physically weak. I didn't have the confidence to be able to finish some of the more complicated sections and my only hope now is to recover a bit tonight and finish the year well tomorrow.
Miquel Cirera

Team Manager

You can't win them all, plus Toni's rivals are tough. Whenever he misses a chance they are straight in there and today he gave them a lot of opportunities. Today things didn't turn out right, but that happens sometimes in trials. Tomorrow we will try our best to battle as we always do. Finishing in second place isn't a bad result, but when you are use to winning and then you don't, the whole thing seems a debacle. The rival was really good and we shouldn't detract from his work. Fujinami continues to have the back problems and they need to be sorted out. He's lost his confidence and when that happens the trials don't turn out the right way. Jaime too wasn't at his physical best and even though the last lap wasn't so bad, we will have to fix that too.
Results day 1 GP Trial Spain

Pos.
Rider
Num
Nation
L1
L2
L3
T3
Points
Team
Time/Gap
1

RAGA 

Adam

2
SPA
9
1
2
20
Gas Gas
12
2

BOU 

Toni

1
SPA
17
1
11
17
Repsol Honda Team
29
3

CABESTANY 

Albert

3
SPA
20
10
13
15
Sherco Factory Team
43
4

CASALES 

Jorge

7
SPA
24
14
16
13
Beta Factory Racing
54
5

FAJARDO 

Jeroni

4
SPA
26
18
12
11
Beta Factory Racing
56
6

FERRER 

Alexandre

8
FRA
32
15
11
10
Sherco Factory Team
58
7

DABILL 

James

6
GBR
30
23
22
9
Vertigo
75
8

BUSTO 

Jaime

15
SPA
40
30
18
8
Repsol Honda Team
88
9

TARRES 

Pol

9
SPA
45
21
19
7
Sherco Factory Team
95
10

FUJINAMI 

Takahisa

5
JPN
45
37
15
6
Repsol Honda Team
97
11

MORET 

Francesc

18
SPA
46
35
36
5
Vertigo
117
12

KARLSSON 

Eddie

14
SWE
38
40
45
4
Montesa Team Karlsson
123
13

SHEPPARD 

Jack

13
GBR
46
40
37
3
Jgas
123
14

KADLEC 

Franz

16
GER
52
42
39
2
Beta Factory Racing
133
15

PEDERSEN 

Hakon

12
NOR
53
48
36
1
Ossa Pedersen
137
16

SORENSEN 

Ole Kristian

19
NOR
56
50
55
0
Sherco
161
Rider Standings

Pos.
Rider
Num
Nation
Points
Team
1

BOU 

Toni

1
SPA
328
Repsol Honda Team
2

RAGA 

Adam

2
SPA
291
Gas Gas
3

FAJARDO 

Jeroni

4
SPA
231
Beta Factory Racing
4

CABESTANY 

Albert

3
SPA
220
Sherco Factory Team
5

FUJINAMI 

Takahisa

5
JPN
187
Repsol Honda Team
6

BUSTO 

Jaime

15
SPA
172
Repsol Honda Team
7

FERRER 

Alexandre

8
FRA
134
Sherco Factory Team
8

DABILL 

James

6
GBR
129
Vertigo
9

CASALES 

Jorge

7
SPA
101
Beta Factory Racing
10

KARLSSON 

Eddie

14
SWE
87
Montesa Team Karlsson
11

KADLEC 

Franz

16
GER
84
Beta Factory Racing
12

SHEPPARD 

Jack

13
GBR
53
Jgas
13

TARRES 

Pol

9
SPA
47
Sherco Factory Team
14

MORET 

Francesc

18
SPA
30
Vertigo
15

PEDERSEN 

Hakon

12
NOR
25
Ossa Pedersen
16

OGAWA 

Tomoyuki

18
JPN
16
Honda Team Mitani
17

KUROYAMA 

Kenichi

20
JPN
14
Yamaha
18

SORENSEN 

Ole Kristian

19
NOR
14
Sherco
19

NOZAKI 

Fumitaka

19
JPN
8
Yamaha
20

OGAWA 

Tsuyoshi

21
JPN
7
Beta
21

BROWN 

Michael

11
GBR
5
Gas Gas
22

NOMOTO 

Yoshiaki

22
JPN
2
Beta
23

SATO 

Yuki

25
JPN
1
Honda