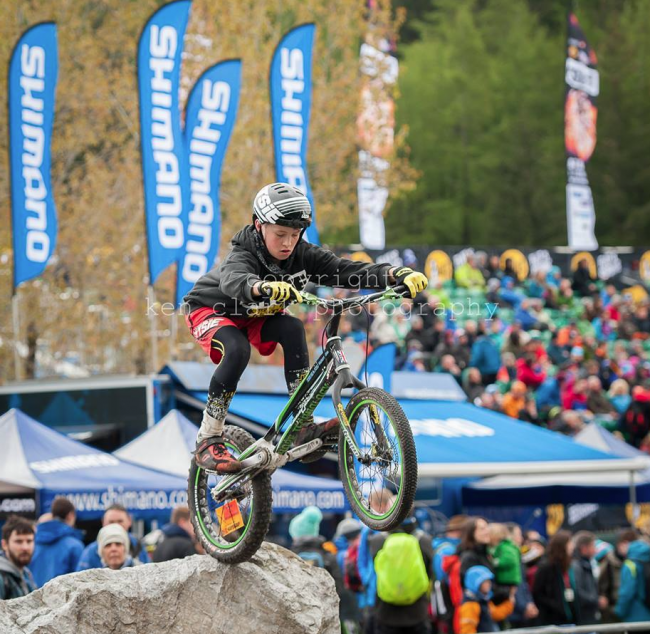 Rd 3. Nevis Range, Fort William –   Scotland.
Halfway stage of the British National Cycle Trials was staged alongside the UCI Mountain bike World cup so a mass of riders, spectators and exhibitors. A two day event with 3 laps to be completed on day 1 (Saturday) for the Trials riders.
Six sections were laid out 3 of them amongst the main complex and with 2 using the river bed of rocks going up the hillside. Section one was man made with plenty of involvement from local tradesman, building the section which incorporated railway sleepers, rocks, and tree trunks. A brand new Renegade Jeep was donated to use so the plan was put into action to jump over it trying not to dent it though. 
Heavy overnight rain Friday night continued and the top section was abandoned due to it being flooded with the water gushing down.The lower section was just usable but still adjusted. At the 10am start time the rain came down which made all the Experts and elite riders fail to get through section 1 and collect their first five, only 2 inter riders managed it namely Rob Rook (Rockman) and Toby Smith (Koxx) Brothers Jack Biggins (Zoo) and Adam Biggins (Monty) being the best of the Novice class riders had the solitary dab and both kept riding well and would both top there class on both days.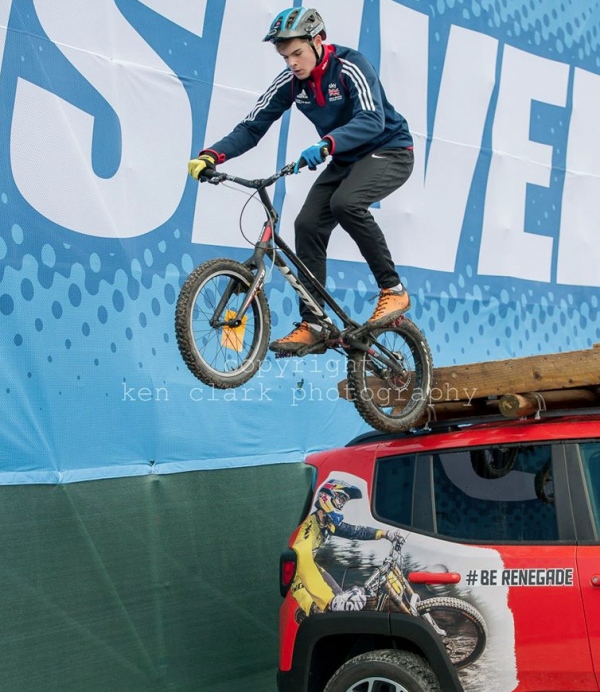 By the third lap riders were getting to grips with the hazardous conditions although wet and cold. Ed McIntosh (Onza) did well on the rocks of section 2 and 3 which put him in top place after day 1 Darren Ring (Gu) went round for just the 7 points on lap 3 alongside Dan Wheeler (Wheeler Special) who was having a little trouble with brakes.
Day 2 an early start 6 sections were used with the top section back in use as the water had calmed down Expert rider Charlie Rolls (Hope) started off on this one and showed all how to ride it clean hopping onto the tips of the rocks a joy to watch. Alex Dobson (Breath) took just the 2 to get up the bank when he took a different line. Will Ackerley (Crewkerz) watched and would also clean it in plenty of time left out of the 2 minutes allowed to clear a section.
 The Hemingway Brothers George and Harry (Monty) rode round together and had many good rides. By the end of Sundays comp the sun decided to show in time for a brilliant downhill event and the awards ceremony in front of a huge crowd. 
The awards for the Cycle trials were presented by Danny Macaskill, Duncan Shaw and Ali C during their Drop and role tour and all was shown on the big screen. 
Rd 4 will be staged at Bob Macgregor Trials Park, Ayrshire. 16th August.
Full Results can be viewed on Bike Trial Federation.Web site 
                                          Results
Primary
Bailey Dacker, ​Ross shire ​1st
Finn Johnstone​, Scotland​ 2nd
George Hemingway, ​Yorkshire ​3rd
Novice 
Adam Biggins, ​Tyne & Wear​ 1st
Ben Balfour​, Scotland​ 2nd
Jamie Smith​, Surrey​ 3rd
Novice Senior 
Jack Biggins​, Tyne & Wear ​1st
Ian Atkinson​, Lancashire​ 2nd
Harry Donaldson​, Scotland​ 3rd
Inter
Toby Smith​, Surrey​ 1st
Calum Grant​, Scotland​ 2nd
Elliott Tickner​, Surrey​ 3rd
Inter Senior
Edd Mcintosh, ​W.Yorkshire ​1st
Rob Rook, ​Essex​ 2nd
Darren Ring​, Essex​ 3rd
Expert
Charlie Rolls, ​Cambs ​1st
AlexDobson​, Devon​ 2nd
Callon Herd​, Scotland​ 3rd