British National Cycle Trials Cup 2015
Round 1   –   Hook Woods, Surrey. –  12th April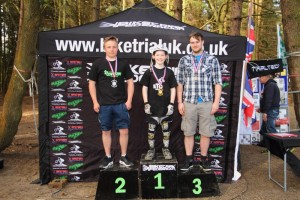 The first round of the 2015 British Cycle Trials Championship was staged at Hook Woods in Surrey, by the Bike Trial Federation. This year five rounds will span from Surrey to Oxford, Glasgow, Derbyshire, and Fort William in Scotland.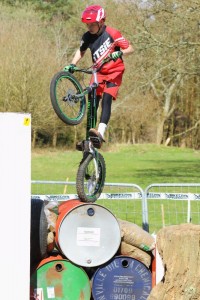 Sunshine was forecast for the weekend so riders could look forward to dry sections. 8 classes ranging from the Elite class right through to the Beginner class. Eight sections 5 on the rocks and 3 on the other side of the woods, 2 laps with 2 minutes on the clock per section, all sections observed and all with punch card operators and time keepers. New rules were set in place this year to coincide with European and World events which would take a little getting used to for some riders and observers. 
By the end of the first lap the World Elite riders Jack Carthy (Crewkerz) from W.Yorkshire handed his first card in and was on zero. Andrei Burton (Echo) from Devon on 2 marks lost, Sam Oliver (Rockman) from Waleson 17, Dave Kerr from Glamorgan on 21. Scott Wilson (54 Sport) from Kent on 22. Steve Rogers (M.A.D.) on 27 from Essex.
Section 8 with the big leaps, the V in the tree and big cemented tree trunks caused most marks to be lost on the Expert route, Charlie Rolls (Hope) dropped just the 1 on his last attempt along with Andrew Chai from Derby but 2 marks lost on section 6 (Roseys rocks) for Andrew left him finished on 11 two adrift from Charlie who took the gold in his first British Expert (UCI) class. Alex Dobson (Breath) from Devon the Bronze medal and 15 points in the championship. Sam Rolls (Ozonys) took the BIU Cadet class win so family celebrations there closely followed by Adam Morewood (Onnit) S. Yorkshire. 3rd place was Will Ackerley from N.Yorkshire who dropped the bulk of his marks on the latter sections. Iwan Osborne (Because) started the trial well with plenty of enthusiasm but a leg injury caused him to retire. Antonio Souza (Echo) also in his first big event rode well and finished in 6th place. Six Elite riders dropped a 5 on their first attempt at section 8, all but Jack Carthy and Andrei Burton.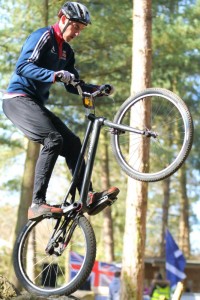 Section 1 was good to watch with all classes having to ride the massive camber so no stopping and just full leg power then the climb up the rocks and back wheel hopping with seconds to spare. Sam Shepherd (Ozonys) and Adam Boxall (Rockman) were the only two Inter riders to go clean with time on their hands Sam taking the Gold Adam the Silver and Ashley Kennard from Hants the Bronze. 
Section 5 was a totally new section that was formed by recent redwood tree trunks that had been delivered and cut down trees with concrete pipework at the end of it 8 year old Bailey Dacker (Onza) who had travelled for 12 hours from Rossshire to take part in his first British comp took just the dab to get through both times and would secure 2nd place in his class. Local lad Casey Moore (Monty) 3 marks adrift on the day took the Bronze. And the Primary class winner Samuel Meeten (Monty) from Sussex Gold. 8 points separated these top 3 riders.
Section 7 was also new to Cycle trials  as the ground was dry riders had a go at this mainly fun section with ditch jumping then over tree trunks down and around exposed tree roots and then with the bonus of a taped square that riders must avoid or drop a five Aaron Duke (Clean) from Scotland  who has just progressed to the Elite class just dropped a 1 on his second lap. Jack Biggins (Zoo) from Tyne and Wear took the top podium spot for the novice senior class from 2nd placed Lancashire rider Ian Atkinson (Identiti) Joe Lethbridge (Onza Blade) 3rd spot. Perry Meeton (Atomz) who rode with his son just missed the podium by 4 marks.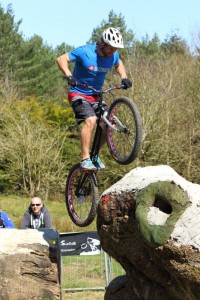 Novice green route saw Aspen Hopkins (Echo) from Worcestershire on top from Adam Biggins (Monty) and Jamie Smith (Koxx) third. The ultimate Elite route had Jack Carthy take Gold from Andrei Burton silver Sam Oliver Bronze. A great opening round to the British Nationals Cycle Trials cup 2015 with brilliant weather good sections and with riders encouraging each other on in this event simply spectacular and good to watch. Thank you to all concerned in staging this event.   
The awards from series sponsor TRIALTECH were presented by Chairman George Eyre and Administrator Barbara Wright.
Photography by Gary Attfield.
A superb opening round to the championship. Round 2 is to be staged at Seymours Arena Oxon 10th May.
Full Results can be viewed on Bike Trial Federation Web site