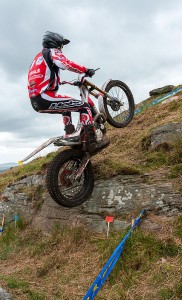 Whilst many people settled in for a holiday weekend the riders of the SXS Team had anything but a relaxing few days.
Team owner Steve Saunders made the trip down into Devon for the Lyn Traders trophy and, riding a friends Honda RTL250, finished as runner-up in the over 40's class. Steve's son James accompanied him and took top honours in the Youth A Class.
Becky Cook spent the time preparing for the upcoming Czech round of the Ladies World Championship and Ross Danby travelled north to ride round 6 of the RT Keedwell supported ACU British Championship.
Ross had his best result in this years Championship so far by pushing James Dabill for top spot for 2 laps before having to settle for second place on the podium at the end.
The SXS Team with support from Duck Smart, Rock Oil and Hebo will continue to compete throughout the UK and Europe during the 2015 season.
Photos of Ross and Becky taken at recent St. Davids Trial.