A busy weekend at Rounds 3 and 4 of the British Trials Championship at the weekend down in Devon at the West Of Englands 'Kellys Farm' venue for the Anthony Rew Trial.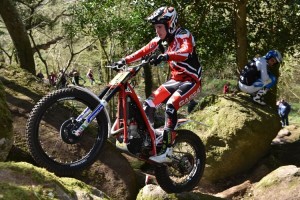 No.1 JSTGGUK Rider Michael Brown confidently won Round 4 on Sunday after a third on Saturday.
Michael is riding well at the moment and after a confident win last Sunday at the S3 Chris Carter Trial he was ready for BTC action at the weekend. Michael didn't look himself on Saturday and had alot of slack marks and two bad fives which put him on the third step of the podium. He finished with a good last lap which was positive looking to Day2. Jorge Casales was the deserved winner so congrats to him and Beta.
Michael was 'on it' from the off yesterday and rode upfront and determined to impress. He led from start to finish and deserved the win. Two laps of three and a clean last lap to edge the win over James Dabill in second and Casales third.
So we've had four rounds of the BTC now and three different winners. Dibs is leading with a five point lead over Michael. Jorge is 18 points behind Michael.
Both Alexz Wigg and Sam Haslam had weekends to forget.
Alexz was ok saturday finishing 5th but a bad last lap lost him 4th. He struggled yesterday in a lowly 11th.
Alexz is sure to bounce back and will be back smiling at the SSDT.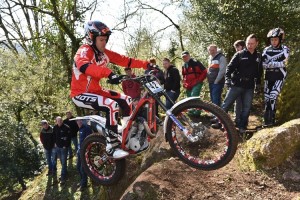 Sam Haslam did well to finish both days. Sam was riding with a sickness bug which he picked up mid last week. Not eating (and hardly drinking) for 2 days before a BTC is not the best preparation. Sam neverthless tried his best but struggled with zero energy. He was 15th on Saturday and a gutsy 7th yesterday.
Young GG pups Jack Price and Dan Peace had similar weekends.
Jack was 12 Saturday and a personal best 6th yesterday which was brilliant
Dan was 14th Saturday and also a personal best 5th yesterday, not bad for only his fourth adult BTC event.
In the Expert Class JSTGGUK rider Dan Thorpe had a great win Saturday and a 'bit off the pace' yesterday in 6th but only five marks the podium. Dan is now second in the Championship only 4 points down on leader Tom Hooper.
JSTGGUK Youth rider Jack Peace had two strong second places behind Toby Martyn. Both Toby and Jack were miles in front of the rest and are both riding very well.
The Youth Class ride the same route as the experts and Jack would have finsihed 10th and 3rd when you compare the scores.
Thanks to Factory Kev for preparing Michael's bike.
Thanks to Trials Media for the pics.
Regards
Shirty
PS. See in Fort Bill!