CLASSIC TRIAL MAGAZINE ISSUE 12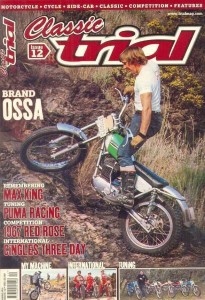 It's that time again for all the subscribers to Classic Trial Magazine, Yes Issue 12 will be dropping through your letterbox any day in full colour gloss. Inside you will find all your Trials News, Action, Events, Tests and so much more for you Classic – Retro addicted trials junkies who need the motorcycle fix. Park your feet up sit back and enjoy the read!
Classic Trial Magazine in Print – We are proud to be in print and using new material and unseen images from the very best photographers in the world.
Remember Classic Trial Magazine is only available on subscription – It's so easy to subscribe just go to www.trialmaguk.com and yes it's an all English website.
Classic Trial Magazine on the Internet – Why not download the App. Yes it's available across all platforms.
Inside and full of action you will find:
Brand: The years from 1966 – 1986 are looked at for the Spanish brand Ossa.
Remembering: Max King was the origanel book author
Club: It's the West of England Club's history.
Tuning: Puma Racing from Spain comes under the spotlight.
Product Focus: Get lubricated with Rock Oil.
Project: Who knows about the Suzuki inspired Turnuki – we do!
My Machine: John Maxfield's Tiger Cub.
International: We look back at the Cingles Three Day Trial.
Flashback: 1985 Pre-65 SSDT and Brain Cottrell
Visit: For SWM it has to be Moto SWM.
Classic Competition: The tough day out at the 1967 Red Rose Trial
Plus all the regular features – Remember it's only Trials!!
Make sure you don't miss out and get yourself a subscription by contacting Classic Trial Magazine: Mail: lisa@trialmag.com – england@trialmag.com or telephone: 01663 – 744766 (Between: 10 – 3 O'clock) Please be patient when calling.
For International Subscriptions and Costs please mail: england@trialmag.com