CLASSIC TRIAL MAGAZINE ISSUE 14 – TIME FOR A BREW!
It's that time again for all the subscribers to Classic Trial Magazine, Yes Issue 14 should be dropping through your letterbox and inside you will find all your Trials News, Action, Events, Tests and so much more for you Classic – Retro addicted trials junkies who need the motorcycle fix. It's time for a brew or a beer so park your feet up sit back and enjoy the read!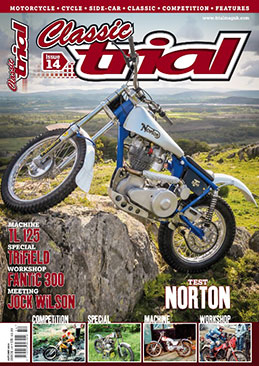 Inside and full of action you will find:
Test: Norton 500
Engine: Hiro
Workshop: Fantic 300
Meeting: Jock Wilson
Product Focus: REH – Armac                                                                                                                                                                                          
Machine: Honda TL 125                                                                                                 
Special: Trifield                                                                                                      
International: Soultz – France                                                                                                   
Visit: Steve Martin  
Sport: National's
Classic Competition: 1980 Northern Experts
Plus all the regular features – Remember it's only Trials!!
Classic Trial Magazine in Print – We are proud to be in print and using new material and many unseen images from the very best photographers in the world.
Remember Classic Trial Magazine is only available on subscription – It's so easy to subscribe just go to www.trialmaguk.com and yes it's an all English website.
Classic Trial Magazine on the Internet – Why not download the App. Yes it's available across all platforms.
International Readers – Subscribe On-Line – Its Easy – Just go to: www.trialmaguk.com
Make sure you don't miss out and get yourself a subscription by contactingClassic Trial Magazine: Mail: lisa@trialmag.com – england@trialmag.com or telephone on Monday or Friday: 01663 – 744766 (Between: 10 – 3 O'clock) Please be patient when calling.