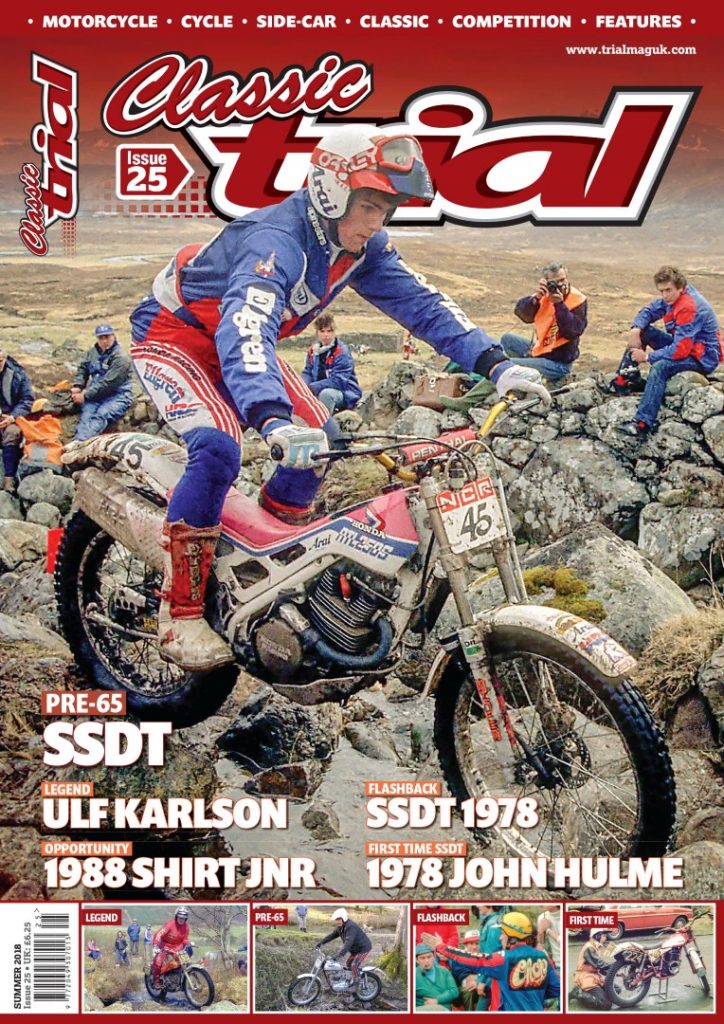 It's that time again for all the subscribers to Classic Trial Magazine, Yes Issue 25 should be dropping through your letterbox early this week and inside you will find all your Classic Trials News, Action, Events, Tests and so much more for you Classic – Retro addicted trials enthusiasts who need the motorcycle fix. It's time for a brew a beer or maybe a wine for the ladies so park your feet up sit back and enjoy the read!
Inside and full of action you will find:
Traditional: All the action from the Pre-65 SSDT.
Classic Competition: An adventure back to the 1978 SSDT.
Opportunity: An exclusive look at John Shirt Jnr and the Honda RTL.
Legend: Ulf Karlson – Remembering the life and times of the first Montesa World Trials Champion.
Profile: The Luckett's – The husband and wife team John and Brenda.
Sport: All the action from the Kia Championship.
International: 1978 World Trials Championship – Who could stop 'Vesty'?
My First Time: 40 years ago Classic Trial Magazine editor John Hulme rode in his first SSDT.
Plus all the regular features – Remember it's only Trials!!
Classic Trial Magazine in Print – We are proud to be in print and using new material and many unseen images from the very best photographers in the world.
Remember Classic Trial Magazine is only available on subscription.
Subscribe On-Line – Its Easy – It's so easy to subscribe just go to www.trialmaguk.com and yes it's an all English website.
Classic Trial Magazine on the Internet – Yes it's available across all platforms including Issuu and Pressreader.
International Readers – Subscribe On-Line – Its Easy – Just go to: www.trialmaguk.com
Make sure you don't miss out and get yourself a subscription by contacting Classic Trial Magazine: Mail: lisa@trialmag.com – england@trialmag.com or telephone on Monday or Friday: 01663 – 744766 (Between: 10 – 3 O'clock) Please be patient when calling.
Copyright: All pictures – Classic Trial Magazine