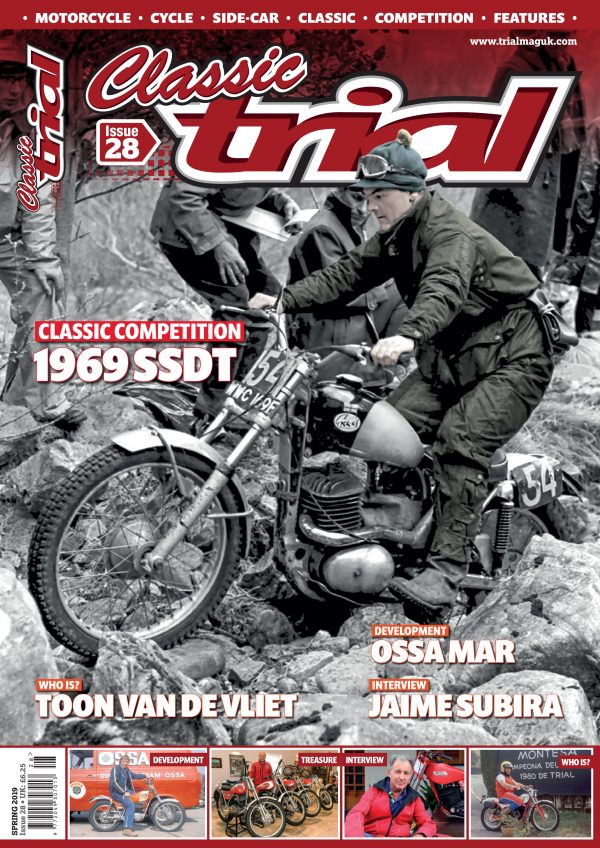 It's that time again for all the subscribers to Classic Trial Magazine, Issue 28 should be dropping through your letterbox next week, from Thursday 14th February onwards. Inside you will find all your Classic Trials News, Action, Events, Tests and so much more for you Classic – Retro addicted trials enthusiasts. It's time for a brew a beer or maybe a wine for the ladies so park your feet up sit back and enjoy the read!
Inside and full of action you will find:
Classic Competition: Bill Wilkinson wins the 1969 Scottish Six Days Trial.
Interview: Spain's Jaime Subira talks about his trials career.
Lost Treasure: Yrjo Vesterinen is the 'The Trials Detective'.
Development: This is a Classic Trial Magazine exclusive look at the development of the Mick Andrews Replica Ossa.
Meeting: The Trials Guru John Moffat talks with Dennis 'Jonah' Jones about his trials riding years in another Classic Trial Magazine exclusive!
Who is: Toon Van De Vliet talks about his love of motorcycles and trials.
Product Focus: We take a look at Rock Shocks.
Celebration: Trials Legends gather in Spain November 2018.
Take a quick view before you buy: http://bit.ly/Classic-Trial-Magazine-28
Classic Trial Magazine in Print – We are proud to be in print and using new material and many unseen images from the very best photographers in the world.
Remember Classic Trial Magazine is only available on subscription.
Looking for a back issue? – Go to www.trialmaguk.com
Subscribe On-Line – Its Easy – It's so easy to subscribe just go to www.trialmaguk.com and yes it's an all English website.
Classic Trial Magazine on the Internet – Yes it's available across all platforms including Issuu and Pressreader.
International Readers – Subscribe On-Line – Its Easy – Just go to: www.trialmaguk.com
Make sure you don't miss out and get yourself a subscription by contacting Classic Trial Magazine: Mail: lisa@trialmag.com – england@trialmag.com or telephone on Monday or Friday: 01663 – 744766 (Between: 10 – 3 O'clock) Please be patient when calling.
Classic Show Dirtbike Show 2019, Come and see us in Hall 2 on stand no: B64 – Look out for the flags!
Copyright: All pictures – Classic Trial Magazine