COLIN APPLEYARD MBE 1935 – 2015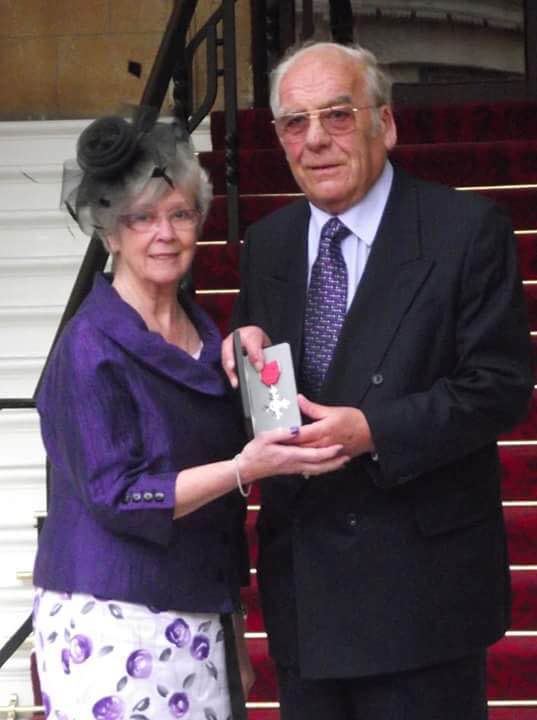 Colin Appleyard MBE, one of Yorkshire's best known and most respected businessmen, has died aged 79. Colin started his career in 1951 working as a motorcycle mechanic for Allan Jefferies, Shipley earning just £1.78 per week. By the time he left, in October 1970, to set up his own dealership in Keighley he had risen to become Sales Director. Over the next few years, with the help of his wife Peggy, the business grew into one of the country's leading motorcycle dealers. Various major franchises were taken on including Suzuki and it was on the back of the success ofselling their bikes that the Japanese manufacturer asked Colin to launch Suzuki Cars in Great Britain.
From those modest beginnings in 1979 the company has grown to become the UK's largest and most successful Suzuki car dealerships with showrooms in Keighley, Huddersfield, Ashton-under-Lyne and Shipley. It employs over 120 people, has a turnover in excess of £35 million and in 2013 also acquired the Nissan dealership in Keighley.
In 2004, to celebrate Suzuki's 25th Anniversary in the UK, Colin, along with other leading dealers, was invited to Japan to tour the country and visit the Hamamatsu factory. At the celebration dinner Colin, who was affectionately known by the Japanese directors as 'Father of the Franchise', sat with Peggy on the top table alongside Mr Ono, son-in-law of the founder Mr Suzuki. He also gave a short speech and vote of thanks, part of which was in Japanese, much to the delight of his hosts.
Colin' moment of fame came in 1981 when he bought a complete stock of Beamish motorcycles and spares at a knock down price and then promptly exported them to Japan. Under the headline 'Selling coals to Newcastle' the achievement was featured by Angela Rippon on the Ten O'clock News.
As well as starting and running a successful business Colin was also highly respected in the world of motorcycle sport and it was for his lifelong service to this sport that he was awarded an MBE in the 2013 Queen's New Year's Honours List.
His involvement in motorcycle sport stretched back over 70 years and began when, as a boy growing up in Guiseley, he could hear the roar of bike engines as they raced around Esholt Park. He was hooked! As a young man he joined the Bradford and District Motor Club, going on to become their youngest committee member and later serving as president before he was given the honour of being made a life member.
His motorcycle racing career spanned two decades, retiring in 1969 to concentrate on managing the successful racing career of son Robin, who went on to win the British 125cc Championship on five occasions and ride in 92 Grand Prix. Robin now follows in his father's footsteps, running a race team dedicated to developing the careers of young, up and coming riders.
Over the years Colin served as a director of the Auto-Cycle Union's (ACU) governing body and for a time sat on their road race committee. He also served on a number of other motorcycle industry bodies including the National Motorcycle Industry Association and the Retail Motor Industry Federation.
Despite failing health Colin remained active in the business until his last few weeks and on his final trip abroad to the Suzuki Conference and Awards Dinner in Amsterdam last December he was delighted to be given a standing ovation by the Suzuki dealer network and guests when he stepped up to receive, for the sixth time,  the Suzuki 'Dealer of the Year' plus a special award to mark the company's 35 years as a Suzuki dealer and reaching sales of 30,000 new Suzuki cars.
Above all, however Colin was a devoted family man. Happily married to Peggy for 55 years he was extremely proud of his daughter Judith, son Robin and grandchildren Cassie, Lauren, Jack and Ben plus great-granddaughters Louis and Ivy. He also leaves a daughter-in-law Diane and son-in-law Gary, He died peacefully on Tuesday 30th June in the York Suit of the Bradford Royal Infirmary surrounded by his family.
The family would like to thank the doctors and nurses of the York Suit for all the dedication and kindness they showed in caring for Colin during his final few weeks in hospital. 
Further details from Robin Appleyard 07976 258155  r.appleyard@colinappleyard.com
Colin's funeral is 2pm Thursday the 9th of July at St Peter's church Moorhead Lane Shipley West Yorkshire BD18 4JN. Then to the Mercure Hotel (formerly Bankfield hotel) Bradford road Bingley BD16 1TU.