Entry forms will be on the website with a limit of 300, which is in many languages including English from the 1st September www.trialcostabrava.com
The trial start and the paddock are at the Hotel S'Agaró in Sant Feliu de Guixols.
There are 3 levels of difficulty: Yellow (very easy), Green (medium) and Blue (difficult) and in each level there are different categories depending on the year of manufacture of the motorcycle. The sections are not marked out to be dangerous.
The 2017 edition of the two-day Costa Brava trial will have the paddock which is closed and guarded overnight with the signing on and race office located at the Hotel S'Agaró.
The route will be about 35 km with 20 sections. There will be 40 sections (20 for categories of yellow difficulty and 20 for categories of green and blue difficulty) but each rider will have to do 20.
This year a significant change to the route has been made with new sections different from those of previous years.
The Blue category the club has already had intrest in entries from: Lluís Gallach, Manuel Soler, Jaume Subirà, Xavier Miquel, Yrjo Vesterinen, Charles Coutard, Ulf Karlsson, Fred Michaud, Steve Saunders, John Lampkin and Glen Scholey.
As it is tradition, on Saturday evening there will be a dinner at the same Hotel S'Agaró where a motorcycle will be raffled: this year the model will be a yellow Ossa. We will be happy to invite you to attend dinner.
So you want to ride – here's what to do.
Keep an eye on the website: www.trialcostabrava.com and do not panic, as it's in five languages including English and very easy to navigate. You can fly direct to Barcelona or Girona airport and hire a car to drive to the hotel.
Accommodation
Hotel S'Agaró
The paddock and the race office are located at the Hotel S'Agaró, Platja de Sant Pol, Sant Feliu.
Reservations: 972 325 200 or info@hotelsagaro.com
The hotel S'Agaró offered special prices for the trial in 2017.
Hotel Barcarola
Located 200 meters from the paddock it also offered a special price in 2017.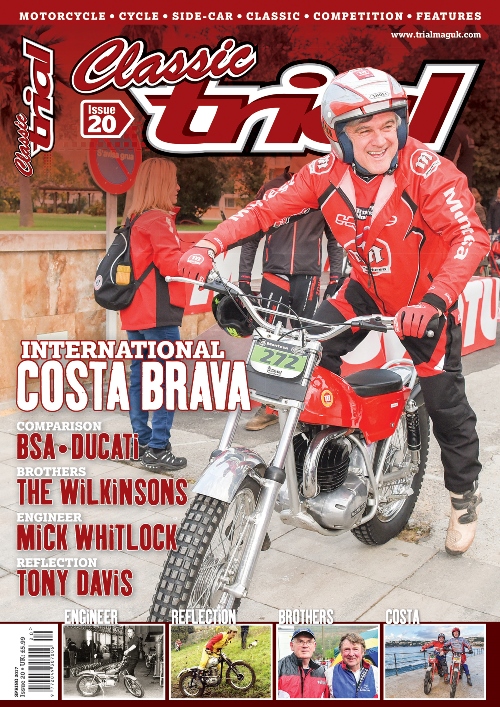 Note – A full report and information on the event can be found in Classic Trial Magazine issue 20. This can be purchased at: www.trialmaguk.com