Cracking start to 2015 for the OSET cup
Oliver Unsworth (5), Theo Rowles(6), Robbie Rowles(6).
The ever popular Cheshire OSET series got off to a great start with a record entry of 47 riders!
Santa had clearly been busy as many were keen to test out their shiny new bikes which had been dropped down the chimney, for this all electric event. The first fun trial of the year for the series was held at, an all new venue, Hales Superbole mountain board and mountain bike centre in Harthill near Chester. The organisers had used only a portion of this huge facility, to mark out five sections. Some of which tackled the pipes and ramps normally used for grinding by the mountain boarders. Alongside this were some of the more traditional banks and turns.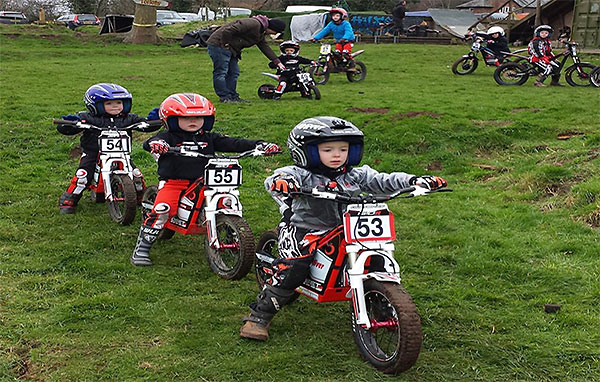 With three routes – novice, inter and expert – it was talented Lewis Hurdsman who took the top export spot and is one to watch in the 2015 ACU British National Championship. Pocket rocket Dylan Hayes kept Lewis on his toes who at just 6 years old and looking like a seasoned pro already on 21 marks. Just two marks back was Kieran Skehan on his OSET 20. 2014 D class hard route champion Steffan Jones and runner up Daniel Jones stepped up to the expert route and both made good progress.
The C class inters was won by, newcomer, Gethin Beech Jones having a great ride to drop just 11 marks. Dan Douglas and Douglas Christopher followed, separated by just one mark on 26 and 27 respectively. Another newcomer Connor Wilcock won the C Class novice route from Ellie Molyneux without dropping a mark, perhaps a step up to the expert route beckons at the next trial?
With the ACU Youth age ranges amended for 2015 the D class has become one of the biggest. Callum Heath, stepped up from competing on the novice route last year, to win the D class inters on 16 marks. Second place went to speed demon Will Hughes dropping 22 with his all action style! Joe Chard took the final podium spot on 27 marks. Hot on his heels were Alfie Hoyles, having a great ride on his new OSET 20, and Jeremy Titley both on 28 marks. Bobby Kay and Joe Powell both had impressive rides settling into their new big bikes for the first time.
Twenty riders took part in the D class Novice route, the win couldn't be separated as two riders went faultlessly through every section. Jess Widdowson, obviously enjoying her new 20 lite and William Sagar took first and second. Big improvers from last year's E class were Molly Barber losing just one mark to take third and Ted Mackman following on 9 in fourth. Milly Powell was the rider of the day, her first ever trial and on a new 16 Racing, she finished an impressive 12th in this tough class. Dropping just 29 marks and never losing the smile from her face for the three hour duration!
Young Kennie Brierley had put some serious time in on his 16 Racing since Christmas Day. It obviously paid off as he took victory in the E class novice on just 4 marks. A result which would've put him in fourth place of the age group above his, well done! Olivier Arkwright took second place in his first ever trial.
When the batteries had died there was even more fun to be had in the foam pit! Normally used for back-flip practice it also made a great diving pool for the kids (and some of the mums too!)
The venue owners are keen for the land to be used as a pay-per-ride practice area too, if this is well attended, they also plan to dig out an area specifically for OSET events.
The first championship round of the series is planned for March 8th, further details to follow, to get involved please contact Ian Mackman, 07958 181323, mackers1979@outlook.com