Round 2- Cycle Trials Radical Bikes, Essex. 29th March 2015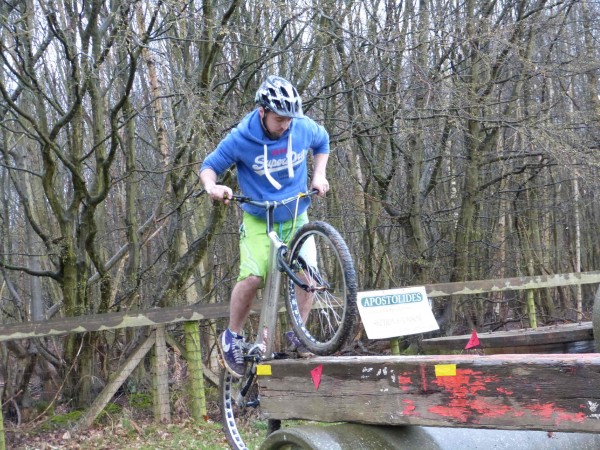 Radical Bikes, Barrow farm, Chelmsford, Essex. Was the venue for the Crowthorne champ Cycle trial, with 5 routes that were laid out, from tiny riders on balance bikes to get them competing from an early age right up to the Expert elite category.
Six sections all observed which had the riders doing 3 laps. This weekend was also a big archery event so plenty of viewers watching us. The forecast for the day was heavy rain at times which would make the sections interesting. With obstacles such as big metal oil tanks, slippery cotton reels, tractor tyres, huge wooden crates, concrete pipework and balance beams were just a few things on offer for the adult and youth riders of the day.
A good turnout of Expert and Inter class riders that were going round in groups egging each other on, this was good to watch in this competition. Before the start the sections were eased as the rain started. Section 1 used the disused oil tank and overturned tractor tyres which had grip written all over them, then onto the concrete balance beams most of the inter class would at some time clean this. Novice class rider Joe Lethbridge (Onza Blade) would drop 2 marks on his last lap which would drop him to 3rd position on the podium just the 1 adrift from Jamie Smith (Koxx Sky) Perry Meeten (Atomz) would take the his first win. Section 2. Was the concrete pipes and boulders that Rob Rook (Rockman) had trouble with on his last attempt which cost him a five alongside Dan Wheeler (Because) Section 3. A tricky little section with awkward logs in it. Casey Moore, who had been sick beforehand and did well to compete, took 2 big dabs to get through like Samuel Meeten (Monty)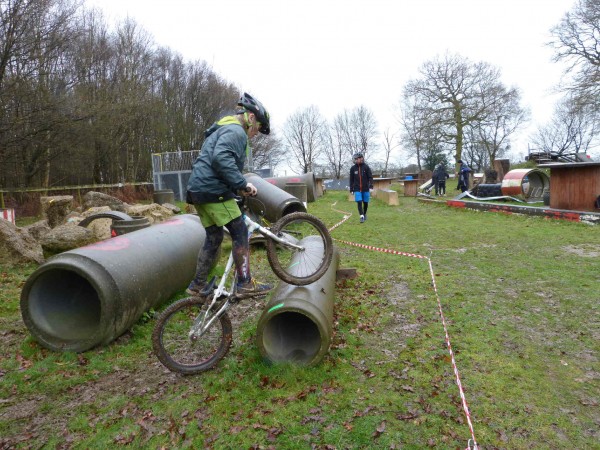 Section 4 had just about everything in it, Barrels and a concrete tunnel that novice and balance bikes would go through. Perry Meeten would hop from the slated wood onto the barrels and go clean, he was the only green rider to do this and  the only inter rider to clean it was Adam Holt (26 Stock) who only competes once or twice a year and only dropped 7 on his 2nd lap, there was a slippery slide to tackle for the Expert and Elite riders and plenty of mud to give it no grip at all. Steve Rogers on the 20 inch received advice from James Butcher to jump from the double tyres and hook it and found this was the way to do it but had dropped 2 in the mud. He would go on to win the Elite Class. Toby Smith (Koxx 2) took a safety dab in the corner.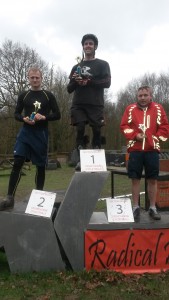 Section 5 had another slippery slide and was a point taker before the riders took to the jumps. Section 6 had platforms and hurdles which riders found challenging. The rain stopped just before the presentations of awards which saw Richard Tickner topping the expert class in front of Iwan Osbourne from Wales. Toby Smith in 3rd Darren Ring (GU) taking his first win in his class 4 marks in front of Rob Rook and also 4 in front of Adam Boxall (Rockman)  Kayla Broomfield and Katy Tickner riding their balance bikes did another lap in the mud and ended the day dropping the same points.
A good day with all entrants finishing is always a bonus, although very muddy. Round 3 will be contested at Nash Mills Kings Langley 29th April
                          All results can be seen on Bike Federation UK web site