The penultimate round of the Cycle trials Championship was held at Nash Mills Kings Langley Herts, in conjunction with Berkhamstead MCC. On a dry sunny day, 6 sections of 5 routes with 3 laps were set out, but with the addition of a seventh section, a special speed test using the recent dug out trench work by Berks MCC club members, who have put in a lot of hard work and time on the ground constructing new sections. Music would be played throughout the day on the PA system.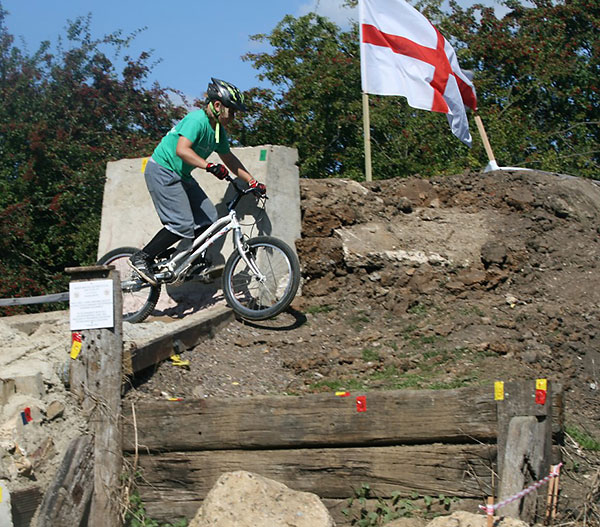 Section 1. Observed by Helen Smith was laid out just past the entrance and with a new tyre layout and featuring rocks, roots and climbs the gate before the end gate was a bit tricky for the experts and Elite class, a cut down tree trunk at the top of the section with an awkward entrance. Section 2 featured the additions to the waterfall, big concrete slabs had be constructed and with new dug outs. With the sun shining on the section it made good viewing especially when Tom Hutley (Onza Limey 320) went through for a clean on the inter route. The Expert route was very hard, if I do say myself. Alin Milian from Romania on his first trial with us had difficulty and just could not get through it. Adam Holt (Ozony) would get a 3 on his 3rd attempt and this would be crucial to getting 2nd place Expert behind Toby Smith.
Novice rider Adam Birchmore (Monty 221PR) riding with confidence after putting so much time into cycle trials was the only rider to have a clean lap on the day which, was his 3rd lap, and this would gain him his very first win in the class .. well done to him.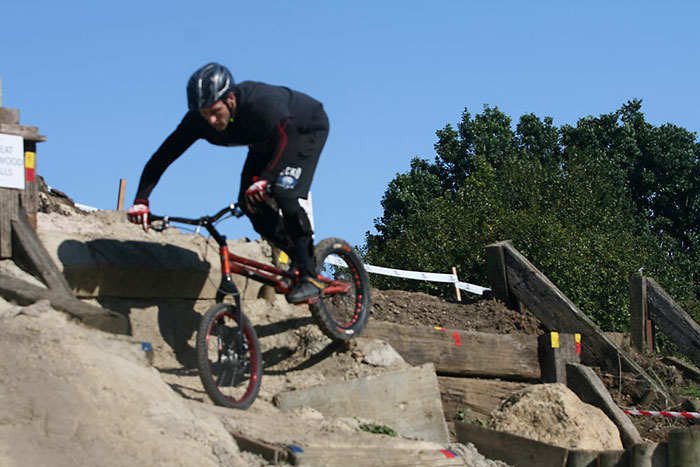 Section 3. With the newly reformed staggered railway sleepers that this was taped on either side so all riders would tackle it then dropping down to the slabs and onto the imbedded styles, before the exit gate was a corridor of boulders on the hill that required the 3 classes to tackle all in under 2.5 minutes. Darren Ring (GU) was the top dog on this one.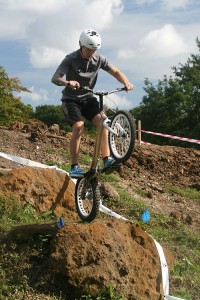 Section 5 was a mountain of Tractor tyres all built up recently. All would drop down the taped dog legged section then climb the tyres so plenty of energy needed and after completing it riders would be out of breath but glad they made it. Expert Toby Smith had no trouble on this riding the new Ozony frame. Brother Jamie Smith (Koxx) on the green route, which had deviations, would take a solitary dab while Ed Brockbank (Onza Vox), who has notched up 3 wins in the beginner championship category, recorded a good second lap of just 5 and finish on 23 points to chalk up his 4th win.
Section 6 was put up the day before but had to be pulled for safety reasons and moved to the other side of Nash Mills using new boulders and tree trunks. It was set out by members on the day which was great to have their input.
Section 7. was more for fun timed and had two start gates all laid out in the trench work with obstacles. Perry Meeten (Atomz) would line up but before his move off his pedal would slip and gouge deep into his leg. He could not look at it and steamed into the section to record a time off 30.47 to win the easier course, and nurse his leg. Ed Wheeler (Zoo) would take the win and trophy for the hard course with a time of 33.37.
After a run off on section 2 for third place in the Expert class Ed Wheeler would just take the win from Alin Milian on 1 less dab and in the time span.       Results on Bike Trial UK web site
Thank you to Berkhamstead MCC for the use of their excellent land
And thank you to all the observers and helpers.