Crowthorne Cycle Trial –  Round 4 – Brackendene.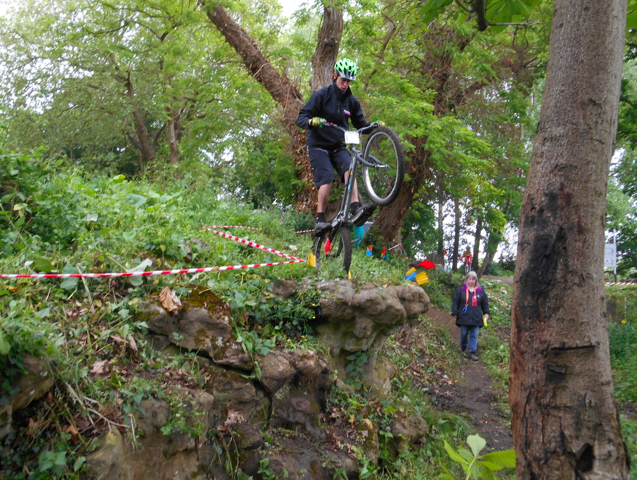 Cycle Trial riders competed at Addlestone Moor, Chertsey Surrey. With its disused concrete gardens that has long lost its former glory for round 4 of the Cycle trials championship. Along with a remote control off road vehicle trial completion that took place all with sunshine for the week end. A lot of stinging nettles and overgrowth at this time of year so a little time beforehand to plan the six sections with 5 routes, 3 laps  with the dabber class included  all observed with a further section being used for a special test speed course with a trophy up for grabs for the eventual winner.
Using most of the concrete at the top end of Brackendene and with both sides of the stream with logs and dry rooty banks with just a little water in the stream that the novice riders enjoyed riding through, the inters and expert riders jumped over the water to keep their brakes dry. 
Adam Holt (Ozonys) on the Inter route would be out to win this class at the end of lap 1 he was on single figures riding extremely well, but while on lap 2 he had incurred 3 fives and all on the latter sections where he had cleaned before, other riders got better like Darren Ring (GU) and Elliott Tickner (Echo) who would both drop just 6 on lap 2.
The Novice class was well contested with all riders very close on points. Section 4 seemed the hardest for them but Casey Moore (Monty) cleaned it on his last lap and was well pleased with himself and with this section being the decider on who would take the podium places due to the severity of it. Samuel Meeten (Monty) would beat his dad by 7 points and take 3rd place novice with 2nd spot going to Adam Birchmore (Monty 221) with  Jamie Smith (Koxx Sky) finishing on 17 points who has now won 3 rounds.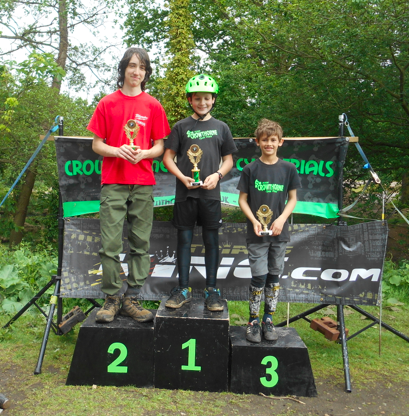 The Dabber route where they do just the 2 laps of the completion and which allows riders to use their balance bikes without pedals to get them onto cycles had Katy Tickner (Silver fox) hold off Kayla Broomfield (Pinkybike)
Expert rider Toby Smith (Koxx) who lost just 17 like his brother win his class again. Best elite class rider had Scott Wilson (54 Sport Rockman) take the win. He would also be the winner of the Special test going round on 27.99 seconds beating off Richard Tickner with a time of 29.21 seconds.
All results and fixtures can be seen on the Bike trial Federation web site.