Cycle Trials – Rd 3 – Nash Mills, Herts. 19th April 2015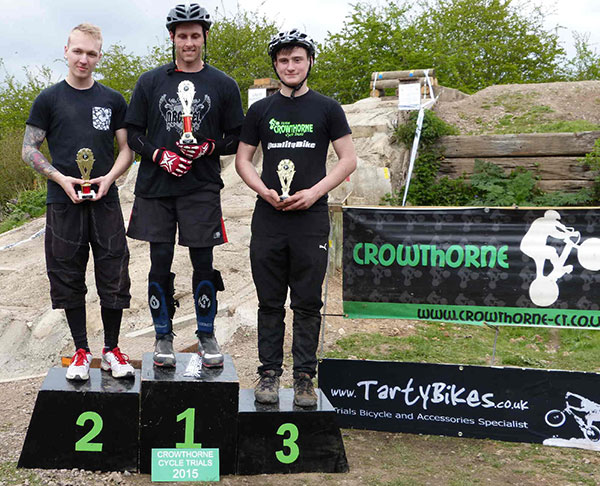 Crowthorne Cycle Trials Club staged their 3rd round of the Cycle trials Championship at Nash Mills Kings Langley, Herts, in conjunction with Berkhamstead MCC. 
A dry day but a little cloudy, A lot of work has been taken on from the Berkhamstead club with new sections to ride. Six sections of 5 routes, with 3 laps was to be ridden.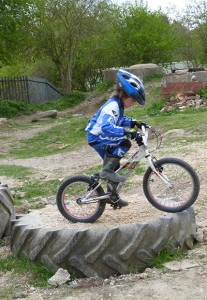 Section 1 was timed with 2.5 minutes on the clock to complete and situated opposite the signing on area this was observed by Clive Smith, it was laid out using the brand new waterfall section so riders had to ride down into the dip then make their way up the concrete falls and then over the fixed shortened poles, a swirl around the top and over the gated barrier. The end gate was down the bottom of the hill just after the boulders to make life difficult. New rider to cycle Trials Charlie Crabtree (Monty 207) dabbed through for a 3 avoiding the concrete. Inter rider Tom Hutley (Onza Limey) on his first trial with the club had just the 2 dabs. On his last lap he knew the line and went clean, this would secure 2nd place inters for him behind Darren Ring (GU) freshly faced from the British round at Hook Woods. 
Aaron Carpenter (Ozonys) just could not get to grips with this section, losing max points. Novice rider Adam Birchmore (Monty 221pr) just took this section in his stride, not a single point lost here but a brief lack of concentration on section 4 when he put both feet down after cleaning in the previous attempts, cost him 5 marks and lost first place to Jamie Smith (Koxx)winning it on 14. Adam finished on 17. Expert riders seemed to have fun on this one each looking where to take a dab or not. Adam Boxall (Rockman) changed his direction on his 2nd go and came through on a 2.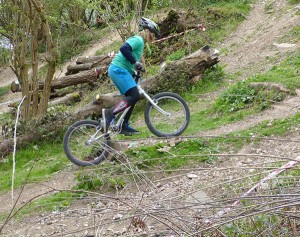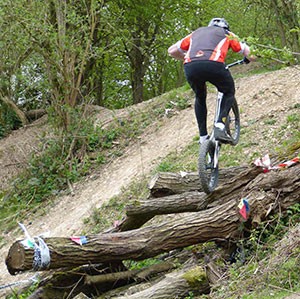 A welcome return to Cycle trials comps was Ed Wheeler (Zoo), laughing at others misfortunes and just basically having fun. He finished the trial and ended on the podium taken the third trophy, just 2 points in front of Adam Holt (Ozony) who did a good last lap but not quite good enough. Joe Lethbridge (Onza blade) went over the handlebars when his brakes bit a little too hard and after a little first aid he was back to seize 3rd place. Brothers Sam Rolls (54 Sport Ozonys) and Charlie Rolls (Echo) rode around together doing the Elite course. Section 4 was a stamina section and both passed with a clean sheet. Charlie taking the win from Sam. Ed Brockbank (Onza Vox) took his second win in his class and heads the group now in the championship. Another new rider Joe Southall (Breath) got better towards the end and finished in 7th place in the highly contested novice class. 
Next Club Cycle Trial 31/05/15
Thank you to Berkhamstead MCC for the use of their excellent land 
And thank you to all the observers. Admin assistants, plus the First aider. Results on Bike trial UK Federation web site,