James Dabill riding the prototype Vertigo Combat confirmed his 2015 British Trials Championship title with a runners-up spot at the seventh and final event of the series held near Whitby, North Yorkshire. Dabill eventually claimed the first national title for the new Spanish brand by a margin of sixty-five points over fellow World Championship contender Jorge Casales who finished a distant third at the closing encounter to allow James to further stretch his winning margin.
Riding with no real pressure having already secured his sixth domestic crown at the previous event held in Scotland earlier this month, Vertigo factory rider Dabill arrived at the Guisborough and District Club venue in a relaxed yet confident mood to round out his 2015 campaign with a strong showing.
Whilst the riders at the British leg of the MotoGP World Championship at Silverstone had to endure a very wet day, the last round of the 2015 British Trials series played out in dry weather although on sodden ground. The lap of almost three miles at Glaisdale included a good mix of sections with the rocky hazards being split between hillsides, rivers and a wooded area and all becoming slippery as the dark wet soil dragged on to the boulders.
With little grip on hand Dabill struggled to find his best form on the opening lap despite remaining clean through the first three sections and being the only rider to escape the ultra difficult fourth hazard on the opening tour. His single dab ride handed him an initial lead, but this was a position he was to surrender due to some mistakes later in the lap to eventual winner on the day Iwan Roberts.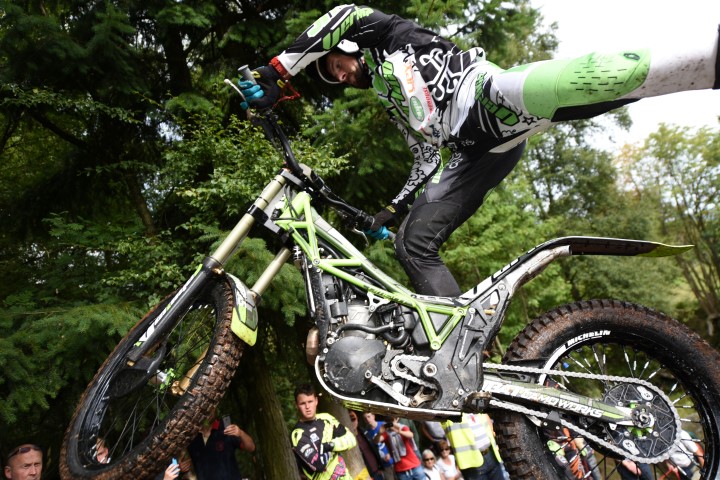 Trailing Roberts by three marks after the first of three laps of the twelve slippery sections, James mounted a good fight back and posted the best lap scores on the next two laps, but this proved not to be enough to prevent Roberts from claiming his maiden victory at this level. One mark shy of rounding out the series with what would have been his sixth of the campaign, Dabill still ended the day sixteen marks clear of Spain's Jorge Casales. In the nine counting events of the series James has never placed lower than second place, confirming his consistency and the performance of the prototype Combat across a wide range of difficult types of terrain.
Summing up the domestic season Vertigo Sports Team Manager Dougie Lampkin stated. "It would have been nice for James to have closed out the championship with a win as that would have been the icing on the cake after what has been a great year in Britain both for James and Vertigo. Winning a national title in the bike's first year has been amazing, so congratulations to James and all of the Vertigo team. I would also like to congratulate Iwan Roberts on his first adult British win, in what has been a great year for him too."
Dougie ended by confirming the plans for Vertigo in the UK. "I am now very excited about the arrival of the production model of the Vertigo Combat arriving in the UK later this year. After the official launch in Spain in September we will have a demo bike available to test and I strongly recommend that anyone who is in the market for a new bike should not buy anything else until they have at least tested the Combat."
Dabill added his own comments. "It's a shame I couldn't quite manage the win today, but overall it has been a good year in terms of the British Championship and I am proud to have been the person to give Vertigo their first national title. Like Dougie I would like to say well done to Iwan too as he has ridden well today."