Dabill dominates St. Davids round of RT Keedwell British Solo Trials Championship
Round 5 of the RT Keedwell sponsored 2015 British Trials Championship took place last Sunday. The St David's organised by the Neath MCC was held at the superb Llety Rafel Farm, Aberdulais.
With the rounds coming thick and fast at the moment there was the chance for James Dabill to increase his lead in the series with his main rivals to date being unfortunately injured. No Michael Brown or Jorge Casales but the event still needed winning and that is just what the British number 1 did. He completed three laps all in single figure scores which no one was able to match meaning the Vertigo rider now has a 25 point series lead with four rounds remaining.
Sam Haslam carried on his superb season with a fine second place. The Gas Gas rider just carried on as he left off at the Scottish steady all the way to post his best ever result in a British Championship event. Iwan Roberts, Billy Bolt and Alexz Wigg were all very close for the final podium place but it went to Roberts. Iwan had not started that well but he settled down to be very consistent over laps 2 & 3 and third was well deserved.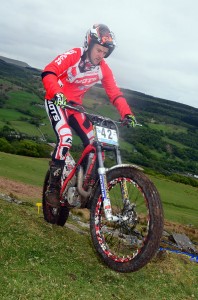 Dan Thorpe bought his considerable experience to bear by winning the Expert Class from young Tom Minta and the resurgent John Crinson. Thorpey won by 5 marks and now moves into the top spot in the series. It was the last lap that settled the class with section 5 being something of a bogey section for Minta.
Jack Peace got the better of Toby Martyn in the Youth A class for the first time this season. Both lost 7 marks on lap 1 and then Toby had the best of the second circuit. With a lap to go Martyn led by 3 marks but two fives mark penalties on the final two hazards did his score no favours. Jack by comparison had a two and a clean which gave him victory.