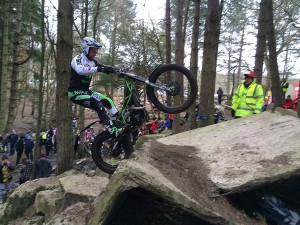 Reigning British Trials Champion James Dabill delivered the all-new Vertigo Combat project not one but two wins, as he dominated both rounds that marked the start to the 2015 series this weekend. Dabill took an historic win on his outdoor debut aboard the prototype machine at Hookwood, Surrey on Saturday to give the Vertigo Combat its first ever victory. He then followed this up with an equally convincing triumph today at round two held at Butser Limeworks, Hampshire.

The two wins alone are mighty impressive and are a great reward for the whole Vertigo team who have worked so hard over a number of months. However the fact that Dabill rushed back through Friday night from Spain with little sleep in order to open the defence of his national title, makes the scale of the achievement become even more outstanding.

Collected by his parents from Heathrow airport, having flown in from Madrid, Spain – James made it to the venue for Saturday's event where Vertigo Sports Team Manager Dougie Lampkin was waiting with his second bike with minutes to spare before he was due to start. A bleary eyed Dabill not surprisingly ended the first lap trailing his main title rival Michael Brown by a single mark. However spurred on by his minder Josh Sprintall and with the reassuring presence of Lampkin in his corner, Dabill delivered two incredible closing laps of seven and four marks respectively in the technical and tight sections to seal a dominant win some twenty marks clear of Brown come the finish.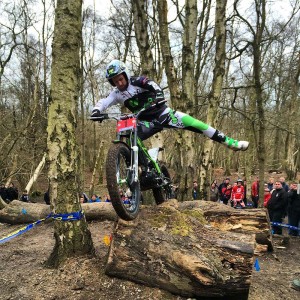 Today saw the action shift to the famous Butser Limeworks, which was the scene of Steve Saunders' famous World Trial Championship round win back in 1998. The decorated former British Champion had a hand in plotting today's sections on the steep and long chalky hills that define this unique venue. Again Dabill had to resist the early attentions of Brown, as he tied with his friend and rival at the end of lap one on twenty-four marks apiece. However again with the help of some great teamwork, James for the second time in two days destroyed the opposition over the final two laps as he powered the Vertigo Combat up the steep and loose climbs to win from Brown by fourteen marks on this occasion.

An obviously delighted Vertigo Sports Team Manager Dougie Lampkin said. "Whilst we were always confident that we would be more than competitive when we shifted to the outdoor events, to take two wins in two days has been like a dream come true. James and Josh have done a great job over the weekend and the whole team back at Vertigo HQ have done an amazing job to give him a bike that he can win on just a few months after we made our competitive debut at Sheffield in January. It's been a tough few months, but all the hard work has been repaid this weekend. We have a good foundation to move on from now and hopefully the good results will continue as the season unfolds."

Dabill was equally overjoyed by how things had played out. "I can't thank everyone enough. Manel and everyone at the Vertigo factory in Barcelona, my family and obviously Josh and Dougie not only for their help this weekend but over the last few months. Coming back from Spain through the night was always going to make things difficult, and although it's been a tough couple of days it has been brilliant too. Winning both days is perhaps more than we all expected, but just shows how good the bike is even at this early stage. I am absolutely pumped and am now looking forward to catching up on some sleep."

James and the Vertigo Combat now hold a six-point lead at the top of the British Championship standings ahead of rounds three and four that will take place in Devon over the weekend of 18th/ 19th April.