DABILL + VERTIGO COMBAT WIN AGAIN
It was back to winning ways for factory Vertigo rider James Dabill as he took a relatively straightforward and commanding victory at round five of the British Trials Championship held in South Wales. With his main rivals Michael Brown and Jorge Casales both absent due to injuries sustained at the Japanese Trial GP last month, Dabill confirmed his supremacy over the rest of the field to win a by a margin of eighteen marks from eventual runner-up Sam Haslam.

It was to prove to be a sweet revenge for Dabill, who was beaten by Haslam to the last podium place at the recent Scottish Six Days Trial (SSDT), after James had suffered hefty time penalties earlier in the almost week long competition.

The latest event on home soil saw the domestic series move into its second and concluding half, with just four out of nine rounds remaining between now and the end of August. Following his third win of the campaign to date on board the prototype Combat, Dabill now heads the overall standings by a healthy twenty-five points from the absent Brown as he looks to seal a sixth British title.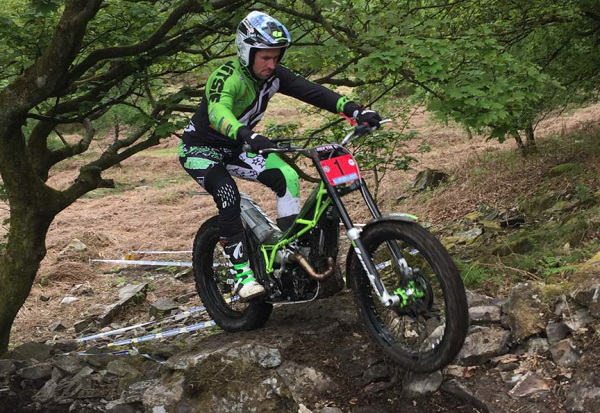 James made light work of the three laps of twelve sections that were ridden in dry conditions. The second and penultimate hazards proved to be toughest on the day with Dabill losing eight of his total fourteen marks on the former of these. In truth the factory Vertigo rider's triumph was never in doubt as he finished the first lap eight marks clear of the chasing pack, an advantage he was to extend further as he produced three consistent laps, his best performance coming during his closing tour.

Vertigo Sports Team Manager Dougie Lampkin was again on hand to oversee Dabill and his prototype Combat and had this to say post event. "It's a real shame that neither Michael (Brown) or Jorge (Casales) were not able to be here as you never like to see riders get injured. From everyone at Vertigo I wish both of them a speedy recovery, as the British championship missed them and so did James as riding against other good riders is what keeps you sharp."

"That said James has come here and done a very professional job, just like he did up in Scotland when things didn't go his way. A bit of mud dragging on to some of the rocks in some sections made things a bit more slippery later on, but James kept his concentration and rode well despite not being under any real pressure, which sometimes is when you can be prone to making mistakes."

"We have got another round of the British in Scarborough next weekend and then three World rounds on the bounce, so it is a busy and intense period both for the team and James, but one we are looking forward to as we continue to make good progress each week."

Dabill added a few words of his own. "With no Michael (Brown) or Jorge (Casales), everyone expected me to win easily, which in some ways is added pressure. The important thing was not to relax too much and just to treat it like the other rounds. My first lap was good and gave me a solid gap, so I could then just get on with riding my own trial. To win by such a big margin over Sam (Haslam) especially after he rode so well at the SSDT is pleasing, and is a little bit of a pay back for him keeping me of the rostrum last week. Anyway a win is always a win, and I hope that I can now kick on over the next few weeks to get the results both me and the team are looking for."
Photo – G2F Media