Emma Bristow Media Service
FIM SuperEnduro Ladies World Championship RD 2
Helsinki Messukeskus – Finland 31st January 2015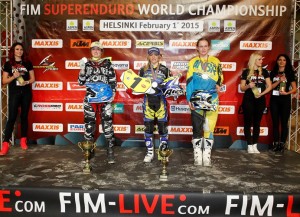 Great Britain's Sherco mounted Emma Bristow defended her crown to take the glory and the 2015 World SuperEnduro Championship in Finland. Riding with supreme confidence she set the fastest time in qualifying before going out and producing a clear win the first race. She then used her valuable experience to come home a safe second in race two and take the title to make her a three times world motorcycle champion, twice in SuperEnduro and once in Trials.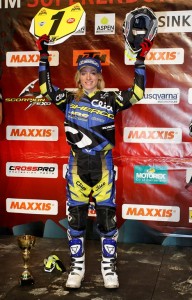 Emma Bristow "This is the result I wanted as I have worked very hard this winter so I am really happy to retain the title. I carried a six point lead into the final round and with this in mind after setting the best time in qualifying and taking the first race win I was comfortable to come home second in the final race knowing I had done enough to retain my crown".
"In the first race I did not get out of the gate quick enough and had to work my up to the front from fourth position. Once at the front I was able to pull away from the opposition and win. In the second race I hit the ground at the first corner and once again raced back to the front but with the title in my sights I settled for crossing the finish line in second. The Sherco 250SEF-R has once again contributed to my success at this high level of racing and my machine setup in 2015 as been excellent allowing me push hard in all the races".
"This world championship winning result is not just down to me the rider as the team around me have helped to make this another success for Sherco. Everyone involved has contributed in one way or another. I would like to thank all my valuable sponsors for providing the best products which allows me the opportunity to compete at the very highest level of the sport. I will now take a short break before I move my focus to the defence of my trials titles."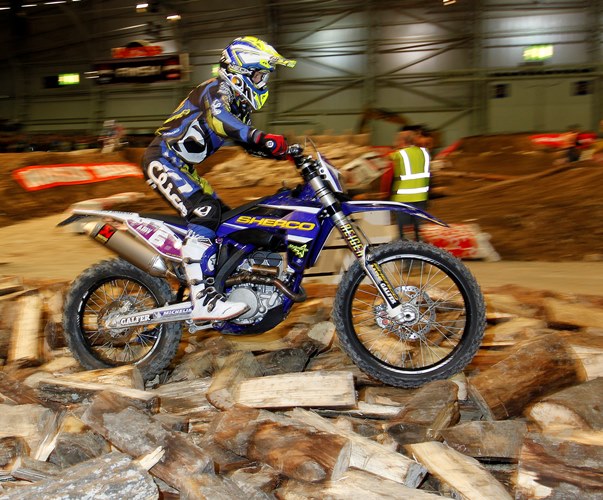 Race 1 – 1: Emma Bristow (Sherco-GBR); 2: Sandra Gomez (Husqvarna – ESP); 3: Sanna Karkkainen (KTM-FIN 4: Jane Daniels (Husqvarna-GBR).
Race 2 – 1: Gomez; 2: Emma Bristow (Sherco-GBR); 3: Karkkainen; 4: Daniels.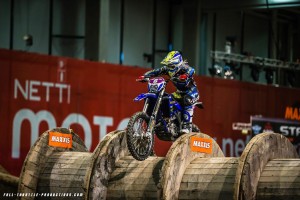 Final Championship Positions 2015
1: Emma Bristow (Sherco-GBR) 77; 2: Gomez 71; 3: Daniels 56; 4: Karkkainen 50; 5: Franke 26; 6: Pechout 22.
Picture Credits: Future7Media – Full Throttle Productions