Adam Raga confirms his upward trend with a victory in Pau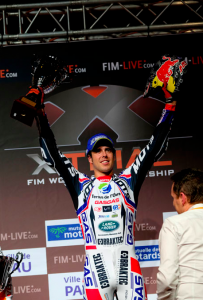 Victory for Adam Raga in Pau (France). The Gas Gas rider wins a tight final round and reaffirms his upward trend with these results. The Ulldecona rider breaks the win-streak of his rival and is 8 points off the lead in the championship.
Adam Raga had a fantastic performance at Zénith de Pau (France). The Gas Gas rider achieved victory after a very close race, that ended up going in his favor in the end. With this win, Raga trims the points differences, and approaches the lead in the championship, proving that he is a serious contender for the title of the 2015 X-Trial World Championship.
Third place in Sheffield, second in Marseilles and now at Pau, a first. Adam Raga rebounds with a victory in France and continues his upward trend he has maintained since early in this season. The Gas Gas rider breaks the winning streak of his rival in the X-Trial World Championship and is situated just 8 points off the lead before the next round to be held in Barcelona.
In Pau, Raga qualified easily for the final round. Equality in the score was the dominant trend during the first round of the final. While in the second, the Gas Gas rider took the longest to complete the course but was within the prescribed time and tipped the scales in his favor. Raga completed within the time and thereafter, added pressure on his rivals who eventually succumbed to the regularity and confidence of the Ulldecona rider, getting thus, his first win of the season.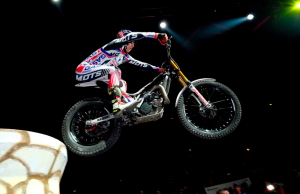 The Palau Sant Jordi (The palace of Saint George) in Barcelona will host the next round on March 8th. This will be the fourth round of the World X-Trial, a special event for Adam Raga who, before his home audience, and look to keep his drive for success with another victory.
Adam Raga: "I am very happy for this victory. It's been great. I want to congratulate the whole team, because they have done a great job and I think we're in a good line. We are working very well and we should be very pleased with a victory as well, which is not easy. We have been very close in all sections of the final. Although, in one of the longest sections, I have been faster in the second round. I have finished on time and that added pressure on my rivals, who have since failed. From there, I took advantage and I have assured the victory until the end. I am very happy because we are making a good progression from earlier this year. We won the trial de Toulouse -not a scoring event for the World Championship – and now this in Pau, and these good results encourage us to go on and wanting to get to Barcelona, the next round of the World Championship."
 photos: David Reygondeau
X-Trial – Pau (France)
Adam Raga (Gas Gas), 4 points
Toni Bou, 7
Jeroni Fajardo, 12
Clasificación
Toni Bou, 55
Adam Raga (Gas Gas), 47 points
Albert Cabestany, 36