Crowthorne Cycle Trials staged their first Championship event for the start of the year on Saint David's day at the Surrey Hills Cycle Centre.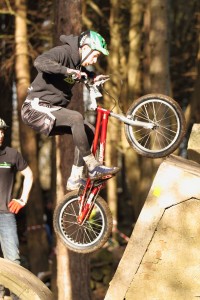 This also was the clubs 50th staged event. 6 sections all taped with 3 laps 5 routes with 2.30 minutes to complete a zone all to get riders back into competition mode. The area has had a lot of rain recently so sections were kept on the rocks and out of the mud although some slippery bits were unavoidable. Forecast for the day was rain coming in for 3pm but dry throughout the day. 
Section 1. by the pathway, a big fallen tree greeted the riders and which had rocks that went down to more fallen trees. Elite/Expert riders had a testing time with this observed and timed section and the time was tight for them, riders taking  well planned dabs. Elite rider Sam Oliver (Rockman) seemed to glide through this section no faults whatsoever and great to see him here, Tom Walker (Atomz) who is awaiting a knee operation did not get to this section as his knee was giving him trouble and had to retire. Adam Morewood (Onnit) just the one on his last lap riding the Elites. Sam Shepherd (Ozony) who decided to tackle the Expert route rode it well and finished the trial on the 2nd spot on the podium behind Toby Smith (Koxx).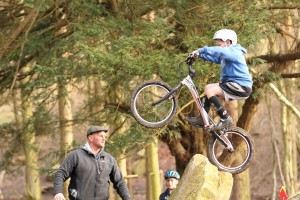 Section 2. Observed by Kellie Rolls, telegraph poles and rocks on this one. Adam Birchmore (Monty) who has moved up a class had just the dab on his last lap here which on a tie breaker secured 2nd place in front of Perry Meeten (Atomz). Helen Smith observed the new double concrete step of Section 3. Which only Elite rider Scott Wilson (Inpulse) cleaned and also the only rider to achieve a clean lap, well done. Iwan Osbourne (Because) doing it correctly had trouble with it, traveling companion George Rogers  (Koxx) from Wales moving up to Inter class was happy to get through Section 4 with the big fat double tyres.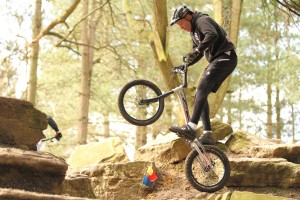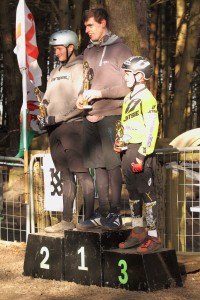 Kayla Broomfield doing the Dabber class which allows riders to dab round took the class award with a plaster on her hand. Casey Moore just out of his plaster cast for a broken leg was below his best and at the end of the day felt the pain kick in, he did well to compete and also finish and collect points. Ed Brookband (Onza) took 1st place in the Beginner class recording just 9 on every lap.   A good opening round for the club with the weather being kind to us.  
Round 2 Club Championship will be held at Radical Bikes, Essex. Please check out – Bike Trial UK for entry form and results for this trial.