The first bikes from the TRS factory to arrive in the UK took on the British mud high up on the Cotswolds on Sunday.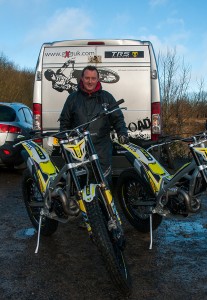 Steve Saunders received the bikes on Friday and only had time to pdi them before they were put into action at the Zona 1 mcc club event near Gloucester. After 24 hours of rain the sections all became very slippery, with the Cotswold stone clay and mud being carried onto the rocky sections as the trial progressed. In fact the weather throughout the event switched between sun, hail, rain and almost night-time dark skies before the sun reappeared!
TRS Motorcycles UK team riders Becky Talbot and Ross Danby arrived to see their bikes at the same time as the local spectators saw them, and with no pre-practice time they adjusted the levers and tyre pressures and went straight out to the sections.
Whilst not officially confirmed it seems that the bike was very much to Ross Danby's liking as he cleaned the whole event to take the expert honours, a great start for the team in the very British weather conditions.
For further information on the TRS machines and to locate your local dealer visit trsmotorcyclesuk.com