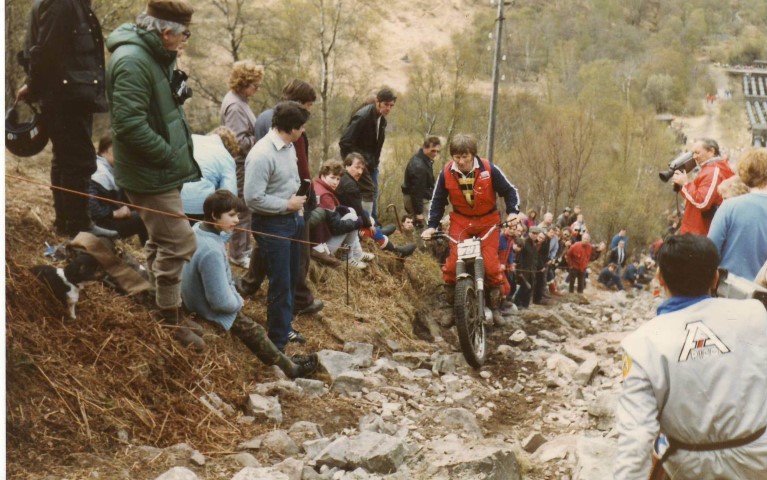 Any form of sport can have a surprise winner and motorcycle trials is no different, as we have witnessed on many occasions. The Pre-65 Scottish Six Days Trial came on to the sporting calendar in 1984 to complement the main event. During the Six Days Trial, based in Fort William, the organising Edinburgh and District Club had listened to suggestions that to ease the parking at the hazards at Achlain a new one-day event for Pre-65 machines, to be held on the Wednesday and based in Kinlochleven, should be introduced. The event turned into a huge success, using some of the popular old hazards from the event and held on private ground. It attracted many enthusiasts, old and new, as well as a strong following of spectators who wanted to see the likes of Sammy Miller, the Lampkin brothers Arthur, Alan and Martin, Norman Eyre, Jim Sandiford and Jeff Smith, to name a few, all mounted on Pre-65 machines. For the sporting enthusiast it also gave them an opportunity to ride the same course and hazards as the 'Top' names. One of these sporting enthusiasts was a builder from Whaley Bridge in Derbyshire. Twelve months later he would take the scalps of the top riders at the event and soon he would carry the name as the 'Unknown Cottrell'; but who was he?
Words: Yoomee
Pictures: Yoomee Archive – Mike Rapley – John Shirt Snr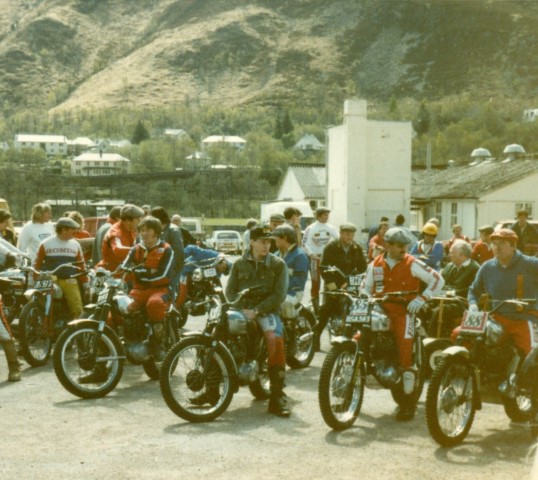 1985: Sitting at the start left to right: Brian Cottrell – Duncan MacDonald – Jim Sandiford – Graham Watkins.
A builder and master stone mason, Brian Cottrell had had an interest in motorcycles from an early age. However, it was not until around the mid-seventies that he moved into competing in motorcycle trials when he purchased an old Bultaco. He then purchased a standard Yamaha 250cc, but having seen local rider John Hulme on his Majesty he decided to have his machine converted, and purchased a Majesty frame kit. Out of this would come his 'Silver Dreamer' as he had the fuel tank finished in polished aluminium. He would soon become firm friends with John Shirt Snr and purchased many machines from him over the years as the friendship grew into an enduring one. The 'Silver Dreamer' was followed by one of the last 250cc Majesty 'S' machines, before a mono-shock Yamaha came to the stable followed by countless Gas Gas machines. During this period he travelled the length and breadth of the country riding in trials, including his annual holidays to the Isle of Man for the Manx Two Day.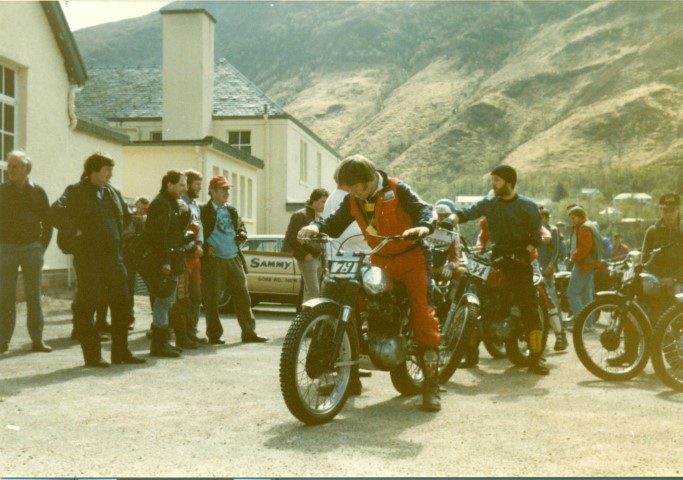 1985: Brian Cottrell – "Will she start?"
Pre-65 Trials
His interest in the Pre-65 scene first came about when he purchased an ex-army B40 BSA. It had laid dormant in his garage for many years but in the early eighties it was converted into trials 'trim' and he started to enjoy the Pre-65 scene, mixing his rides on the BSA with his modern machines. When the news of the new Pre-65 Scottish came out in 1984 he decided to travel to watch the SSDT for a few days and compete in the event. As we all know the event was an instant success, with Brian finishing in a very creditable 8th place having enjoyed the 'Highland' spirit of the event. On finishing the event he enthused about the experience of riding on the old hazards such as 'Pipeline' and being able to enjoy the company of the top names. He vowed to return the next year better pre-pared. At the time he did not know it but in 1985 he would become one of the top names at the Pre-65 Scottish.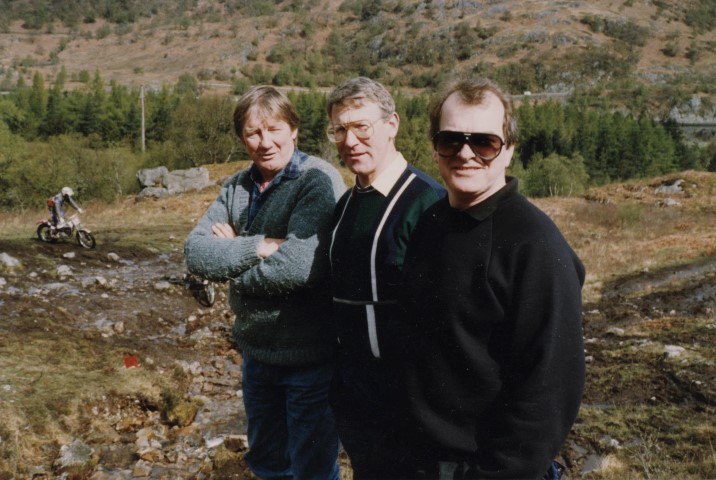 Brian on the left at the 'Scottish' with Graham Watkins and Norman Eyre.
John Hulme takes up the story: "I had known Brian as a local builder and friend of my parents. Due to our trials interest we soon became good friends and would travel to many events together. I had watched him start in trials and progress to a half-decent rider, winning many local awards. Anyone who knew Brian would tell you that sometimes things were just not straight forward and his preparation for the 1985 Pre-65 SSDT was no different. His machine preparation was going at a 'too slow' – steady – pace! I called at his house the night before and his BSA was beginning to look nearly ready when he casually asked me if I wanted to travel to the event with him; "why not?" I answered. I arrived at Brian's in the morning just as the front forks were finally being fitted to his machine. He gave it a quick run around his yard before we loaded up and headed off to Fort William in his Range Rover. We had a steady run up, calling in at Kinlochleven before going to Fort William to our accommodation at the Inseagan Guest House. Brian could not settle! We had a meal at the hotel and then met up with John Shirt Snr and his family. Brian did not drink but I had a couple of pints to make sure I got some sleep as Brian's wife Margaret had warned that he would have a poor night's sleep, and she was 100% correct. Brian woke me up at 06.00am as he could not sleep, and so we decided to go for a short walk before breakfast. On the day of the event he was a bag of nerves, to say the least, and I left him to walk up to watch the hazards at 'Pipeline'. Brian made a spirited attempt, parting with three well placed marks, and then took a drink from me, telling me it was his first of the day as he was so nervous! Down at the finish he confirmed that the three marks were all he had dropped but in a low-scoring event did not think he would win and so we headed off back to Whaley Bridge very happy, having had a good day's sport. The day after we went to a local trial, where the news emerged that he had won! Both he and Sammy Miller had finished on three marks, but as Brian was on a 250cc and Miller on a 500cc Ariel the win would be the 'Unknown Cottrell's'. Brian continued going to the Scottish and rode his last Pre-65 in 2008, before his untimely death in 2010 after a brave battle against cancer".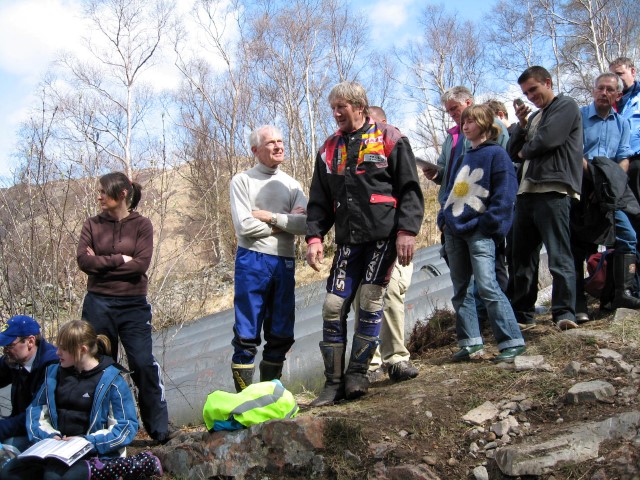 Brian chats with Sammy Miller at Pipeline years later about his winning ride.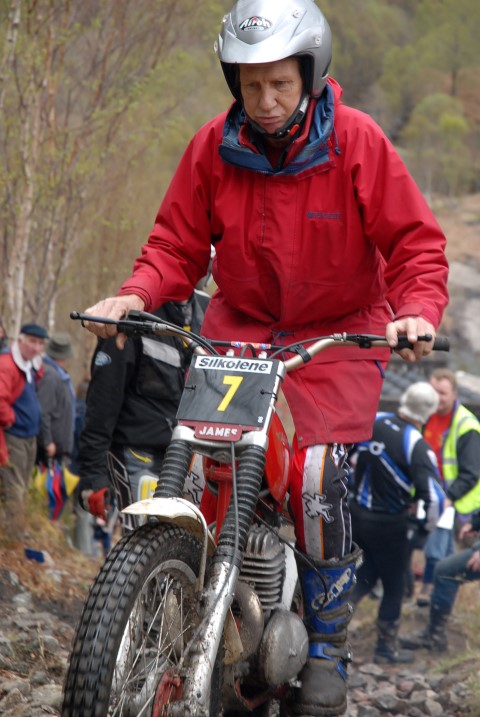 2008: Brian's last Pre-65 SSDT.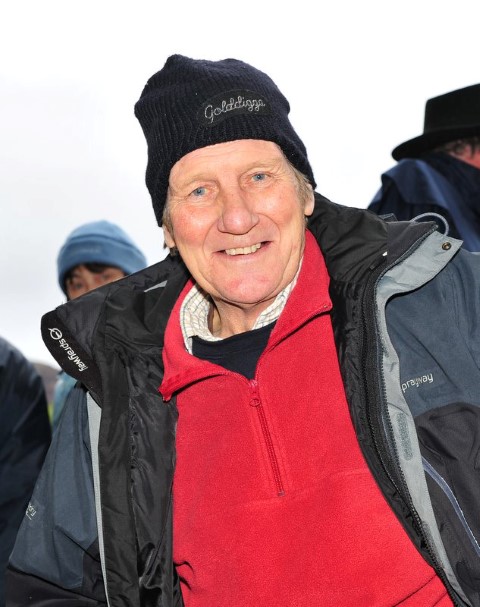 Brian always enjoyed his Highland holidays.
1984: 1: Sammy Miller (Ariel) 2; 2: Malcolm Rathmell (Triumph) 4; 3: Martin Lampkin (BSA) 8; 4: Brian Irwin 5; 5: Jim Sandiford (BSA) 12; 6: Norman Eyre (Greeves) 13; 7: Tony Peat (BSA) 15; 8: Brian Cottrell (BSA) 16; 9: P Lowther 17; 10: G Slinger 17.
1985: 1: Brian Cottrell (BSA) 3; 2: Sammy Miller (Ariel) 3; 3: Jim Cunningham (BSA) 5; 4: Jim Sandiford (BSA) 6; 5: Alan Lampkin (BSA) 7; 6: Tony Peat (BSA) 8; 7: Neil Crosswaite (Triumph) 10; 8: Ken Sedgley (BSA) 10; 9: Willie Dalling 10; 10: Brian Irwin 10.
Picture Credits: All rights reserved Yoomee Archive – These words and images must not be used in print or on Social Media and the copyright works remain with John Hulme