KICKSTART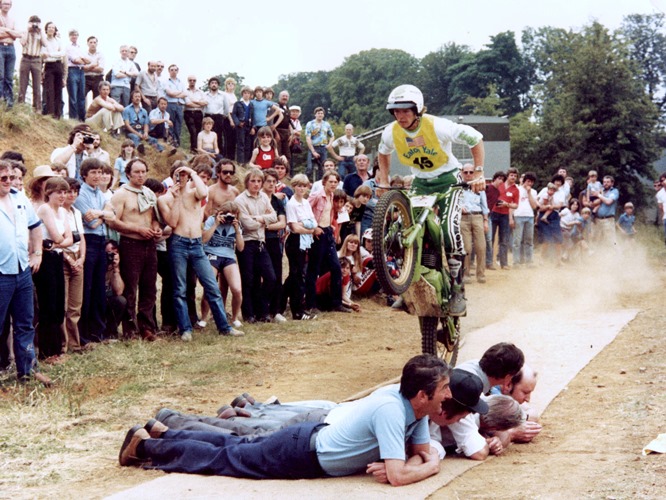 The origins of the Arena Trial concept are a little vague, but the first ones started to appear in the early seventies. The one run by the Leamington Victory Club in the Midlands, at an agricultural show at Stoneleigh Park back in 1974, was a good example. It seems highly unlikely now that in 1979, over 30 years ago, BBC1 would show a trials riding competition at peak viewing time. That is exactly what they did, however, with 'Kickstart' which ran for 13 seasons – and at a time when many people where sitting down to watch the box: 6.30 in the evening. Add in the most hideous theme tune ever (Be My Boogie Woogie Baby by Mr Walkie Talkie) and millions were hooked. So popular was the series that it is still a discussion item on internet sites today, with 'Bring back Kickstart' an ongoing forum item and multi video clips posted on YouTube. Radio presenter Chris Evans was apparently a massive fan.
Words: Colin Bullock
Pictures: Colin Bullock – The Crane Collection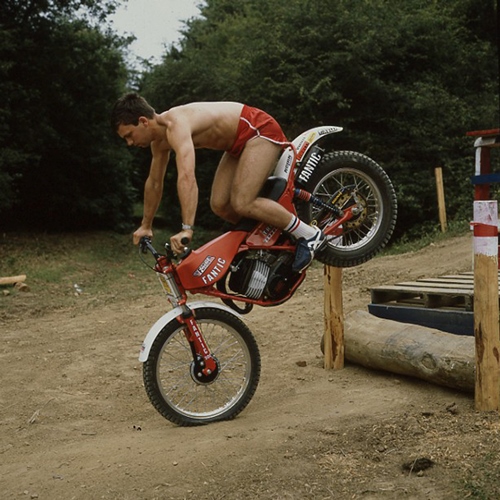 The original format was an obstacle course with see-saws, Volkswagen Beetles, bunny hops and limbo poles etc. all to be ridden around or over on a motorcycle. They even came up with a single-decker bus on one occasion that had to be ridden over and through. Riders were marked on the time it took to complete the course plus an additional 20-second time penalty for footing a section. Looking at the severity of the sections these days it does not look too demanding, but add that time element in and with the cameras rolling it was more than tricky enough. The first programme was filmed just beside the race track at Donington Park and it would later move to Easton Neston, the home of Lord Hesketh. Radio 1 DJ Dave Lee Travis was the original commentator in 1979–81 but he was replaced by Peter Purves of Blue Peter fame, and in all honesty he was the right man for the job, adding just the right tone for the series. The 1979 event had all of the big names of the day with Martin Lampkin, Malcolm Rathmell, Mick Andrews and a young up-and-coming American called Bernie Schreiber. Bernie was the ideal TV guy, being a tall fresh faced 'Yank' who was going to stir up the normal order of things. He was successful too, taking the first series win aboard his Bultaco. He would go on to further successes in 1982 and '83 when SWM mounted; Kickstart was to be a truly international affair through the years. John Reynolds was victor in the second year, 1980, aboard the Beamish Suzuki. 'JR' was always a good value-for-money guy and another young kid on the block, impressing all with his wheelies to the finish line. In those days a 50-yard wheelie was par for the course and made for good TV.
Trick Riding
The trick rider came into prominence in 1981, with the entry of a young Frenchman called Jean Pierre Goy who was mounted on a Fantic. Jean was apparently none too good at trials riding, and he wanted to change the style of the riders, but he was the first man most people had seen who could do all of the tricks that are now common place. He had everyone mesmerised, especially during the lunch breaks / camera reloading periods (frequent at BBC filming sessions) when he would be performing such feats as standing the bike vertical, stoppies, hopping etc. No one had seen it before and somehow he managed to win the event. 1982 saw Peter Purves come in with "Magical" Mick Andrews alongside him in the commentary box, the series had a new big-time sponsor by the name of Lombard and was produced by a certain Reginald Perrin – now where have I heard that name since? In 1984 it was time for another British win and this time it was John Lampkin who would take victory from Steve Saunders with Schreiber third, having tried too hard on his second run and dropped more penalties than would have been expected. It was held at Easton Neston, giving a very different mix of course with more natural going between the observed hazards. Alongside the senior events Junior Kickstart was running, and no less than 36 young hopefuls set out for glory. Who was the winner in the younger Youth class? Well, none other than Mister – or should I say Master – Showtime, Steve Colley on the Fantic. David Lloyd, also mounted on the Italian Fantic, was the senior Youth winner. A few years later Graham Jarvis would go on to take victories in the Junior Kickstart competition, winning back to back from 1989–91. In 1985 Eddy Lejeune finally got the win he was seeking on the four-stroke Honda, but the following year it was arch rival and team-mate Steve Saunders who kept his composure as the Belgian world champion lost out big-time on the reverse circuit. Lejeune had led by some five seconds after the first lap but Steve was very sound on the reverse lap and, when Eddy went down in the muddy pool log crossing, the Cotswold man would add another title to his CV. Both riders were out on the Rothmans Hondas, which sounded superb as they made time up around the Northamptonshire circuit.
Pro Am
A new competition began in 1988 with a Pro (Professional) Am (Amateur) theme featuring Saunders, Italian Diego Bosis and John Lampkin amongst the seniors. Saunders was paired with Wayne Holdsworth, Belgian Olivier Clamagirand paired with 11-year-old Dougie Lampkin, and Graham Jarvis was with Ulf Lundquist. Conditions were horrible with rain and mud making it difficult, certainly for the youngsters. It was, however, Diego Bosis and Andrew Needham who would get the overall win. Whilst the competition was indeed taken very seriously there were some moments of humour. TMX correspondent, Mike Greenhough on the Majesty, took the award for the biggest crash as he went straight off the top of the pyramid. He also took some stick from his fellow riders and correspondents! Jack Stites, the American co-commentator, had everyone fooled with him constantly referring to the riders pulling 'tall gears'. It took us a week or two to realise that it was American speak for using 3rd gear! Once, filming at Easton Neston was held up for half an hour while someone removed a snake from the undergrowth, and there was of course the first aid incident. Ten-year-old Mark Schofield fell from a section and went into a ditch. Two men from St John's went to his rescue but they then ended up in the ditch with the unfortunate rider. This was much to Peter Purves's amusement as he tried hard not to collapse with laughter on screen. Also why did every prize-giving feature the marketing director of the sponsoring company? OK I know the answer to that, but they all seemed to have gone to the same school of 'frightfully good show everyone', and they all looked as if they had had their ties surgically removed!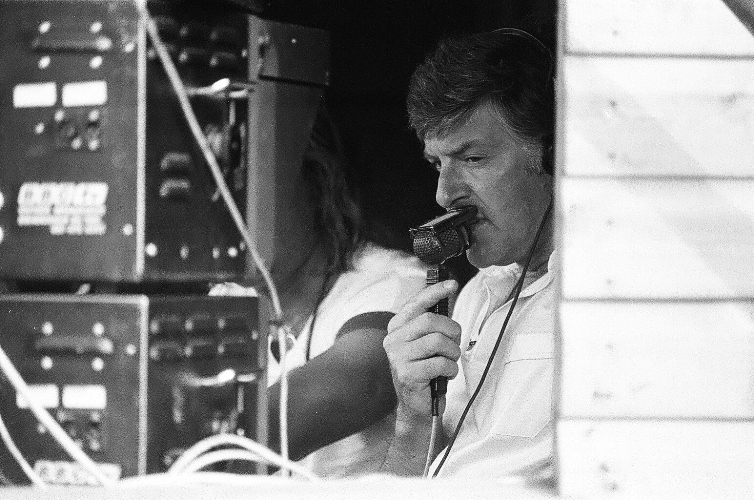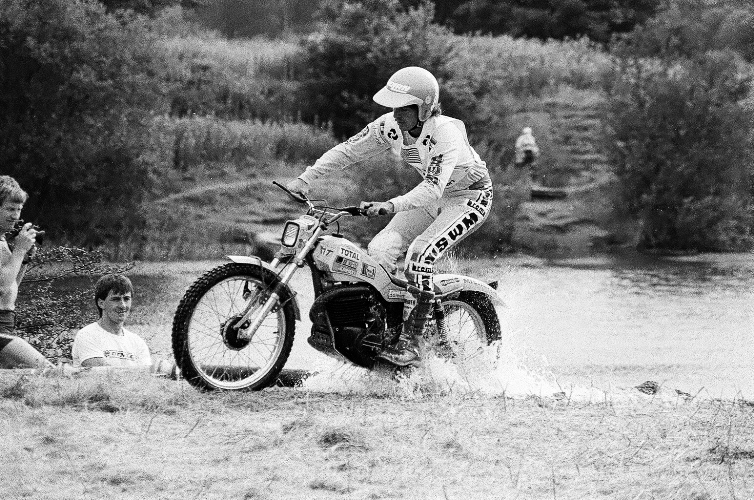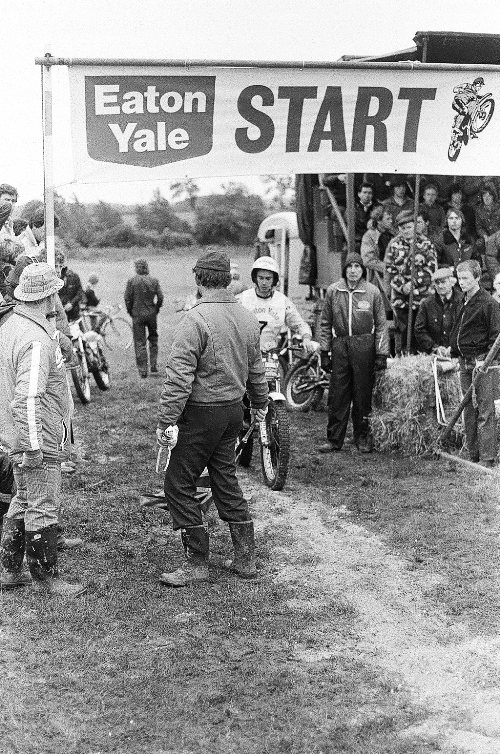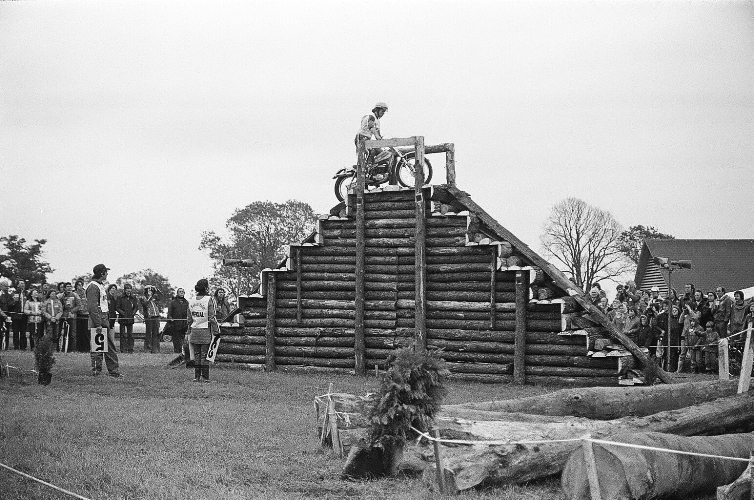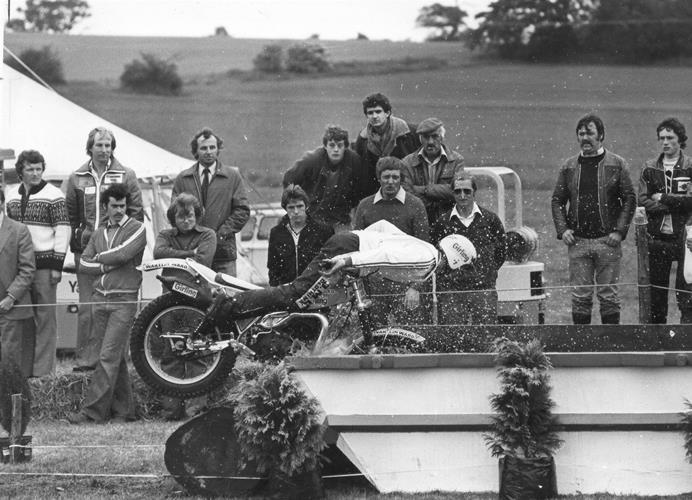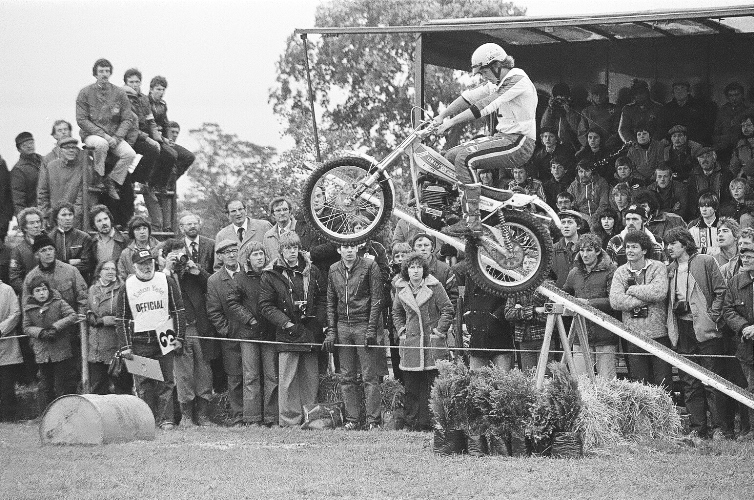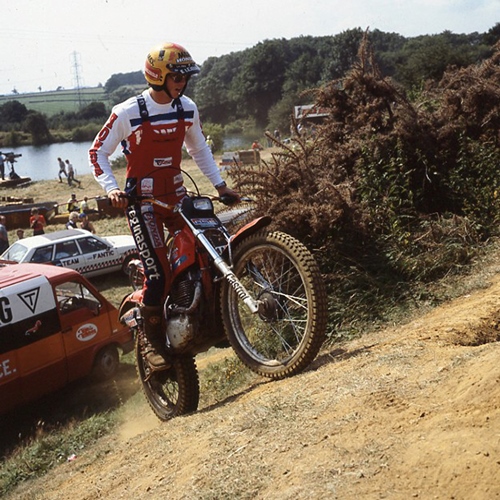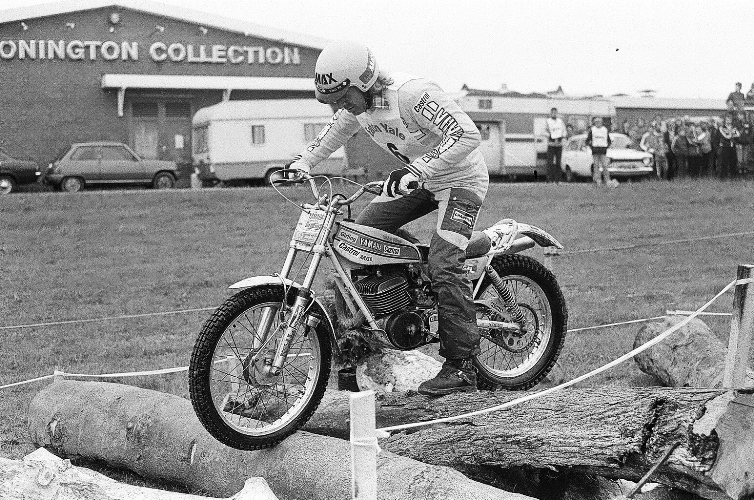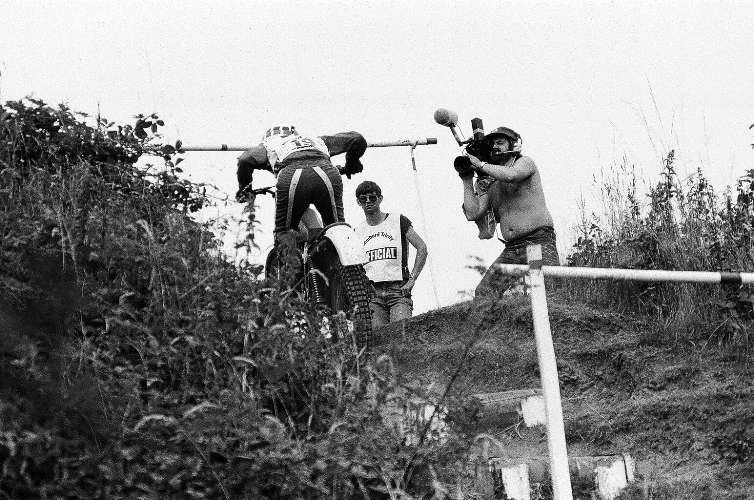 So there we have it: primetime TV for Trials. I don't expect it could ever come back but it was something that the person in the street could identify with and it provided years of peak-time family viewing. There is only one snag with writing this; that dammed theme tune is in my head again!  Ringtone download anyone? It's still available!
Copyright: All rights reserved – The images are not to be re-used on Websites including Social Media and are not for Print without written permission from Trial Magazine..