The Gas

Gas

excursion trial bike with a new electric starter system
This is the bike for serious enthusiasts of both trial and mountain riding. The new Gas Gas Trial Contact now has a new feature: electric start. The high quality of its component parts are put together offering characteristic ease of use and riding comfort. Riders are going to have a great time on excursions and long off-road trips thanks to its comfortable seat and its large capacity 3.5 litre tank guaranteeing an even greater range with this new series.
The new Gas Gas Trial Contact with electric start is the ideal bike for enthusiasts of excursions and trial. The secret of enjoying a great day out in the mountains often lies in those stress-free moments, with a versatile bike capable of offering different functions. This is the best way to get the most out of your weekend excursions.
Over time, wild spirits have a tendency to get mellower. Comfort becomes more important than full-on sporting aggression. And this is the philosophy behind the manufacture of the new Gas Gas Trial Contact. This model, with electric start, makes riding easy with its progressive, flexible 250 cc engine; a single cylinder two-stroke, liquid cooled, with a new chromed steel exhaust collector and a new DellOrto 26 carburettor and Hydria ignition system with a single map.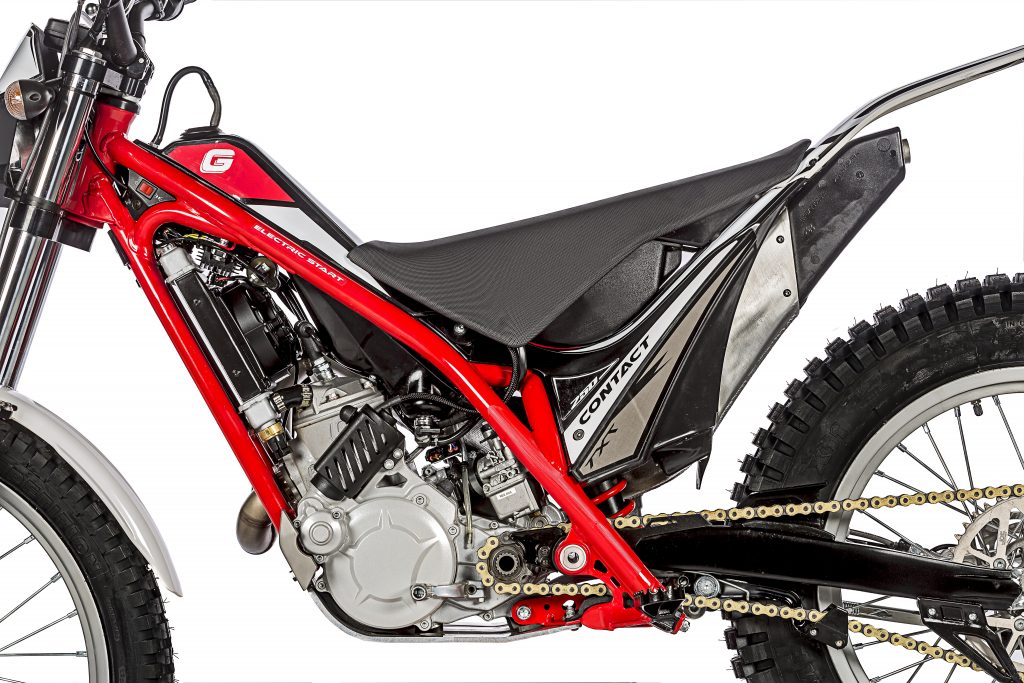 Simplicity is the key to success and for this reason the new Trial Contact counts with pre-adjusted front forks as standard and a rear shock absorber with pre-load and progressive link swing arm to smooth the way for riders aiming for just the right settings to get 100% out of their mountain rides.
A new 3.5 litre tank has been fitted, with a larger capacity than the trial bikes, also a padded seat as standard, hiding a new battery underneath, are just some of the new features on this model showing great stability and traction thanks in part due to a slight increase in weight but also because of the new Mitas tyres.
New components add to the great quality: New Braktec clutch and brake pistons, NG brake discs (front and back) and switchgear (including lights, starter, indicators and OBD). They are going to make the new Gas Gas Trial Contact Electric Start our very best friend to share great times together with when we are out and about.
Details of the new Gas Gas Trial Contact:
•
Comfortable seat with fitting mechanism (lithium battery situated inside)
•
3,5 litre tank with greater fuel capacity
•
Hydria ignition system with a single map
•
Satin chromed steel exhaust collector and stainless steel exhaust silencer
•
DellOrto
26 carburettor – reed valve inlet
•
Ollé
front forks (non-adjustable – factory settings)
•
Ollé
rear shock adjustable spring pre-load (1 ring adjustment)
•
Swing arm with progressive wishbone system
•
Switchgear, including lights, starter, indicators and OBD
•
Braktec
brake and clutch pistons
•
Braktec
brake callipers
•
Naturally anodised wheels (front 1.6×21 y rear 2.15×18)
•
Mitas
Trial tyres (front 2.75×21 y rear 4.00×18)