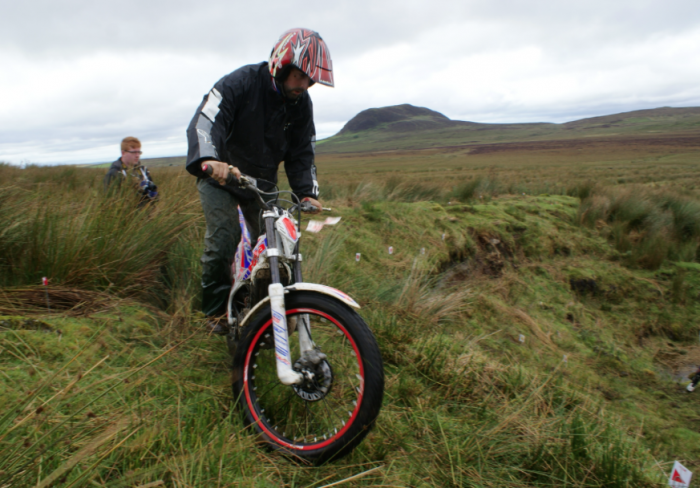 An overnight yellow warning for heavy rain left the hard working Mid Antrim club members with a big dilemma on Saturday morning as many of the sections were marked in the mountain streams which had turned into raging torrents. A lot of fast, hard work resulted in modifications to the sections, only one had to be abandoned because of the conditions. The event got underway just 15minutes behind schedule and the 57 competitors set off for their 4 laps of Upper Shilnavogy Hill. 
This was the 3rd time the Mid Antrim club have used this venue thanks to landowner Mr J.Davidson and the 2nd year the event has been sponsored by Raymond Campbell of Global Oils.
In the Expert class Mid Antrim hard working committee member William Dickey retained the Global Oils Trophy after a close fought battle with Stuart McClurg, 52 to 55. Stuart Hanlon was 3rd losing 58.
The Semi Expert grade produced another close battle with John Millar just getting the better of Neil Moore, 22 to 25. Gareth Mackey was 3rd losing 40.
In the clubman class the 23 competitors had many close battles right through the field. At the top Stephen Cromie and Phillip McClurg both finished on 2 marks lost with Stephen taking the victory on furthest clean. In 3rd place was MCUI scrutineer Andy Higgins who returned to his first love riding trials bikes after the speed season. Andy lost 8 marks.
In the Sportsman grade yet another close battle resulted in Gareth Jones taking the victory losing just 1 mark. Billy Rodgers has been riding trials bikes for over 60 years and he still enjoys the sport at 79 years of age. Billy finished 2nd losing just 2 marks. Mark Scott was 3rdlosing 4 marks.
In the Youth grades Matthew Millar won Youth A on 16. Alex O'Boyle won Youth B on 16 and Youth C  was won by Stuart Lappin on 12.
This event was the 3rd round of the MICHELIN Mid Antrim trials series.  Last year's winner Stephen Cromie has taken a one point lead in the series from Philip McClurg and David Glasgow, 33 points to 32. Another former winner Robbie Jennings is next on 30 points, Jamie Nixon on 29 points and Lee Hulme and Alistair Galloway on 28 points. It is all to play for at the final round of this unique series, at the final round at the Slemish Trial on 31st October.
To the organisers of any event the reaction from the competitors is always a good barometer of how the course was set. It's a long time since I have heard so much praise for a venue and the sections marked and this despite the atrocious morning weather so very well done to all concerned.
The club also wish to thank the landowner Mr. J.Davidson for the use of his lands, Mr.R.Campbell of Global Oils and Michelin Tyre PLC for their sponsorship's.
Follow all that the club are doing on their website WWW.MAMC-BIKES.co.uk for all the event results and club details or follow them on twitter #Mamctrials and Facebook at MAMC Trials