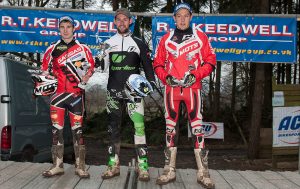 A grey and cold, but at least dry, day greeted the riders and spectators to Hookwood in Surrey for the first round of the RT Keedwell ACU British Championship.
The event would mark the debut on British soil, outdoor at least, of James Dabill on the new Vertigo development bike, and he wouldn't disappoint his followers as he took a fine win on the very slippey rocks, roots and logs. Michael Brown (Gas Gas) pushed him all the way for two laps but a bad last opened up a big lead for the Vertigo man. For only the second time in his adult career Sam Haslam (Gas Gas) jumped onto the podium with some brilliantly controlled and steady rides, whilst many around struggled as the mud was dragged onto all parts of just about every section.
Toby Martyn took his RCM Beta-UK to the narrowest of wins from Jack Peace (Gas Gas), by having the most cleans after both finished on 44 marks lost. Acklams Beta-UK man Sam Johnson finished in third but a good margin behind the leading two.
Local man Jonny Starmer (Beta) was the winner of the Expert class with recently returned from injury Ben Morphett (Gas Gas) keeping Tom Minta at bay by a single mark.
The action continues on Sunday as the second round travel down the A3 into Hampshire, to the famous Butser Limes works venue. Scene of the world round win by Steve Saunders all those years ago!