The 15th running of the Jersey International Classic and Modern Trial was held over the weekend of 5th/6th March in very changeable weather conditions.
Monday had the promise of cold winds, rain and a little appearance of some sleet and for once the forecast was spot on! The riders set off on Saturday in cold and damp conditions for their 6 hour ride from the Coastal view carpark at Les Platons, many having already taken advantage of the mobile catering van to stock up the body with hot coffee and a breakfast roll or two.
Recent heavy rain on the island meant the conditions in the sections, and getting between some of them, was such that the planned 3 laps was eventually cut down to 2. Their were many tired faces at the end of the day and aching bodies in the hotel for the celebration meal later that evening.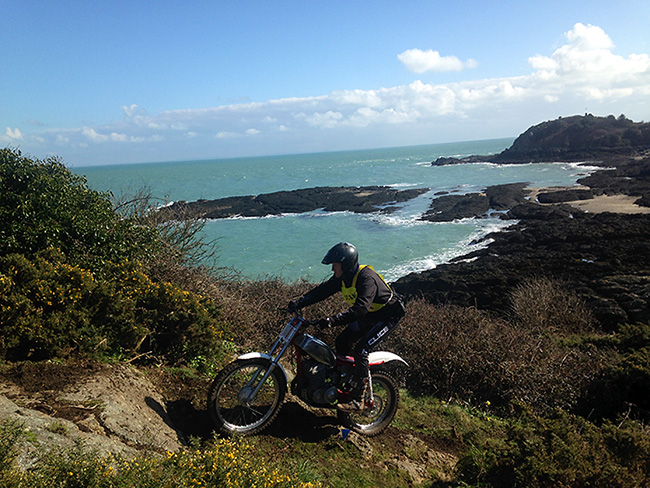 Sunday started at the quarry and the long loop eventually would take you out to the last group of sections on the beach near La Porte. The sections for this day were mainly rock based and not so affected by the weather conditions so the planned 3 laps were completed, with only one or two short rain showers to cool you on the longer road trip. Dampness for most was a forgone conclusion as many of the rocky river sections were flowing a little more than usual, boots were filled with water early on in the day for a large percentage of the riders.
The large entry had a very enjoyable weekend on the beautiful island and most gathered on Sunday evening for the prize presentation, with the trophies being handed out by none other than guest of honour Sammy Miller.
ji2d Sunday & Final 2016 results