JST Gas Gas UK partners with Boyesen once again for 2015.
Boyesen Performance Reeds are the perfect compliment to the Gas Gas UK Race Team Efforts.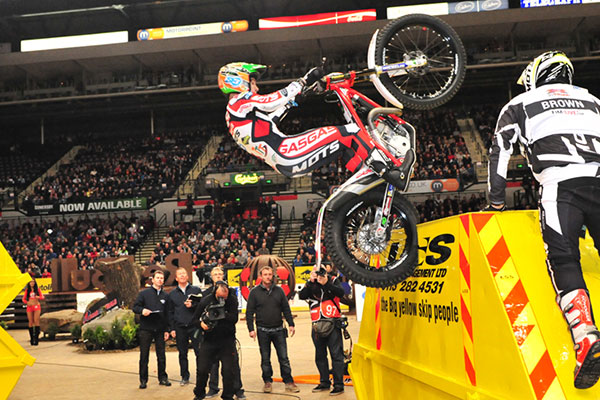 Once more in 2015, JST Gas Gas UK has elected to partner with Boyesen for the team's performance intake needs. Boyesen is very pleased that John Shirt Jr. hasentrusted this continued working relationship and are confident that our potent intake products will complement the Gas Gas Trial model's performancecharacteristics and bring a subtle, yet real advantage over JST's competition for the 2015 schedule.
The race inspired partnership between JST Gas Gas UK and Boyesen Engineering is based on the continual research and development required to manufactureadvanced make/model/year specific performance solutions for the evolving 2-stroke Observed Trials segment. JST Gas Gas UK has selected Boyesen as theirperformance intake partner due to the Boyesen legacy of race-proven, air-intake research and development testing in an ongoing effort to achieve higher peak horsepower gains and has worked hand-in-hand to refine the current trial-specific products.
"Boyesen relies on research and development partnerships, similar to what we are now activating with John Shirt Jr., to contribute to the ongoing refinement of our product design process. At the same time, we feel privileged to help advance the winning potential of some of Gas Gas's new exciting two-stroke trial models. We are pleased to be selected as JST's performance intake partner and look forward to creating deeper partnership relations reaching beyond 2015," states Director of Marketing for Boyesen, Erik Salmela. Furthermore Erik states, "The racing heritage and hi-end intake performance experience of Boyesen, coupled with the impressive technological superiority of Gas Gas's current Trial 2-stroke lineup will surely have the UK riders taking notice, and as a result will continually position Boyesen products as the superior choice for Observed Trials intake performance for years to come ".
BOYESEN PERFORMANCE REED SYSTEMS:
The Trial-specific, Boyesen performance Reed System has been designed to increase throttle response and acceleration, while also broadening peak RPM horsepower output, all while having been life tested to out–perform previous systems in the area of reed petal durability. Smooth. Sharp. Smart. The result: Full Spectrum horsepower and lightning – fast response for Gas Gas competitors.
Boyesen is excited to see Observed Trials riders realize the benefits that the 2-stroke engine platform provides. Riders world-wide now have the ability to select from one of three reed system product lines; each now designed to meet the needs and special requirements that Observed Trials demands. Boyesen's performance reed systems now provide riders with a cost-effective and easy means to precisely tune their power delivery with a tiered selection of reed products starting with the proven Superstock Reeds, moving into the classic Power Reeds, and then ultimately reaching the highest levels of performance with the new CarbontechPerformance Reed System.
BOYESEN PERFORMANCE REEDS INNOVATIONS
T2 EPOXY
FUEL RESISTANT REEDS
The most durable materials. The most lifespan.
Boyesen's new Performance Reed systems feature category-leading toughening additives to increase reed petal lifespan by resisting breakdown from damaging agents found in fuel. This is done to ensure a long-lasting seal between the petals and the intake tract time and time again, which results in more consistenthorsepower for longer periods of time between general intake reed maintenance.
X-Cross Carbon Matrix
SPECIFIC CARBON LAYUP
The best carbon material. The most intelligent performance carbon weave.
Boyesen's XCROSS carbon matrix woven reeds feature aerospace carbon material interwoven into tension combinations that maximize power delivery and deliver superior off-idle throttle response. Boyesen engineers specifically tune the carbon matrix tension using a proprietary weave formula that is tested and optimized to give the best response and the most usable power delivery for Observed Trials riders world-wide.
HOW TO BUY BOYESEN OBSERVED TRIALS REEDS IN THE UK:
Please contact Apico International, or any of Apico's dealer network to order Boyesen Power Reeds, or for the ultimate in performance – Boyesen's Carbon Tech Reeds. Visit Apico's Boyesen Brand page to learn more about the advantages of using Boyesen Reeds in your Trials machine.
http://apico.co.uk/brands/boyesen