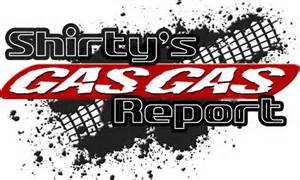 British Trials Championship action resumed yesterday at a great new venue in the North East at Middleton, Morpeth.
Not an easy job to decide the severity of sections for a BTC nowadays with the current rules making for nervous riders and observers. In general the Trial was good albeit a bit too easy on the day helped with great weather.
James Dabill won and also won the British Title for himself, family and Vertigo so congratulations to Dibs and all concerned.
Best GASGAS rider again was Road and Trials GG rider Jack Price who was 3rd on the day, only 2 marks off the win. JP rode excellent all day with only a few small mistakes costing him the win. Section 10 was the hardest and he was brilliant on lap one using his head and going for a calculated 3 marks ride. He fived it on lap 2 trying the same approach then had an awesome clean on the last lap as did team mate Michael Brown, Iwan Roberts and Dabill.
JP34 is still third in the Championship and is hungry for his first BTC win. He has the 2 day BTC event in Scotland to try and achieve this and also sneak second in the championship behind Dabill.
No.1 JST GGUK rider Michael Brown was 6th with too many mistakes. He did however finish with an excellent last lap of only 2 marks which was good to finish with. Michael is now in full 'Scott Trial' mode where he knows he can win again and show these young pups there's still plenty of fight left in the mighty atom!
Michael can finish 4th the series with a good final BTC weekender in two weeks time.
Cloburn JSTGGUK rider Dan Peace was 7th and was very lucky to escape unhurt after a massive crash on section 10 lap 1. Dan puts 100% into his riding and is currently 6th in the overall Championship points which is possibly where he'll stay after the Scottish double header in 2 weeks time.
Dan has had a great year this year and is improving all the time. Dan goes about his riding in an unflustered way and keeps his head which is impressive for a young rider.
JSTGGUK rider Sam Haslam was 8th and was riding a lot better than in recent events. Good to Sam back riding well.
In the Expert Class Tom Minta had a well deserved win with only one mark lost. Tom now has a 19 point lead in the Expert Championship in front of Team mate Dan Thorpe who had a nightmare yesterday. Dan finished 8th in Class and needs to forget this result ASAP and focus on the last event in Scotland. 19 points behind is more than Dan would want but will never give up whilst it is still mathematically possible to win the title.
Cloburn GG rider Chris Alford had his best BTC result to date finishing 5th which was brilliant. Chris has promised a podium in Scotland….please.
In the Youth A Class it was young Cloburn JSTGGUK rider Jack Peace who won again with NO marks lost proving that he doesn't need his 250 to beat all the Expert riders! Jack just keeps improving with his mum watching his every move. Jack casually stepped on to the top step of the podium again, this time eating a sandwich!
Jack has not won the A Class title yet so he'll keep his head and want a double in Scotland which will be his last ride on his 125 this year. Jack will have to ride the 125 again at the SSDT next year where I might have to babysit for him or make Jayne ride instead of me!
Well done to all and see you at the Bob Macgregor Trials Academy BTC in two weeks time.
https://www.acu.org.uk/events/October-2016/East-Lothian-Motorcycle-Club/Trials/Bob-Macgregor-Trials-Academy-ACU47997.aspx
Thanks to www.trialmaguk.com for the pics
Thanks to Factory Kev for preparing Michaels immaculate bike.
GAS GAS UK TEST DAY THIS COMING SATURDAY!!
http://www.gasgasuk.com/gas-gas-uk-test-day-open-day-team-practice-day/
A final mention and congrats this week must go to the Hipwell brothers and the Manchester 17 MCC for their massively successful 'Hipwell Trial' yesterday.
Regards
Shirty