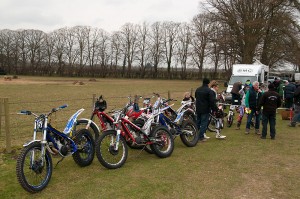 The seven-round 2015 British Ladies and Girls Trials Championship got underway at Seymours Arena on Sunday 15th May with a superb entry of 45 Ladies and Girls taking part, a great start to this exciting series.
Stuart Robinson and his crew had been busy ensuring that sections in the Arena were ready and suitable for the wide ranging abilities of the riders taking part across the seven classes, and looking at the scores they were just about right. Stuart reported that he had set some out with an eye on the weather, rain was possible but as it turned out the wet weather held off until almost the exact time of the after-trial prize giving!
The main Ladies Championship riders were first away and after an easy'ish opener things started to get harder with some nasty tight turns and rock slab steps ready to catch anyone slightly off line. The extra effort needed was appreciated by many riders as the cold breeze blowing across the arena was cooling everyone to the core.
Right from the off Emma Bristow (Sherco) was on a mission, riding at the head of the pack she completely cleaned the first lap and dropped a 2 in section 10 on the second lap to take a 5 mark lead over Becky Cook (Team SXS) who was riding brilliantly but casting away odd dabs here and there. Donna Fox was only 3 marks further back at the end of the second lap so it was all to play for.
Becky did all she could to close the gap and maybe snatch the win by dropping just a single dab on that last lap but Emma knew she could take a few on the tricky double step on section 10 and still take the win, which she duly did. Donna had, by her standards, a bad lap and dropped 11 but hung onto her third position on the podium with Jess Bown on her Scorpa in 4th.
2015_ladies_girls-championship_results (.pdf)
 Photo credit – Trial Magazine