Red Bull athlete Dougie Lampkin made an outstanding competitive debut aboard the all-new prototype Vertigo Combat at the three days of Santigosa Trial, where he took a close runners-up placing in this classic Spanish event. Thirty-nine-year-old Lampkin used the event as part of his preparations for the forth coming Scottish Six Days Trial (SSDT) and after three days of competition finished just three marks shy of eventual victor teenage sensation Jamie Busto. Many are tipping Busto who was recently signed by Repsol Honda as the next World Champion in waiting. 

Without a competitive outing since late last year Lampkin has spent the early part of 2015 assisting with the on going testing of the prototype Vertigo Combat, in addition to overseeing the continued progress of factory rider James Dabill in his role as Vertigo Sports Team Manager. So whilst Dougie is highly familiar with the fuel injection two-stroke machine after his many hours of testing with the bike in Spain, he was delighted to have his first opportunity to ride the bike in anger and between the flags at an actual competition. 

Up against an international entry of two hundred riders Dougie featured at the sharp entry of the results on all three days despite him putting more emphasis on using the event to experiment with various settings in readiness for the SSDT, than achieving an outright win. However with twelve FIM World titles to his name, Dougie was never going to be too far away from the victory, with his highly competitive character keeping him in the fight for overall honours right until the final section on day three.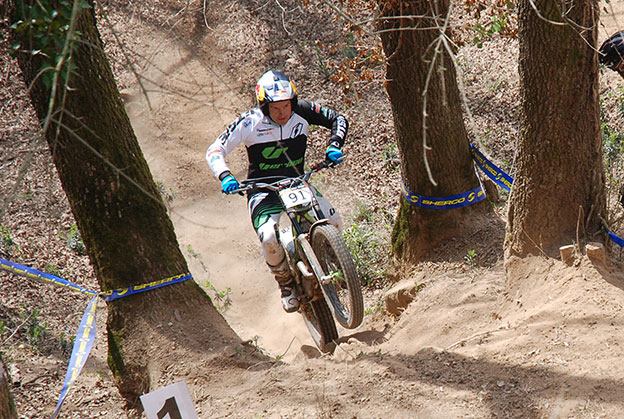 A two mark ride in the closing man made hazard, where Busto went clean, eventually saw Lampkin take the runners-up berth a mere three marks behind Busto after more than ninety sections over three long days. Despite narrowly missing out a debut win, Lampkin was still pleased with his three days work and to have the chance to ride alongside his team mate James Dabill, old rival Adam Raga and Japanese friend Takahisa Fujinami who all made single day cameo appearances at the event due to other commitments preventing them from competing in the entire Trial. 

Speaking post event Dougie said. "There is no substitute to actually riding an event when it comes down to final preparations. The event has been a great chance to fully put the bike through its paces, which it has done without a single problem. I experimented with a few different settings over the three days and now believe I have a good set up ready for the Scottish which will be the next big test for the prototype Vertigo Combat." 

"I would have loved to have won, especially after coming so close, but in truth I wasn't too sure just how competitive I was going to be as it has been a while since I last rode a Trial and was more focused on getting a good bike set up going into the event, than thinking too much about winning." 

Lampkin added his final remarks. "Right now we are in a good place just under a month away from the SSDT. We will use the remaining weeks to fine-tune the last few things and to do our final preparations. It goes without saying just how much I am looking forward to putting the prototype Combat through its paces up in Fort William."
Image courtesy of K. Carbonell – Todotrial.com