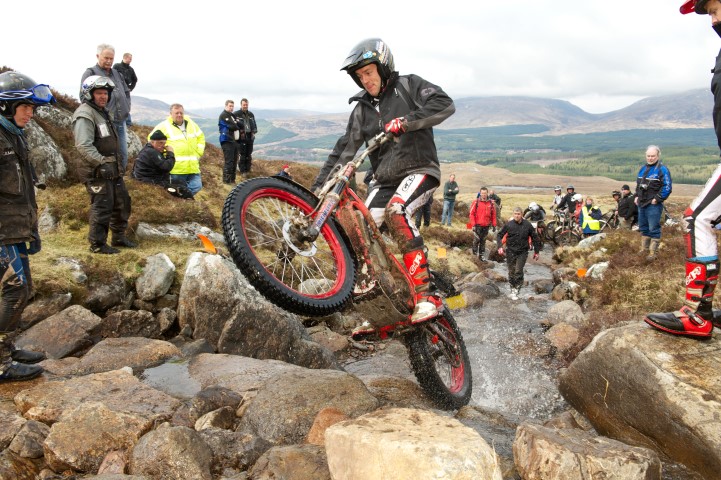 TON UP MAN
We can all remember the news of the first 100mph lap of the famous Isle of Man "TT" circuit but in trials only one man had recorded 100 National trials wins, the legendary Sammy Miller. Dan Thorpe arrived on the trials scene many years ago and soon developed into a budding prospect with the help of his father and ex-works rider Dave. He was never pushed into the sport, as in his younger days it looked very much as though every weekend would be taken up kicking a ball as football was his first love. He was fourteen years old before he found major trials competitions, when he competed in the popular YMSA 6-Day Trial. He would soon mature into a very serious trials contender and despite scoring world championship points he decided not to pursue a career at the very top. In turn he competed in National and British championship trials, where at this year's Alan Trophy Trial he recorded 100 National trials wins. In 2015 Dan would win the Experts British Trials Championship for Gas Gas as he continues to add to the 100 National wins.
Words: John Hulme
Pictures: Barry Robinson – Mike Rapley – Yoomee – Eric Kitchen Congratulations on this superb achievement. Were you nervous approaching the Alan Trial?
Luckily there was only one week to worry about it, as win number 99 came at the Loch Lomond Two Day the previous weekend. It wasn't really a problem until maybe the Friday before the trial. The Pearson family kindly agreed to take me as my Dad and Katy were riding elsewhere. I couldn't have wished for a better travelling companion than Chris with his totally laid back approach. The trial started well with a solid clean on section two but the very next section (which has been in the Alan before) was my bogey section, as I have fived it as many times as I have cleaned it in the past. I made a real positive attempt and after a bit of a hang-on, I got the clean I wanted – only to have a slack dab in the next section! A few sections later came the hardest one in the trial. I was really good here and recorded the only clean of the day. Later in the lap I recovered from a stalled engine, restarting it before stopping, but this unsettled me and I had three dabs. I had no more for the rest of the lap but avoided looking at the scoreboard. I finally managed to overcome my nerves and started riding well on the last lap after cleaning my bogey section again, just having a three on the hard section. After seeing a few of my rivals having a lot of marks I had a really good feeling when I handed in my card, and was overjoyed when I saw the scores.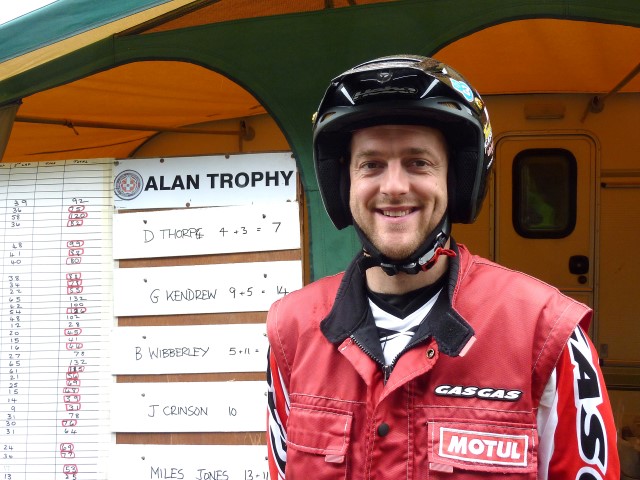 How did you feel after you had finished the event knowing that you had achieved the 100 wins?
To say that I was over the moon would be a massive understatement. I feel extremely privileged to not only have competed in the sport that I love for so long, but also to have achieved as many wins as I have. Growing up in the eighties with Steve Saunders winning pretty much everything, and Dad's (constant) stories of trials in 'the good old days' where Sammy Miller reigned supreme, made me dream about being as successful. Travelling to all the Nationals and reading the programmes, I would always take note of the past winners and that it was nearly always Sammy and Steve with the most amount of wins. Many people have asked the question about how many trials riders have won 100-plus Nationals, and to hear that there is only myself and Sammy is really amazing.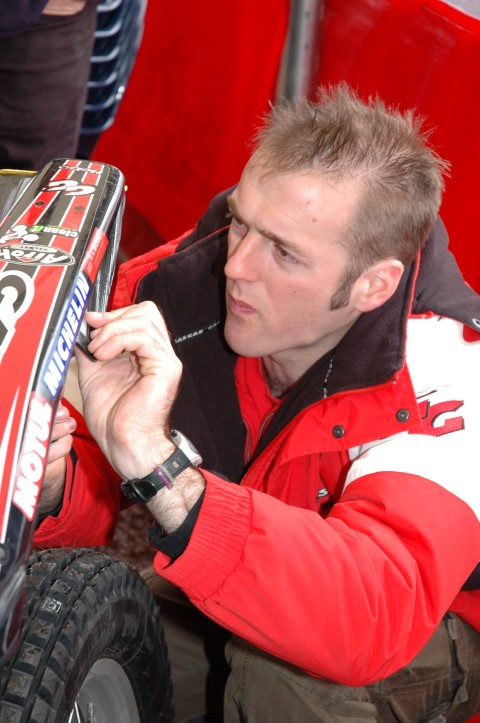 100 wins; when did you first begin to realise you could maybe go for the record?
When I started riding for the Gas Gas UK team, John Shirt requested that I kept him informed of all my results which is when I started keeping track of them. Fast forward a few years and during the 2008 season Barry Robinson mentioned in passing in front of Jnr that I was getting close to 100 wins. Shirty replied saying that I'd get that no problem. I went home and counted up my wins and realised that I was in the late 80's, winning around 10 a year. I told myself that it would be mine by the end of the year. Unfortunately I then struggled to win and for the rest of that year and going into 2009 that number seem to move very slowly. 2009 proved to be a bad year for me results wise, with far too many runners-up positions. However winning the Northern Experts at the end of the year restored my confidence. I am so glad that there was only 1 week between numbers 99 and 100 as I think the longer it had gone on the harder it would have become. Now I'm only a handful of wins away from 100 wins for Gas Gas, which would be very special for me to repay all Shirty's help over the years.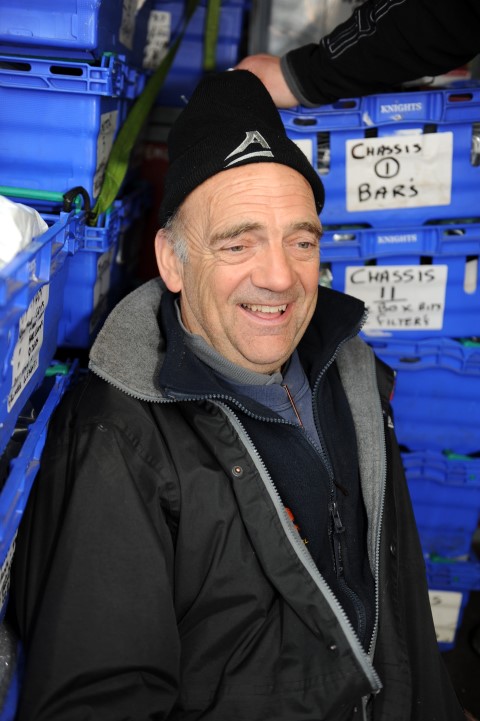 With your father Dave having won both World and British Championship events riding works machinery for Ossa and Bultaco during a very successful career, how many Nationals did he win before moving to the Pre-65 scene?
To be honest I don't know. I know enough not to ask him because I'm sure he will say he has won more than me. He will then go on to include his World round wins, his European and British Championship round wins, his runner-up positions in the SSDT and Scott etc. Seriously though, I know that he won quite a few, many of them in trials that I am desperate to win for the first time. In the Pre-65 scene it seems to go unmentioned how many times he has won the British Championship (nearly 15) and that he has won the Pre-65 Scottish more times than any other rider. I know how broken his body is so I have the upmost respect for him for not only riding but winning also. I think he will only stop riding when it is the very last thing he can do – talk about legend!
So how did you end up with a football at your feet?
As a kid I was very active and was into everything to do with sport. Anyone who knows me will tell you how competitive I am. Football was always easier to play at school with friends, as the teachers would frown if I turned up on my TY80 (and I did try!). After playing for my local and school team, I got recognised by a scout and Derby County and Notts County invited me to their School of Excellence. I trained and played for both of these but a lack of confidence meant that I was released at about 14; this was quite heartbreaking at the time. I still play football regularly in a 6-a-side league on astro-turf with the occasional 11-a-side game.
When did you decide to pursue a sport on two wheels in trials?
As I've said, football was number one but I still rode my trials bike a lot of the time. I was lucky enough to live somewhere with plenty of places to ride. I would play football on a Sunday but ride in local trials whenever I could – evening trials, Saturday trials and even trials after I had finished my football match! I remember winning a Sutton Falcons Trial after I had played 90 minutes of football, with the parents of my rivals complaining that I had waited till the sections had got easier to start the trial. It was only when I had got changed out of my riding gear that they noticed I had still got my football kit on underneath, complete with shin-pads and muddy knees! I rode the YMSA 6-Day Trial in 1992 which was my first major trial. I can still remember the shock of seeing the likes of Dan Clark, Mark Harries and Martin Crosswaite riding brand new bikes with all brand new gear on. I was wearing hand-me-downs, a helmet that cost 50p, and riding a beat up old Yamaha TY250. I continued with football as my priority until I was 17 and had passed my driving test (2nd time!). I rode in the '95 Manx Two Day for my first National, which tested my faith in football as I had enjoyed it that much. I then rode the occasional National on my Dad's recommendations until I was 18.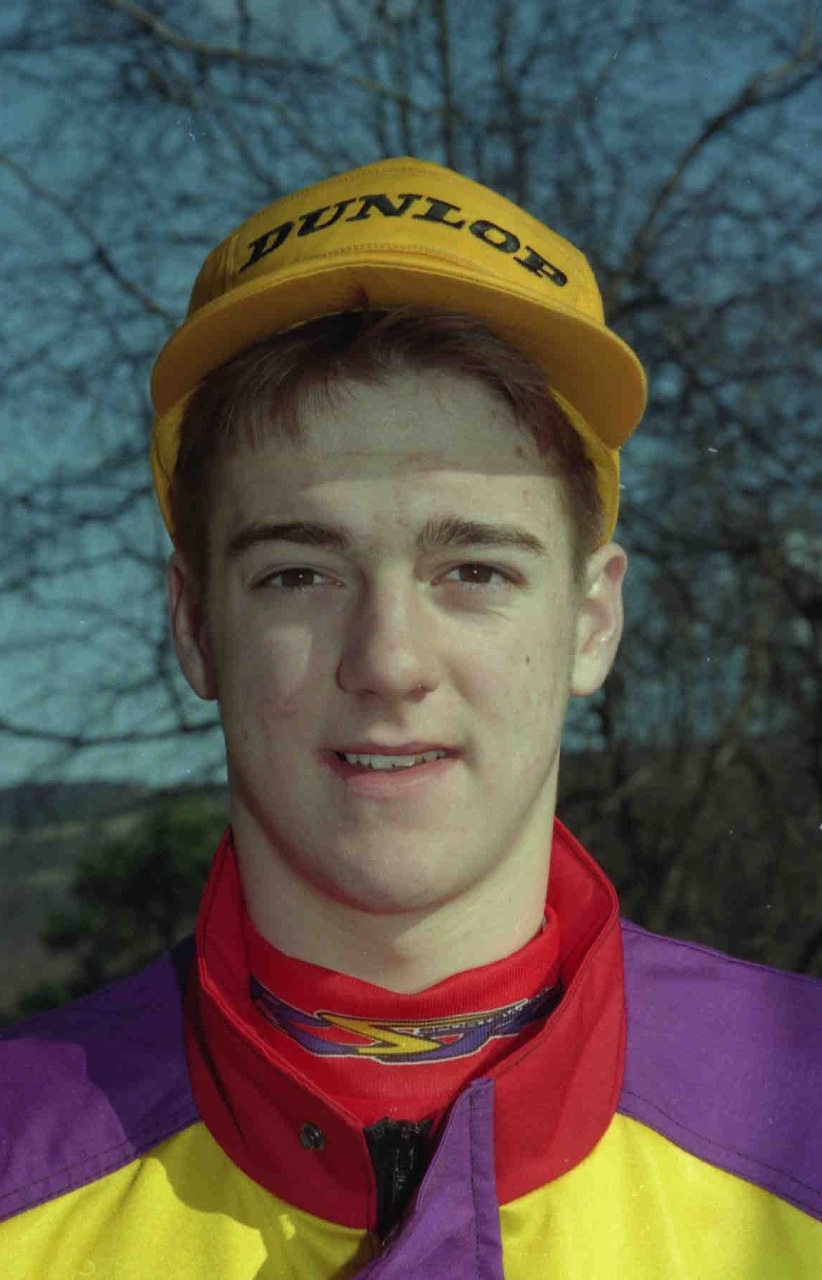 Do you remember your first trial?
I rode my first two trials on consecutive weekends on my beloved TY80. My first was a Hillsborough Trial at Hollow Meadows and my second was a Sutton Falcons Trial at Teversal. I dropped the same score (128 marks) in both trials and I can remember them being absolutely fantastic. I think I was 2nd out of two (last) in both trials. There was one section in particular at Teversal where I looped it every lap – I still ride past the same spot with a big smile on my face! I think that they were the only trials I rode on my TY80 as I then had a twin-shock Fantic 200 which was always too big and heavy for me! I think Dad was just fed up of running around after me on the TY80. All he had to do then was pick the Fantic up off the top of me whenever it dropped out of gear – which seemed to happen a lot, especially when I was going uphill!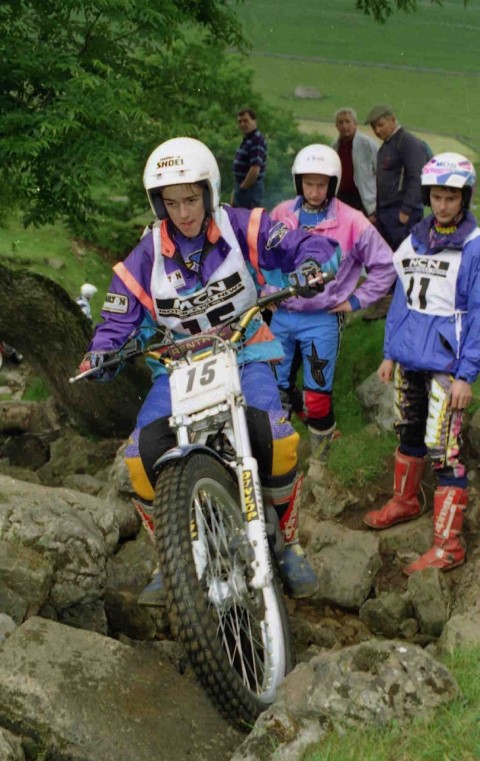 Where was your very first National trial win?
My first National win came at "Ruby Rocks" (used in the BTC last year) at the West of England Trial in 1996. That was on the legendary TYZ while I was riding for the Hamilton Yamaha team. Dad and I had travelled 'down south' to ride in two trials: the West of England on the Saturday and the Dick Farquharson on the Sunday. It didn't stop raining all day which are the type of conditions I love to ride in (the exception being the 2009 SSDT!).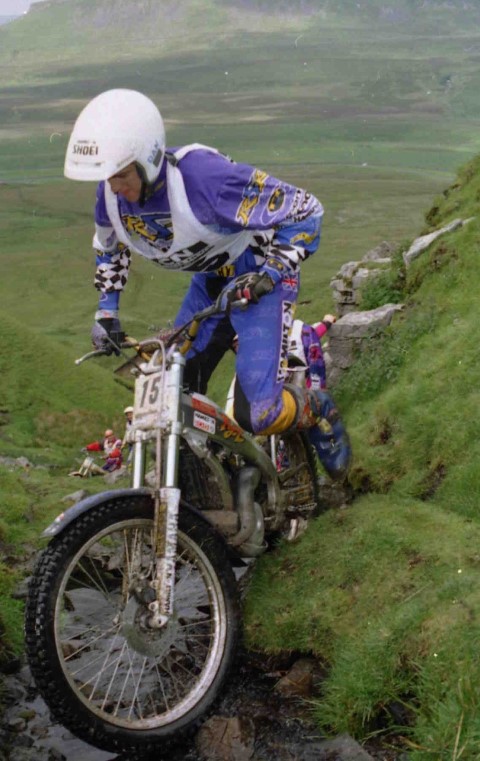 Your early success was on Yamaha trials machines. How long were you associated with them for?
When I was 13 I finally got my hands on that beat up Yamaha TY250 mono, which I kept in various states until I was 17. I'm sure that anyone who rode with me back then will remember that bike, it was legendary. I still have it stashed away at Mum and Dad's house. At the age of 17 I got my first Yamaha TYZ, which was 18 months old and an ex-team bike. It felt like all of my Christmases and birthdays had come at once. This was the start of my sponsorship with Peter Stewart's Hamilton Yamaha team and at 18 I got my first brand new bike when Yamaha released the latest TYZ model. I won my first National later that year and seven more wins followed in the next few years until, in 1999, I won the Vic Brittain which proved to be my last win on the Yam. I will always be grateful to Pete for giving me my first big break in trials.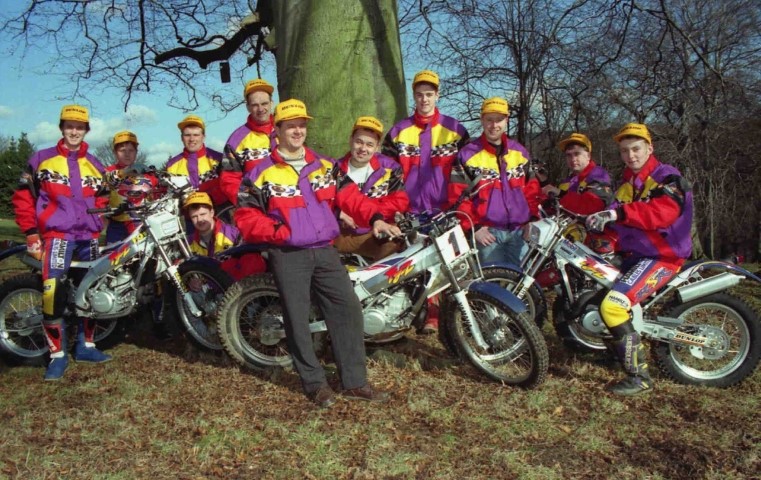 Who sponsored you on the Yamahas?
Pretty much everything was through Peter (and James) Stewart at Hamilton Cables: bikes, tyres, oil, clothing, sprockets etc. Sammy Miller sponsored me with helmets until I moved to Gas Gas. David Dench from Triangle of Chesterfield and Peter Salt from DL Skerrett have always helped me out and still do to this day.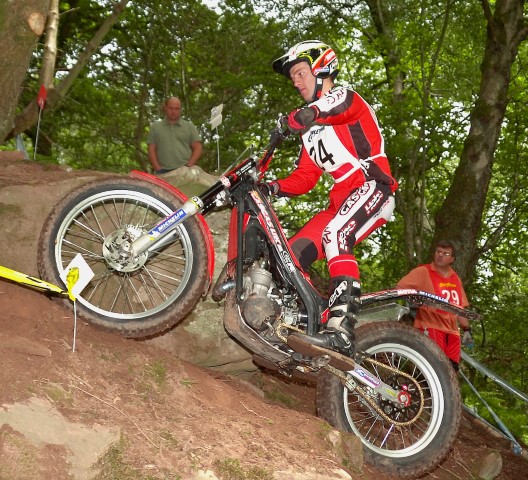 How did the change to Gas Gas happen?
Dad always used to take me with him whenever he used to go to John Shirt's (Snr) shop while he was riding Yamaha. John and his late wife Margaret were always nice to me and I used to watch John Jnr play about on his bike (and I got his autograph!). Whenever both Johns used to see me, after they had become the Gas Gas importers, they used to ask me when I was getting a Gas Gas and whenever possible let me have a ride on their bikes. In 1997 I was test rider for a news article on Gas Gas and was promptly asked to ride for them. I remained faithful to Yamaha until the very end in 1999 and although I had offers from John Lampkin and Malcolm Rathmell and had tried different machines, there was only ever going to be one choice for me. In March 1999 I rode in the Jack Wood, which was my first trial riding for Gas Gas. Unfortunately I narrowly missed out on the fairytale win. My first Gas Gas win came at the Yorkshire Centre's Jack Ellis Trial, tying on clean with Graham Jarvis – which was a little annoying as I had seen him have a dab! I had to wait a couple of weeks for my first National win which finally came at the Victory Trial.
Tell us about your current job at Bumpy.
At the very basic level it is simply an off-road park which provides a safe and legal place to ride. We provide the opportunity for kids to have off-road motorbike lessons, on our fleet bikes or their own, from complete beginners to experts. We have trail bikes and trials bikes with the emphasis on progressing riders onto the trials bikes, which we predominantly do at weekends and at our Young Riders' Club. We also provide (trials) lessons to adults and have on-road staff who deliver CBTs and DSA lessons for people to pass their driving test. My main job is during term-time, as Bumpy are an education provider for Leeds and Kirklees Schools providing education to kids that are no longer allowed at school, teaching them motorcycle mechanics as well as basic skills. We use the riding sessions as a reward for their work and good behaviour. We also deal with young offenders and kids that are starting to become disengaged at school. It can be challenging but the majority of the kids are okay when you get to know them, they just don't have an easy home life or they simply don't fit in at school. The whole ethos of Bumpy is excellent. At the very least it is somewhere safe and legal to ride which is something that's becoming harder and harder to find. But the fact that we are giving kids the chance to achieve nationally recognised accreditations when schools have pretty much given up on them really is priceless.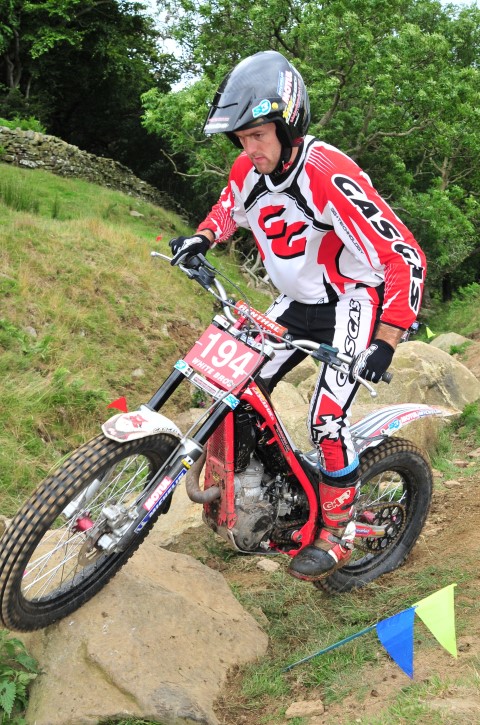 How long do you think you can continue winning the National trials, what's your aim?
I think that I will still continue to ride while I'm still enjoying myself. As for winning, well I feel that on my day I am still capable at beating the top riders in the country – I proved that on day five at this year's Scottish. Certainly the severity of the sections plays a big part in this, so realistically I don't think I'll be winning any British Championship trials! But if the event is aimed at the standard of the majority of the entrants, as most Nationals are, then I think I have a few more wins within my reach. To me, the Nationals, which often have an entry of 100+ riders are the best trials that we have in the country. Part of me would love trials like the SSDT, Jack Wood, Lakes 2 Day, and the Scott to be included as rounds of the main British Championship, but the other part of me would not, as I feel they would eventually ruin what I consider to be our best events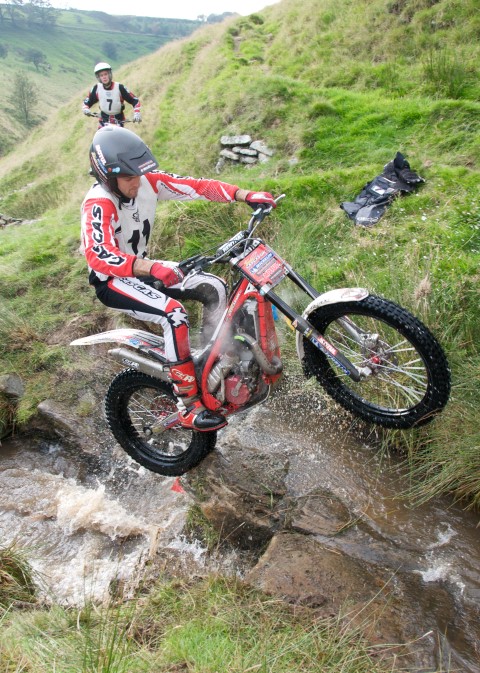 Dan Thorpe's record carries much respect in the trials world and it makes me wonder just how much longer he can keep on winning. His level headed approach to the sport is one which many of the younger riders can aspire to. One aspect these riders coming through the ranks should recognise is just how much he enjoys his trials, and long may it continue.
Date of Birth: August 1978 – Age: 37 – Married/Single: Single, but Katy may have other ideas! – Lives: Sheffield – Work: Bumpy Ltd (www.bumpy.org) – Family: Sister (and a 3yr old Nephew) Pet: Boots the cat – Music: Green Day, Paramore, Oasis – Hobbies: Football, PS3, Snowboarding, Mountain Biking – What CD is in your player: Green Day – 21st Century Breakdown – Favourite band/singer: Green Day, Girls Aloud with the sound down (a visual thing!) – Drink: Coffee, Peroni, Mojito – MacDonald's or KFC: Maccy D's Favourite Magazines: Trialmag obviously! – Favourite films: Lord of the Rings, Avatar, James Bond, Star Wars, The Incredibles – Your hero: Spiderman – Who would you like to be for one day: James Bond – Favourite Clothes: Team Gas Gas UK stuff and Liverpool/England shirt – Favourite Shoes: Nike Football boots – Favourite Toy: PS3 Favourite TV programme: Match of the Day, 24, Chuck – Favourite Trials rider: Dave Thorpe – Best Football Team: Liverpool – Best Football player: Steven Gerrard when he's not sulking – First Trials Machine: Yamaha TY80 – Favourite Trial: SSDT – Worst Trials experience: Falling down a massive cliff edge in the Scott at speed (still have nightmares!) – Best Trials experience: Winning
This article was first used in 2010 in Trial Magazine
The copyright works of this entire article remain with John Hulme – No part can be used or copied either in print or electronically.