Michael is now of plaster and the surgeon is happy with his work. No infection and healing well.
Heres the news straight from the horse's (Michael's) mouth;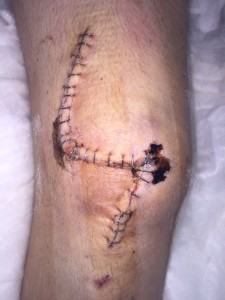 "After my 2 operations i was in plaster for 10 days, i went back to salford royal hospital in manchester yesterday (tuesday 12th) for x rays to check everthing is in the correct positon and starting to heal, also for them to remove the plaster and check the wound. The surgeon inspected the wound and was happy that there is no infection and also the bones are in the correct position after been wired and screwed together 10 days earlier. so now my leg is in a brace which is locked out so i am unable to bend it."
"I will return to the hospital in 4 weeks for another check up. We don't have a definate date that i can ride a bike again but rehab will start as soon as possible after the brace is removed to be back as quick as possible. I would like to thank all my family & friends that have looked after me and all the messages of support i have received."
Michael was quick to congratulate his Team mates (albeit gutted not to compete himself) after the SSDT for winning The Manufacturers Team Award and wishes them all the best for BTC action over the next weekends…
Regards
.. Shirty 
PS, To add…JSTGG Girl Katy Sunter opted out of the SSDT due to a knee injury she had a few weeks beforehand and new news JSTGGUK rider Dan Peace has also recently damaged his knee!