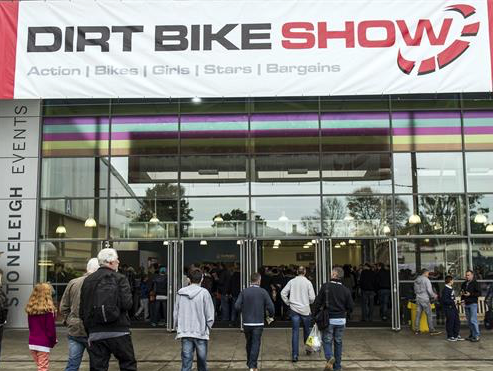 The International Dirt Bike Show at Stoneleigh Park in Warwickshire opens in just three weeks time on Thursday the 29th of October. As ever, the organising team has been hard at work to ensure that all visitors have a great day out, packed full of the latest products, live action and entertainment.
The Show team takes visitor feedback very seriously and, where possible, changes are made in an ongoing development and improvement process. From the 2014 event, visitor survey respondents overwhelming cited that the main reason for visiting the show was to check out the latest bikes. So this year the Show has expanded its content with more manufacturers, taking bigger stands and participating across a wider range of disciplines than ever before. Beta, Bultaco, Fantic, Honda, Husqvarna, JotaGas, Kawasaki, KTM, Mecatecno, Montesa, Rieju, Sherco, Suzuki, Yamaha and Vertigo will all be represented, plus Bucci minibikes, Revolution Speedway and classic displays of golden era bikes such as AJS, BSA and Maico.
The weekend is always popular and more ticket booths were installed last year to cater for the thousands of fans who visit on the Saturday and Sunday of the Show. The organiser hasn't stopped there though, as plans are in place to introduce a better queueing system, with clearly signposted access points and a fast-tracking system for advance tickets holders.
More information on Showtime activities was another request. To this end, the International Dirt Bike Show girls will be on hand in the foyer to help show-goers plan their day and navigate the five halls, with activity information and copies of the free official Show Guide, which will include a layout of the halls together with an exhibitor listing. Floor plans will also be dotted around the Show, as will big screens complete with daily timetables. There will also be clear and frequent PA announcements and, naturally in this digital age, the Show website and App – free to download at www.dirtbikeshow.co.uk – will be the source of latest live news and developments.
Getting-it-right is important to the Show team and calls for the popular Minibike racing to return have been actioned, as confirmed by Show organiser Nick Mowbray; "If it's in our power, then we will make improvements wherever we can. Feedback was for the MiniBike racing to be bigger and better and it promises to be just that. A bigger track will loop into the centre of hall five, there will be more spectator viewing, post-race results, live timing screens to keep everyone up to speed with lap times and positions and there will be a separate trade area in hall three displaying and selling minibike-related bikes and products."
Remember that money-saving advance tickets are still on sale and will continue to be available online right up until 23.59 hours on Monday 26th October 2015, just as British summertime ends. Visit www.dirtbikeshow.co.uk and follow the BUY TICKETS HERE link.