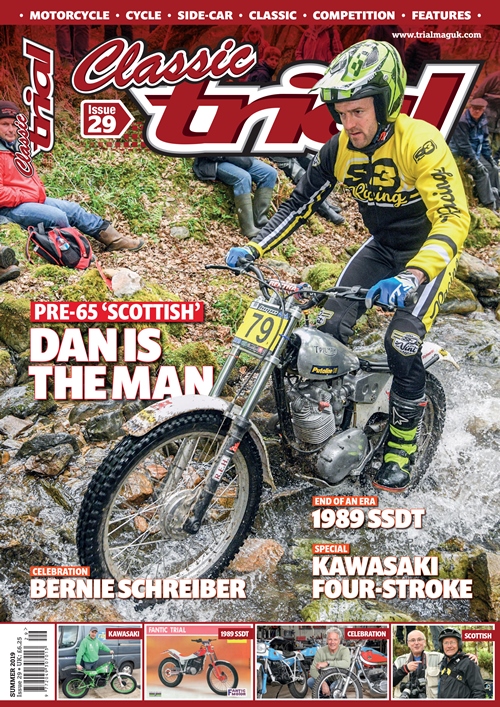 As already announced, due to the current coronavirus restrictions still being in place, the Edinburgh & District Motor Club Board of Directors has taken the decision to cancel both the Pre'65 Scottish and the Scottish Six Days Trials for 2021.
This decision was not taken lightly with committee members from both events wanting them to take place but, the sensible and responsible thing to do was cancel.  Not only did we need to consider all the riders, officials and followers that enjoy both these events and the amount of preparatory work that goes into making them possible but we also had to take into account the risk to the local community by bringing large numbers of people from all over the world into Lochaber.  With the virus still very prevalent around the world, this was not a risk we were prepared to take, therefore the decision to cancel was the only way forward.  We realise this is devastating for all those involved with these events but also to the local community and businesses that enjoy a considerable income from our presence in the area but we hope you understand that the health of the local community is of utmost importance and must come first.
The Pre'65 Scottish Trial Committee has now had a virtual video meeting to discuss how we deal with those entrants who had an entry for the 2020/2021 trial.  Due to the uncertainty at present about how long we are likely to be under restrictive guidelines that prevent our sport taking place, the committee would like to delay making a decision until May/June 2021 when we see how the vaccine is rolling out and if restrictions are easing before we decide whether or not it is feasible to carry entries over for a second time or scrap the entry and refund all monies and then start afresh for 2022.
If you have an entry for the 2021 trial and do not wish to ride in 2022 or to wait for a few more months until the position regarding restrictions is clearer, you may email sec@pre65scottish.co.uk to withdraw your entry and a refund will be sent out to you now.  Please clearly state your name and riding number in the email.
The Pre'65 Scottish Trial Committee are very disappointed that the 2021 Trial had to be cancelled and we are keeping our fingers crossed that the virus has gone and things return to as near normal as possible before it is time to start work on the 2022 Pre'65 Scottish Trial.  Please stay safe and well everyone.
Picture: 2019 Pre-65 Scottish winner Dan Thorpe. If you like this you will love Classic Trial Magazine, available on subscription only: www.trialmaguk.com