Do you remember when you rode to a trial on your machine, competed and then rode it home? I do! Yes I am old, but I do remember my father riding his Greeves to Wales to an event; he changed the gearing, removed the lights, competed, refitted it all and rode home again, yes that was forty-odd years ago, I did it but in a slightly easier way in 1996; the machine? The superb Gas Gas Pampera – what a machine. I literally fuelled the 250cc two-stroke, rode it to a local Dead Easy Trial, rode around clean on the harder of the two routes and rode it home again, 'Happy Days'. The Gerona based company ceased production of the Pampera but have come roaring back onto the scene with the new 125cc four-stroke Randoone; like the name? Then ride on, sorry read on!
Copyright Words and Pictures: John Hulme – Andrew Stewart
The idea was to pick up two of the red machines from Gas Gas UK headquarters in the heart of the Peak District's rolling hills near Buxton in Derbyshire, and then have a nice day out with my good friend and camera anorak Andrew Stewart; trust me, if you want to know about cameras Andrew's your man, as you can see from the shots. The machines were both taken from the Gas Gas demo fleet and were totally standard, having been taken from the box and the assembled for the press to use (PDI in modern terms). With both machines ready to go Gas Gas spanner man 'Factory Kev' informed us that on a full tank of fuel you can expect around 80–85 miles worth of fun with around 10 miles on reserve – mega! We decided to head out towards the scenic Mam Tor area near Castleton, and with the weather playing ball for a change we looked forward to a good day's riding. All the controls are easy to locate and work well, the electric start is just so, so easy! Two sets of sprockets come with the machine, one on the lower ratio side and the other on the higher ratio side, and it would be the lower geared one I would take first. It will tootle along at a steady pace on the tracks, with the ease of riding making for so much pleasure, but you notice the trials-type gearing more when you have some difficult terrain to cross; watching Andrew he just did a point and shoot, which appeared very effective – the youth of today! During the course of the day we swopped machines at various times and on different terrain. The ride over proved uneventful, with both Andrew and myself grinning as the little machines duly delivered in all areas. We arrived at one of my favourite tracks that I used to use for Scott Trial practice as it's very typical of the terrain you find in the famous event. I had Andrew positioned at various points during my ten minutes of madness – you know the one, a fifty-year-old wannabe who thinks he is still eighteen! Yes I did give both machines some hammer over this track, the higher geared one was in its element!
No Complaints
I was amazed, for such a small machine, at how much abuse it can take with no complaints, I even tried changing gear with a quick 'nip' of the clutch and it was faultless, even the suspension appeared well up to the job. The water splash was taken flat-out in fifth gear and boy could you make a splash! On the lower geared machine it gave you a little more time when wanting to negotiate at, shall we say, a more moderate pace. Many of the machine's components are taken from the Spanish company's trials range and proved well up to the job; for example the brakes both front and rear were excellent – as the power output is small you do not need massive brakes. The Yamaha based engine speaks volumes for itself and never misses a beat, even in moments of madness. Andrew then pulled me to one side and explained that we should move on before I broke something – well said, that man. At a more sedate pace we dropped into a fast, open forest track pretty much like you would find in a Welsh forest; once again you can buzz along at steady rate of knots; I even managed to get the machine drifting feet up, flat track, Steve McQueen style! Lunch was taken at the Travellers' Rest cafe on the Buxton-to-Leek road, and very good it was too, I might add. We then headed down to Hawk's Nest, the famous trials hazard. On the bottom section the higher geared of the two machines was hard work to ride slow but the lower geared one was in its element, I could remain feet-up which made me think what a good machine for Dead Easy trials; if you happen to stall the engine a quick touch on the electric start fires the machine easily into life – how easy is that then? It was interesting to watch Andrew who has, in my opinion, a good sense of throttle control; he was off the same opinion of me, "why not buy one, ride it to the trial, compete and ride home again?" Surly this must appeal to the rider who is young and wants to try the sport – or is it Andrew just wanting to go back to the years of his grandfather, Barbour, Belstaffs and all that carry on??
Why would you want to buy a machine that is not really a trials machine, enduro machine or trail machine? Let me tell you why: It's the best fun I have had on a motorcycle for a long time and certainly good value for money, £3,000 for £10,000 worth of fun. On the fun factor alone I would buy one, in fact I may make a purchase for reporting on road trials where I could quite happily follow the event and report on it – now, let me check the bank balance!
Andrew Stewart
"I have taken a similar view on the machine to John. I had to take my test and then proceed to my present 250cc Gas Gas trials machine, all along the way costing me money. The Randonne could be used to take your road test at sixteen as it's 125cc; you could then, if you wanted, ride it in a trial to see what you thought of competition and also have a nice little trail machine as well; an all-rounder in my opinion a good, value-for-money multipurpose machine. I really enjoyed the day out and it made me realise just what good fun motorcycling can be, and all for £3,000.00 – my cameras cost more than that!"
Gas Gas Randonne £2,999.99 Inc. Vat
 Engine: Single-cylinder 4-stroke (123.3cc) – 54mm x 54mm – Air cooled – Gearbox: 5 speed gearbox – Clutch: Wet oil system – Carburettor: PTK
Frame: Chrome-Molybdenum tubular frame – Swing arm:  Aluminium, Progressive linkage system – Front fork: MRP 40mm – Rear Shock: Sachs hydraulic mono shock absorber – Suspension travel: Rear 164mm rear wheel travel – Wheel Rims: Light Aluminium spoke rim – Front: 1.6 x 21 – Rear: 2.15 x 18 – Brakes: Front: 185mm floating, 4-piston calliper – Rear: 150mm disc, 2-piston calliper
Dimensions: Fuel capacity: 4 litres – Dry weight: 86kg – Length x width x height: 2.045 x 827 x 1.120mm – Wheelbase: 1.330mm – Seat height: 685mm (without seat) / 800mm (with seat)
Contact: Gas Gas Motos Ltd (Official UK Importer) Tel: 01298 766813
Mail: mail@gasgasuk.com Web: www.gasgasuk.com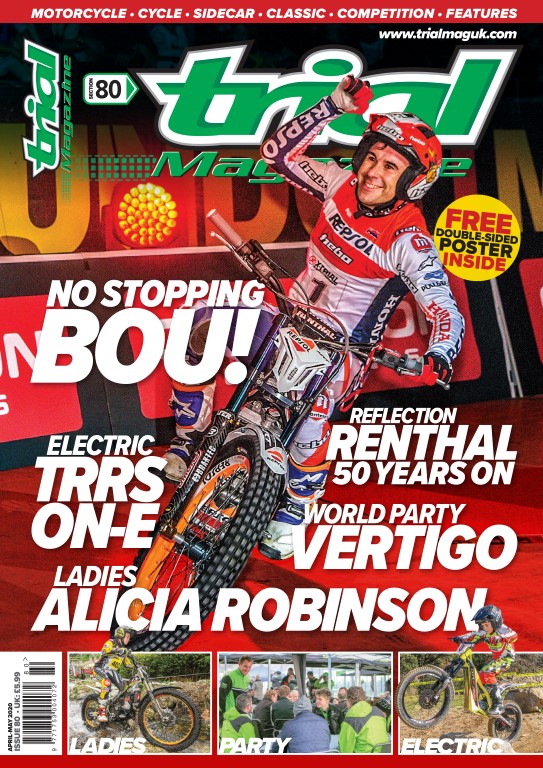 Trial Magazine – Classic Trial Magazine – Have You Subscribed Yet?
Order the current issue of Trial Magazine: www.trialmaguk.com